Details

Category: Development
Published on Monday, 14 October 2013 13:31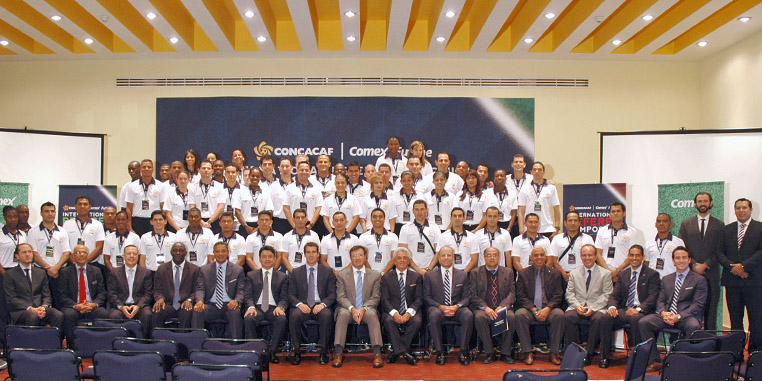 October 14 – CONCACAF held its first International Referee Symposium over the weekend in Mexico, aimed at improving the standard of professional football referring across the region. The symposium marks another step forward for the confederation, following on from its first series of coaches courses, in its drive to improve standards through education and support throughout its federations.
The symposium was a partnership with private Mexican firm COMEX, the first time the confederation has entered into a co-operative agreement of this type with a private company.
The partnership will involve the creation of a comprehensive development plan for referees, annual symposiums, workshops and talks by renowned referees. Leading refereeing figures Pierluigi Collina, Arturo Brizio Carter, and Brian Hall were present in Mexico to lend their experience and guidance.
"The primary objective of this partnership is to encourage and enable young refereeing talents, so they can get certified to participate in international matches, and even motivate them to get their FIFA badge," said Achar Levi, CEO of COMEX.
The importance of top level refereeing for the development of playing standards across the region is emphasized by CONCACAF general secretary Enrique Sanz.
"At CONCACAF we are proud to assist, along with COMEX, in the training of these top-level referees at this first International Referee Symposium. These officials hold the responsibility in our region of preserving the delicate balance of the laws governing football on the pitch," said Sanz.
"It is therefore our priority to develop professionals who will enhance the ability of our players to perform through exemplary management of the rules for each game."
CONCACAF is the first confederation to implement the COMEX Futline spray foam, manufactured and distributed by COMEX, which referees use to mark the 10 metre line for free kicks. The spray was used with great success at the Gold Cup and over the next four years will be incorporated into all of CONCACAF's tournaments.
"This tool available to the referees, which is being used in all CONCACAF matches, has proved to be very successful. We are confident that it gives referees more authority, and helps make their work more effective, which ultimately will benefit all fans of football," he said.
Contact the writer of this story at This email address is being protected from spambots. You need JavaScript enabled to view it.