Details

Category: Federations
Published on Thursday, 06 March 2014 12:58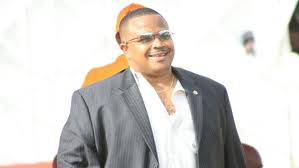 By Paul Nicholson
March 6 – Less than a year after FIFA ordered the Antigua and Barbuda FA (ABFA) to re-run its elections, the Caribbean federation has again landed itself in trouble and been sanctioned for financial impropriety. This is not the first time the federation or its officials have found themselves in trouble over money.
The FIFA Disciplinary Committee sanction relates to breaches of the FIFA Goal Regulations. The federations broke art. 5 par. 1 and par. 4 of the FIFA Goal Regulations after having agreed to mortgage a property that was the subject of a FIFAGoal Programme investment with Antigua Commercial Bank without FIFA's prior consent.
ABFA has been ordered to pay a fine of CHF 30,000 and issued with a reprimand.
While FIFA did not release the amount of money raised through the mortgaging of the property in Antigua, it did issue a clear statement relating to financial transparency.
"In March 2013, the FIFA Executive Committee approved the General Regulations for FIFA Development Programmes, which define the overall rules and principles applicable to all development programmes for member associations and confederations with the objective of enhancing their governance structure and compliance. The new regulations build on the strict audit and compliance requirements already in place, while imposing a set of further conditions that member associations and confederations have to fulfil in order to be eligible for FIFA development programmes," said the statement.
Last year FIFA stepped in to the row surrounding the election of the Antigua and Barbuda FA executive committee and demanded a new vote was conducted after allegations of vote rigging rule changes at the initial election. Everton Gonsalves was elected as president. Gordon Derrick continued as general secretary of the federation, a position he has held since 2004.
Derrick is also president of the Carribean Football Union (CFU), a position he was elected to in May 2012.
Derrick has been no stranger to controversy. He was reprimanded and fined by FIFA in November 2011 following their investigation into alleged "ethics violations" relating to the Bin Hammam case.
He again courted controversy last year when he issued a letter in French to CFU members recommending who they should vote for at the upcoming CONCACAF elections, in particular promoting Sunil Gulati, the president of the US Soccer Association but failing to even mention Mexican federation president Justino Compean who he was running against for a place on the FIFA executive committee.
When questioned by Insideworldfootball Derrick said he was put under pressure to issue the letter, but didn't disclose who by.
Contact the writer of this story at This email address is being protected from spambots. You need JavaScript enabled to view it.