Details

Category: Federations
Published on Tuesday, 15 July 2014 00:00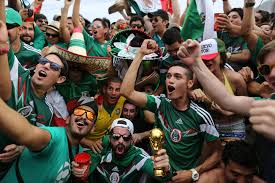 July 15 - Adidas have renewed their partnership with the Mexican national team in an eight-year deal that means they will provide playing and training kit up until the 2022 World Cup in Qatar.
The financial details of the transaction have not been disclosed, but it is unlikely to reach the lucrative heights of Adidas' £750 million deal with Manchester United.
Adidas have been Mexico's shirt sponsor since 2007, supporting the team through their recent tumultuous, and occasionally disappointing, times. The Director of Adidas for North America, Ernesto Bruce, reiterated their recent advertising campaign by saying: "With Mexico, we went all in or nothing. What if they didn't qualify? We held strong, stayed confident and said they were going to qualify. We have definitely reaped the benefits."
The benefits being their affiliation with a spirited national team, headed by the charismatic manager Miguel Herrera, that inspired their nation with an impressive World Cup display. Mexico comfortably qualified from their group and was ten minutes short of beating eventual third-place finishers Netherlands.
The Mexican team shirt was the best selling Adidas kit of the 2010 World Cup in Africa. The successful partnership has followed through to the 2014 World Cup. Bruce reported that there has been a 30% increase in sales comparative to the preceding tournament.
Adidas have managed to sell as many Mexican national team shirts as Nike have sold USA national team shirts. This is an impressive feet when considering that there is roughly 200,000,000 less Mexicans than Americans. The Mexican national team shirt is Adidas' biggest seller in the US, outdoing both Germany and Argentina (presumably thanks to the large Hispanic population living in the US).
Herbert Hainer, Adidas Group's Chief Executive, said: "We are very pleased to extend our long-term partnership with the Mexican Football Federation. Our shared passion for football and commitment to the sport is at the heart of our partnership. The jerseys of the Mexican Football Federation are among the bestselling Adidas jerseys globally. We were happy with the performance of the Mexican team during the recent World Cup and look forward to continuing our successful partnership."
Justino Compeán, president of the Mexican Football Federation said: "It is a privilege for the Mexican Football Federation to announce the contract extension with Adidas, one of our key partners. We are convinced that Adidas is the ideal partner for us, providing the Mexican team with the most advanced technology, quality and design. We would also like to thank our fan base for their constant support of the team, proudly wearing the green or red jerseys."
Contact the writer of this story at This email address is being protected from spambots. You need JavaScript enabled to view it.