Details

Category: South America
Published on Monday, 22 April 2013 09:05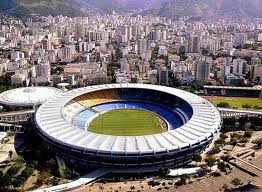 April 22 - Brazil's iconic Maracanã took a step closer to readiness this weekend with a sound and lighting test. The stadium is now 97% ready with just some seating to be installed.
Next Saturday (April 27) the stadium will see the first test game since its closure for reburshment - a friendly between friends Ronaldo and Bebeto. The game will be played behind closed doors with only employees and family members present.
A crowd of 19,000 is expected. President Dilma Rousseff will also be present.
The general lighting, sound and video test was the first time that the three systems have been tested together.
The lighting system comprises 396 reflectors - each with two thousand watts of power. The four new high definition stadium screens have also been linked together. The screens are placed in the corners.
The sound system is said by the builders to be the most modern in the world, with 78 speakers directed at the field and at the .seating .
For completion there are still some seats in the lower stands to be installed.
The Maracanã will be used for the Confederations Cup with the first game being played between Mexico and Italy June 16.
Contact the writer of this story This email address is being protected from spambots. You need JavaScript enabled to view it.