Details

Category: South America
Published on Monday, 22 July 2013 11:13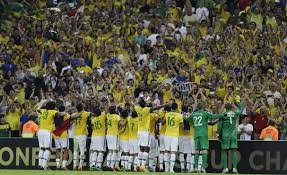 By Andrew Warshaw
July 22 - Brazilian authorities have backed down from a threat to ban shirtless and standing fans at the revamped Maracana stadium after the latest public outcry.
"Fans will be able to take flags with masts up of up to 10 metres, take off their shirts and watch the game standing up," said a statement by Rio de Janeiro state government's sports ministry (Suderj) following a meeting with police and supporters' groups.
The Maracana, spiritual home of Brazilian football, re-opened in June after a rebuilding programme marred by countless delays but musical instruments and flags were outlawed when the iconic venue hosted matches at last month's Confederations Cup.
The proposed ban on shirtless and standing fans were part of the stadium's ongoing $450m modernisation designed to cut down on violence and safeguard comfort and security.
Although that has now been lifted for domestic fixtures, it is unclear what ruling will be imposed for the World Cup. "Taking off your shirt and swinging it around above your head is a typical gesture of the fans of Rio de Janeiro teams," conceded Suderj president Andre Lazaroni before adding: "I'm in favour of tradition, although we are still looking to bring families back to football matches."
Contact the writer of this story at This email address is being protected from spambots. You need JavaScript enabled to view it.