Details

Category: South America
Published on Monday, 09 September 2013 12:46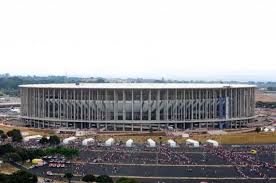 By Andrew Warshaw
September 9 - Just weeks after demonstrations marred the Confederations Cup, Brazilians have again issued a reminder, though on a smaller scale, that next year's World Cup may not run quite as smoothly as organisers hope.
Hundreds of anti-government protestors took to the streets again at the weekend, disrupting Independence Day celebrations as they called for an end to political corruption and for improved public services, not least in health and transportation.
The $14 billion cost of the World Cup was again on the agenda of the demonstrators who marched through a number of cities including the capital Brasilia where a friendly between Brazil and Australia at the new state-of-the-art $600 million Mane Garrincha stadium was targeted. Authorities said at least 26 demonstrators were arrested.
The protests, which also took place in Rio de Janeiro and Sao Paolo, were not nearly as large, however, as the mass outpouring of anger in June when more than one million people took to the streets in a single night. Organisers said many did not turn up this time due to the heavy police presence.
Contact the writer of this story at This email address is being protected from spambots. You need JavaScript enabled to view it.