Details

Category: News
Published on Thursday, 02 December 2010 14:57
By Duncan Mackay in ZurichBritish Sports Internet Writer of the Year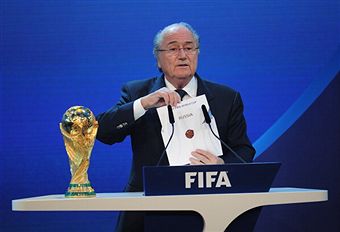 December 2 - Russia were awarded the 2018 World Cup as England were knocked out in the first round of voting here today.
Such was Russia's margin of superiority that they clinched victory in the second round of voting among FIFA's Executive Committee as England and the joint bids from Holland/Belgium and Spain/Portugal were swept aside.
They polled 13 votes with Spain/Portugal getting seven and Holland/Belgium two.
England were knocked out in the first round with only two votes from the Executive Committe - one of whom was presumably from 2018 bid chairman Geoff Thompson.
It will be the first time that the tournament has been hosted in Russia, indeed in Eastern Europe.
Russian Prime Minister Vladimir Putin is now set to jet here to join the celebrations and give a press conference at 9pm.
Putin, who was credited with helping win the 2014 Winter Olympics hosting rights for Sochi, was due to be on a domestic engagement in the Russian Baltic enclave of Kaliningrad today but his plane was turned back because of bad weather.
In contrast to Putin's joy, Prince William, former England captain David Beckham and Prime Minister David Cameron - who hours earlier had pleaded with the 22 delegates in Zurich - were devastated as they discovered the news.
Contact the writer of this story at This email address is being protected from spambots. You need JavaScript enabled to view it.