Details

Category: Australia
Published on Thursday, 27 January 2011 18:03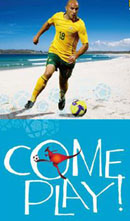 January 27 - Australia's Government lavished more than $34 million (£21 million) on the country's failed bid for the 2022 World Cup, it has been revealed.
According to the
Sydney Morning Herald
, who obtained state documents under under freedom-of-information laws, the money went on wages and expenses including travel and consultancy while another $11.4 million (£7 million) the Government allocated to Football Federation Australia (FFA) is apparently yet to be accounted for.
"Yes, the bid cost a substantial amount of money," the federation's head of communications, Rod Allen, was quoted as saying.
"On the positive side it secured our nation two years of international media coverage, put us firmly on the international sporting map and won us the hosting rights for [the] 2015 AFC Asian Cup, the biggest sporting event in Asia.
"We have nothing to hide.
"But publicly discussing Government submissions is disrespectful to the Federal Government."
A document received by the paper revealed more than $6.6 million (£4 million) was paid to consultants and PricewaterhouseCoopers for the development of an alternative season for other codes affected by the World Cup.
More than $1.1 million (£685,000) was paid in public relations while $5.2 million (£3.2 million) went on Australia's 760-page Bid Book.
Despite a total budget of $45.6 million (£28.4 million), Australia won only one vote in Zurich last month.
But the Government and the federation defended the spending.
"If we had won the World Cup it would have been a huge payout for the country in terms of economic growth, of tourism and jobs," said a spokeswoman for the Sports Minister, Mark Arbib.
"The decision to try to win the World Cup had the full support of all sides of politics."
Related storiesDecember 2010:
Buckley will not pay price for Australia World Cup failure promises Lowy
December 2010:
Exclusive - Ethics member warns FIFA "in big trouble" over "lunacy" of Qatar decision
December 2010:
Our big mistake was to "play it clean" says Australia World Cup bid's Hargitay