Details

Category: Holland/Belgium
Published on Friday, 12 November 2010 15:45
By Andrew Warshaw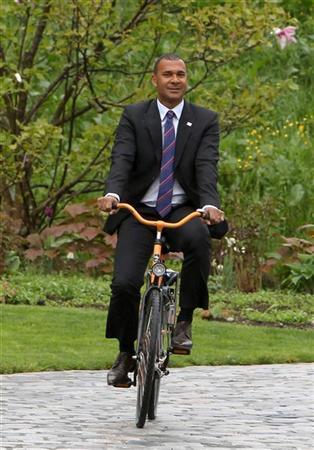 November 12 - Holland and Belgium's joint 2018 World Cup bid rolled into France today and shook off the underdog status that has dogged them since the start of the campaign.
On the day the much-anticipated technical reports into bidding nations were made available to FIFA's voting members, Dutch/Belgian bid President Ruud Gullit (pictured) cycled along the Champs-Élysées in keeping with the loose lobbying style adopted by the Benelux neighbours.
There is nothing loose, however, about Gullit's determination to upset the odds on December 2 in Zurich.
Gullit, these days a familiar figure as a pundit on English television, has made no secret of the fact that when it comes to 2018, there are no split loyalties.
He positively bristles at suggestions that his country, understood to be trailing behind their three European rivals, could end up being cast adrift in the secret ballot.
"We do not know what you mean, but you obviously have the wrong perception," said Gullit when asked by insideworldfootball why they were so far behind in the publicity stakes.
"We are very satisfied with the response we get everywhere in the world."
"We have a very serious chance indeed," Gullit added when it was suggested his bid may not survive the first round of voting.
The two Low Countries were presenting their case to the French media on Friday in the hope of putting together a late run.
Social responsibility, the development of the game across the globe and the greenest of World Cup tournaments are among the "great goals" of the bid.
Nevertheless, a large amount of work still needs to be done to expand facilities and overcome domestic political scepticism.
While acknowledging the social benefits that staging such a major sporting event will bring, critics in both countries say the economic gains are negligible and most of the proceeds will go straight into FIFA coffers.
Gullit won't say how many votes he thinks the rank outsiders could pick up but believes a forthcoming visit to South America could prove crucial even though that continent's three 2018 votes are certain to go to Spain/Portugal in the first round.
A Dutch-Belgian All Star team will play in Sao Paolo while a community coaches course will take place in Rio alongside the Soccerex conference.
Even though Holland and Belgium staged Euro 2000, Gullit makes the point that they have never held the World Cup and hopes this will be strong enough argument to create the mother of all surprises.
It isn't the only weapon they have, Gullit insists however.
"The Holland/Belgium Bid in every aspect is a safe choice, plus we are the greenest, most compact tournament – a football tournament in the true sense of the word."
Contact the writer of this story This email address is being protected from spambots. You need JavaScript enabled to view it.