Details

Category: Holland/Belgium
Published on Thursday, 02 December 2010 08:59
By Andrew Warshaw in Zurich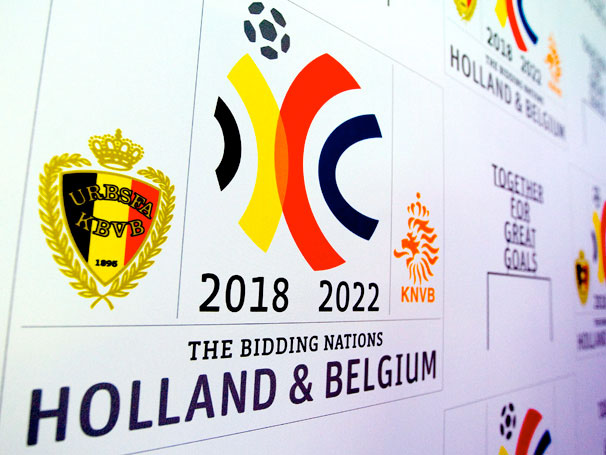 December 2 - Underdogs Holland and Belgium kicked off the 2018 World Cup presentations to FIFA today but lacked sufficient punch to suggest they might pull in extra support later in the day.
A green campaign, the compactness of the bid and an evocative video showing clips of both teams' greatest moments were all relatively predictable.
But there were nevertheless some neat touches which would surely have received nods of approval among the watching voting members at Fifa headquarters.
For a start, Michel d'Hooghe, Belgium's highly respected Executive Committee member who has hitherto distanced himself from the bid, took to the podium to say what a "beautiful story" it would be if the two nations were successful.
In their favour, he said, was the fact they were two of the "founding fathers" of FIFA and had already proved, in Euro 2000, that two countries could collaborate in staging major tournaments.
"We have written great pages in the history of football," he said.
The Prime Ministers of both countries flew in to take part while there were colourful images of the days of "Total Football" when Johan Cruyff was at his brilliant best.
Bid President Ruud Gullit stressed the environmentally friendly nature of the bid as well as its central European location and insisted that the idea of offering free bicycles to every fan was no gimmick and very much a part of Dutch culture.
For his part, Cruyff , who spends much of his time these days running his own foundation, concentrated on the need to get children to take up sport rather than stay at home and play on their computers and Play Stations.
But it was a montage of Dutch managerial maestro Guus Hiddink that stole the show as it colourfully and amusingly portrayed his long career at international and club level to the sound of The Monkees'
I'm A Believer.
It was a delightfully clever sequence, the title of the song also representing the hopes of the two Benelux nations later in the day. But not strong enough for Holland and Belgium to pull off the biggest shock ever in World Cup bidding history.
Contact the writer of this story at This email address is being protected from spambots. You need JavaScript enabled to view it.