Details

Category: Japan
Published on Wednesday, 01 December 2010 18:23
By David Owen in Zurich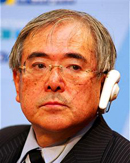 December 1 - There is no doubt about the biggest 'Big Idea' to have emerged during this 2022 World Cup hosting competition.
It is the one at the heart of the Japanese bid: the notion of transmitting life-sized 3D images of World Cup matches in real time to audiences all over the world.
So it was no surprise that this idea dominated Japan's presentation in Zurich this evening.
Implementing Japan's plan would mean that not just one nation would be hosting the World Cup but 208, enthused Junji Ogura (pictured), bid chairman and FIFA Executive Committee member.
"Japan [would be] just the coordinator."
Kohzo Tashima, bid chief exceutive officer, warmed to the theme, pledging that no fewer than "360 million people could have a full-stadium experience of matches".
This, he added would be "over 100 times" the record-breaking number of spectators for the 1994 World Cup in the USA.
And who could be better placed to develop the idea further than Sir Howard Stringer, chairman and chief executive officer of Sony, the consumer electronics group and FIFA sponsor, who joined Ogura and Tashima on the platform?
"This is not science fiction - in 2022 this will be science fact," Sir Howard, resplendent in a blue Japan football shirt, proclaimed, confessing to a past as "an illegal teenage footballer".
"Let's make 2022 the year football really touches the whole world."
Japan, which co-hosted the World Cup in 2002, is one of the outsiders in this race and looks extremely unlikely to win.
However, given the mouth-watering commercial possibilities, I would be surprised if some elements of its Big Idea, or something similar, are not embraced in future World Cups.
Contact the writer of this story at This email address is being protected from spambots. You need JavaScript enabled to view it.