Details

Category: Bid News
Published on Wednesday, 01 December 2010 16:53
By Andrew Warshaw in Zurich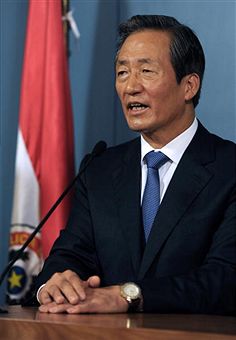 December 1 - South Korea used the prospect of better relations with the north of the peninsula to maximum effect when they made their final 2022 World Cup presentation to FIFA's executive committee today.
The 2002 co-hosts urged FIFA delegates to give them a chance to stage the tournament on their own rather than choose any of the other three candidates from Asia.
Former prime minister Lee Hong Koo, standing in for the indisposed president of the country, said that despite the tense relations between the north and south, football could play a decisive role in bringing the two nations together after being divided for 65 years.
"A World Cup in Korea will serve as a gateway for a new era for a united Korea and a peaceful Asia," he said.
Referring to the 1988 Seoul Olympics as a unifying force following the mutual boycotts of the previous two games, Lee said the subsequent fall of the Berlin Wall showed what could be achieved with sufficient will.
"No one can blame us Koreans for getting extremely envious," he said.
"Today Korea remains perhaps the last divided country on earth."
South Korea is also the only Asian country to have taken part in seven consecutive World Cup finals and Manchester United's Ji Sung Park was a crucial part of his country's address.
"In 2022 I may not be on the pitch but I can't imagine my life without football," Park said.
Lee played up his country's renowned high-tech facilities and commercial opportunities and while he refused to offer the possibility of World Cup games being staged in the north in 2022, he did not flinch from mentioning the recent skirmish between the two countries that brought global condemnation and increased tensions throughout the region.
"As you may have noticed, we had a clash on the west coast near the dividing line," he said, before adding: "This demonstrated why we need a special effort to bring reconciliation.
"Diplomacy and politics are not our only tools -the sport of football has a captivating power like no other."
Dr Mong Joon Chung (pictured), South Korea's powerful executive committee member who was born during the Korean war, took up the same theme.
The recent act of aggression, he said, "showed us the realities that surround the peninsula" and he urged FIFA to grant the country the World Cup to help build a lasting peace.
"The power of football to overcome boundaries has no comparison," said Chung.
"Nowhere is this needed more than the Korean peninsula.
"Football is indeed more than a game."
Contact the writer of this story This email address is being protected from spambots. You need JavaScript enabled to view it.