Details

Category: Russia
Published on Sunday, 23 January 2011 10:05
By Andrew Warshaw



January 23 - Russia's first milestone on the road to the 2018 FIFA World Cup was reached today in Saint-Petersburg when the country was officially given host status.
Less than two months after the announcement in Zurich, a ceremony attended by FIFA President Sepp Blatter formally confirmed the decision of the FIFA Executive Committee on December 2 to appoint Russia as the venue for the 2018 tournament.
A Declaration of Appointment was signed by Blatter on behalf of FIFA, while Russia's sport minister Vitaly Mutko and Alexei Sorokin, respectively the designated chairman and the chief executive officer of the new organising committee, also signed.
"Russia will do an excellent job of organising the World Cup," said Blatter.
"We share the vision and mission that football is more than just a game.
"Russia boasts a great football tradition, and the 2018 FIFA World Cup will act as a catalyst for social advancement, opening up new territories for the game and winning over new hearts and minds."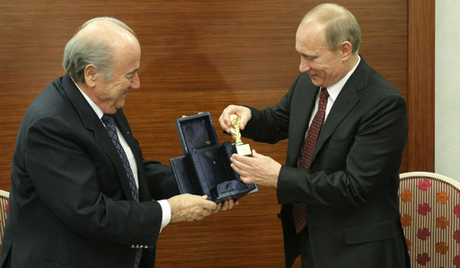 The previous day Blatter had met with Prime Minister Vladimir Putin, who has promised that Russia would follow through on its commitments to spend tens of billions of dollars on new stadiums and infrastructure.
"Football plays an important role in prosperity of any society," Putin said.
"A mass sport, football contributes considerably to the popularisation of a healthy lifestyle among Russia's younger generation."
Blatter was less focused on the organisational challenges than on his greater vision of bringing soccer to largely uncharted territory such as Russia and Qatar, which was awarded the 2022 World Cup.
"Football is more than just kicking the ball," he said at a news conference after the signing ceremony," he said.
"It is also important to connect different nations, and our philosophy this time was to give the World Cup to territories that had never hosted it."
Mutko, who is also a member of the FIFA Executive Committee, told the assembled audience: "I can assure FIFA and the football world that we are fully committed to deliver and to excel beyond all requirements."
Contact the writer of this story at This email address is being protected from spambots. You need JavaScript enabled to view it.
Related storiesJanuary 2011:
Russia to reveal make-up of organising committee
January 2011:
Putin demands Russia builds high-speed rail network for 2018 World Cup
December 2010:
Violent clashes involving Spartak Moscow fans leaves one dead
December 2010:
Platini claims victories of Russia and Qatar "beautiful"
December 2010:
Chechnya launches appeal to host 2018 World Cup matches