Details

Category: South Korea
Published on Saturday, 02 October 2010 12:40
By Andrew Warshaw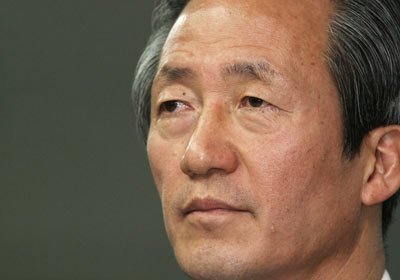 October 2 - FIFA vice-president Chung Mong-joon (pictured) insists South Korea has as good a chance as anyone of hosting the 2022 World Cup bid despite its status as rank outsider.
"All five countries which join the bid for World Cup in 2022 work very hard," said Chung.
"When FIFA decides the host country the members consider economical value, social infrastructure, climate and so on."
Although Korea co-hosted with Japan in 2002, Chung says his country has the stronger case.
"The most important one FIFA concerns is what kind of 'Legacy' is generated," Chung said.
"If the World Cup is held in Korea, it will support world football development and promote peace, prosperity in East Asia.
"It could be splendid legacy."
Asian Football Confederation President Mohamed Bin Hammam, who is supporting his native Qatar ahead of Korea, Australia and Japan, has little doubt the 2022 tournament will go to his Continent despite a strong challenge from the United States.
"No matter what kind of result comes out, the host country for 2022 World Cup will be among Asian countries," Hammam said.
Contact the writer of this story at This email address is being protected from spambots. You need JavaScript enabled to view it.
Related stories
September 2010: China 2026 bid strengthens United States 2022 campaign
July 2010: Bin Hammam vows to back Qatar 2022 World Cup bid
July 2010: FIFA inspectors arrive in South Korea
July 2010: David Owen - No China Crisis yet for Asian 2022 World Cup bidders
July 2010: China admits - We don't want Asia to win 2022 World Cup bid