Details

Category: Spain/Portugal
Published on Thursday, 02 December 2010 09:31
By Duncan Mackay in ZurichBritish Sports Internet Writer of the Year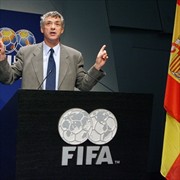 December 2 -·Angel Maria Villar Llona, who has conducted a one-man campaign on behalf of Spain and Portugal's joint bid to host the 2018 World Cup, today faced head-on allegations that they were involved in collusion.

The former Spanish and Athletic Bilbao midfielder, who has been a member of FIFA's Executive Committee since 1998, spoke eloquently at the end of his bid's otherwise low-key presentation and addressed the corruption allegations that have overshadowed this campaign.
Two Executive Committee members, Nigeria's Amos Adamu and Tahiti's·Reynald Temarii, have been suspended following a
Sunday Times
investigation over allegations that they were prepared to sell their votes for cash.
"I have 50 years experience in this sport, I love it deeply," said Villar Llona, the President of the bid.
"I love FIFA deeply as well as all the international federations but those I love most are my colleagues in the Executive Committee."
The FIFA Ethics Committee last month controversially cleared Spain/Portugal of plotting with Qatar's bid for the 2022 World Cup to trade votes.
Further allegations broadcast on Panorama on BBC on Monday had also put FIFA under the spotlight.
"Recently we [FIFA Executive Committee] have been criticised by many media outlets," said·Villar Llona
"But FIFA is a clean institution, FIFA works honestly, for football and for the world.
"All of my colleagues are honest hard-working people who care about football.
"You've already heard enough slander in the media.
"This bidding process is clean, regardless of what they say."
The fact that Spain/Portugal's presentation ran over by 12 minutes as a result of Villar Llona's speech was ignored by members probably just grateful for some public support following a long spell when they have come under intense public scrutiny, little of it positive.
Until then it had been a fairly forgettable presentation, long on technical detail but pretty short on glamour and·razzmatazz.
Unlike the other bids, Spain/Portugal did not turn to its big stars to present its case but instead preferred to rely mostly on bid ·chief executive Miguel Angel Lopez and·Villar Llona.
"You've known me for many years now," said Villar Llona.
"I'm not asking for anything we can't live up to.
"If you grant us this privilege -·if you grant us this privilege we will work with a dream in mind.
"If you do not grant us this privilege I will be working hand in hand happily with the bid which will win with the same motivation and the same dream."
Contact the writer of this story at This email address is being protected from spambots. You need JavaScript enabled to view it. ·