Details

Category: USA
Published on Wednesday, 10 November 2010 13:09
By Andrew Warshaw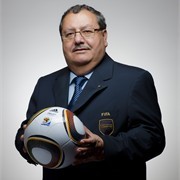 November 10 - The United States' bid for the 2022 World Cup has received a jolt with the revelation that one of its own confederation members on FIFA''s Executive Committee may not vote for it.
"I don't know what I'll do," Guatemalan Soccer Federation President Rafael Salguero told Bloomberg.
"The U.S. is possible but I can't say anything at this moment.
"I'm waiting for the vote, the secret vote."
The U.S faces competition from Australia, Qatar, South Korea and Japan to stage the tournament and would automatically expect its three CONCACAF FIFA members to support its bid.
The other two are CONCACAF chief Jack Warner of Trinidad and America's own Chuck Blazer but Salguero said he was by no means certain he will back his own confederation which would be almost unheard of, at least in the first round.
He is planning to travel to New York next week to meet with Blazer and other US soccer officials ahead of the vote in Zurich on December 2.
Salguero said he had not made up his mind who to support for 2018 either.
Contact the writer of this story at This email address is being protected from spambots. You need JavaScript enabled to view it.
Related storiesNovember 2010:
Clinton chief figurehead for USA at World Cup vote in Zurich
October 2010:
USA withdraws from race to stage 2018 World Cup
September 2010:
Dein predicts United States will pull out of 2018 World Cup bid soon
September 2010:
China 2026 bid strengthens United States 2022 campaign
September 2010:
US will withdraw 2018 World Cup bid says Platini