As I start to write this piece, England's footballers are about to engage in their latest bid to end 30 years of hurt - sorry, make that 44 years, forgot to add the 14 since the European Championships ended with that penalty shoot-out at Wembley against let's move on - and their prospects are as boundless as a blank page. Southgate. Why couldn't he just blast it?
So we're all at it again. Hoping.
I saw an odd sight earlier today - a white van without any union flags flying from it. Not even a window sticker. I fancied the driver look shamefaced. Perhaps he was on his way to the nearest participating petrol station to do the right thing before the big kick off…
I'm passing through Cheshunt station right now, as it happens, and I can see a large white tarpaulin covering a half-finished building. It is plastered with the flag of St George.
Flags of that self-same design breeze and flutter from windows of houses bordering the track. The guy sitting across from me on the train is wearing an Umbro England shirt. It's all starting once more.
I was eight when England last won the World Cup. Last. Makes it sound as if they've made a habit of it, like let's move on…
It changed my life, and that of many, many others, in that it provided me with a memory - my earliest sporting memory - which has grown richer over the intervening years.
I have since spoken as a journalist to the players whose pictures adorned my walls as a child - Geoff Hurst and Martin Peters - and have shamelessly requested their autographs. Re-requested, I should say. And found that they have retained the same stylised scrawls they employed back in 1969.
Those distant World Cup finals also changed my father's life - but only for their duration, as, during back garden kickabouts, he was obliged to become the heart-of-oak worker Roger Hunt while his son lorded it as Hurst.
Will England manage to inspire father-and-son teams to similar efforts over the coming fortnight?  "Right Dad. I'm Rooney. And you can be James Milner…" It would be nice to think so.
It would be nice to think, also, that the national struggle we are about to witness will not be viewed as a kind of warfare, a campaign of national vindication.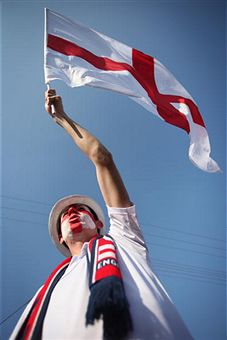 Passing through King's Cross Station, as I just did, with the big kick-off less than an hour away, I viewed with dismay the already well-bevvied mass of England shirts as they surged towards wherever they were going to watch the match, making the station resound with the familiar three-stage cry: "Eng-er-land, Eng-er-land".
Recent history, and its unhappy associations, mean that such displays of patriotism tend to engender caution rather than pride in the neutral observer. Or even the unvocal, individual England follower.
Where did this start?
In his perceptive and intelligent book about England's 1966 victory - "England's Last Glory - The Boys Of '66" (Pavilion, £7.99) - David Miller, the experienced journalist, reflects on the origins of such minatory "patriotism."
Miller notes how England's progress was enhanced by "the ever increasing emotion of their supporters, whose patriotism, in a nation as traditionally undemonstrative as the English, amounted almost to excess…"
The writer questions whether the seeds of the Heysel disaster were sown 19 years beforehand, and quotes the comments of German TV commentator Werner Schneider on the way home spectators responded to the unfolding action of the 1966 World Cup finals.
"The English nationalism is more than football," Schneider wrote. "They want to fly flags and beat drums because they are winning at football. It is said that the Germans are the most militaristic people, but this is not so. The British are. Even winning at football is treated like winning a battle."
Miller goes on to point out that such "patriotic" expression has not been unknown in Germany either, or indeed Argentina, or Mexico…
But he concludes: "There may well be a difference between the emotions of national unity, echoing the team's success, fostered among ordinary people in 1966, and the disgraceful, rampant minority draped in Union Jacks who over the next twenty years went pillaging foreign cities in drunken disorder to the point where the English were belatedly banned. But the connection, I believe, was there: the vicarious fulfilment in sporting success which encouraged the unthinking to see failure as intolerable and to interpret success as a material substitute instead of an abstract."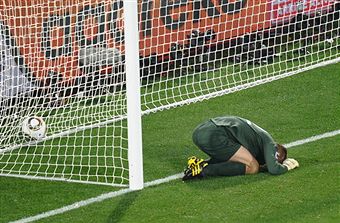 If Miller is right, the result which England eventually obtained tonight against the United States – and how many times will poor Robert Green be reminded of it, but thank goodness for that compensatory second half save from Altidore  – is probably ideal. As I write now there is neither the ugliness engendered by defeat, nor the soaring optimism created by victory, an optimism that dips so dramatically once the high ideals are called into serious question.
So - the opening match of World Cup 2010 - a 1-1 draw. As Alf Ramsey told his men in the dressing room after they had drawn their opening group match of the 1966 tournament against Uruguay: "You may not have won, but you didn't lose."
Qualified confidence.  Cautious optimism. This is the English way.
Mike Rowbottom, one of Britain's most talented sportswriters, has covered the last five Summer and four Winter Olympics for The Independent. Previously he has worked for the Daily Mail, The Times, The Observer, the Sunday Correspondent and The Guardian. He is now chief feature writer for our sister publication, insidethegames