"And the big Gun guffawed," The Last Laugh, Wilfred Owen
The military connection endures today in name only, and in the cannon that is borne on the club's crest, but there is no question that in football terms the passage of history has made Arsenal one of England's big guns. Thirteen league titles and 10 FA Cups point to a record bettered only by Manchester United and Liverpool. But, as is demonstrated by the central ring between the tiers at the club's the 60,000-seat Emirates Stadium, adorned as it is with icons of all the club's trophies from seasons past, a long fallow period has persisted since shortly before the move to their latest ground.
How much longer this now nine-year barren period will go on is to be tested in the coming weeks. With 14 matches remaining to be played, Arsenal sit two points clear at the top of the Premier League, a position few had predicted them to occupy at all, let alone for so long. Since opening-day defeat to Aston Villa they have only lost to Manchester United and Manchester City, two of the six clubs immediately below them, and both matches were away. This consistency has ensured Arsenal have relinquished the top position in the Premier League for only a single match-day since they took it over in mid-September.
Yet between now and April 5 they face every one of those top-seven clubs. Moreover Chelsea, Liverpool, Everton and Tottenham Hotspur are to be met away from home. Almost no-one sees Arsenal maintaining their heady position in two months' time. Obviously they cannot see it through. Can they?
Now past performance, as they say in financial parlance, is not a guarantee of future results, but it might serve as a guide. And what it tells us might surprise everyone except Arsène Wenger, whose knowing smile with every successful Arsenal result has been dismissed as delusion.
The current top seven are the only current Premier League English clubs to have qualified for the Champions League in the 21st Century (Leeds qualified before dropping divisions after their own financial meltdown) and they may reasonably be viewed as that nation's strongest. Manchester City broke in to the top four courtesy of their takeover by the sovereign wealth of Abu Dhabi in 2008, and that seems a reasonable point to begin the analysis of results between the seven teams. Here is how they have fared against each other in the past seven seasons (in Premier League meetings only):





Results source: statto.com; data compilation: Matt Scott
This set of results gives the following mini-league table:

On that basis, things don't look so good for Arsenal as the coming flurry of fixtures pits them against their peers. But a closer look at the statistics might indicate something else.

Due to their having played fewer matches Arsenal have in fact been stronger than the Premier League title favourites, Manchester City, over the period. And they can draw particular courage from where these fixtures will be held.

Arsenal have taken more points off their opponents in the corresponding fixtures than they have had taken from them. This is of particular importance in the big matches in a title race as every win is three points gained and three lost for a rival. So when considering the games against Chelsea and Manchester City, the two other sides likeliest to win the Premier League, it matters more.
Overall City have picked up only 1.667 points per game away this season. Their record over the period in the big away games has been the poorest of all seven clubs and they have picked up only five points from a possible 18 at the Emirates in that time. That City will lose to Arsenal on March 29 is therefore highly conceivable. (And the fact they also still have to play Manchester United, Liverpool and Everton away may be even more telling in terms of their title aspirations overall.) Similarly Chelsea have conceded all the points to Arsenal in two of the pair's past five matches at Stamford Bridge. That they will win this 'six-pointer' cannot be guaranteed.
Now past performance is not a completely accurate guide of future performance as there are many variables. The return of Jose Mourinho to Chelsea is of course one: Chelsea are unbeaten at Stamford Bridge under his management in more than 70 matches. But another is Arsenal's centre-back pairing of Per Mertesacker and Laurent Koscielny: they have not lost a game the two have completed together since January 2012. A draw would seem to suit both sides.
But this column is called Money Talk, and arguably a bigger variable than what has happened on the pitch is how Arsenal have transformed from a "selling" club that cashes in on its most valuable playing assets into an investing club. Their competitiveness in the corresponding fixtures over the past five years was achieved at a time when their transfer spending had been dramatically lower than all their rivals bar Everton.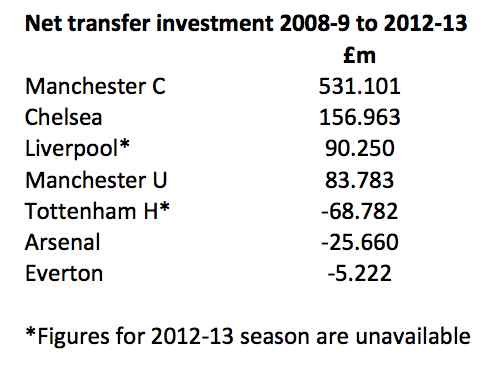 Yet it is likely that once the current season's figures are released, it will demonstrate that Arsenal have become more significant net investors in the transfer market than the average £5.132 million a year previously committed to player transfers. The signing of Mesut Özil, the attacking player with the second-highest passing-success rate and number of assists in the Premier League this season, which was reported at more than £40 million, is likely to have guaranteed that on its own.
Wenger and the Arsenal board have been criticised for not acquiring any players during the January transfer window. But there is no question that this season Arsenal have strengthened while others have stood still or even weakened. Manchester United travel to the Emirates Stadium next week having picked up only one point on their travels in the big-seven mini-league this season. Tottenham Hotspur have lost twice already to Arsenal this season (although it is significant that neither match was at White Hart Lane).
Naturally it will be difficult for any team to face a congested run of fixtures played against all their biggest rivals in so short a period. (With the added interruptions of matches against the European champions, Bayern Munich, in the Champions League and Liverpool in the FA Cup on top.) But Arsenal have a two-point lead over Chelsea and Manchester City right now and history suggests it is not so preposterous to think they will still be in the reckoning come April 6, however much that is the popular opinion.
Wenger has had a knowing smile. He may yet have the last laugh.
Journalist and broadcaster Matt Scott wrote the Digger column for The Guardian newspaper for five years and is now a columnist for Insideworldfootball. Contact him at moc.l1685309155labto1685309155ofdlr1685309155owedi1685309155sni@t1685309155tocs.1685309155ttam1685309155.