July 6 – The Bundesliga and Premier League will continue to dominate the business of football with their big and modern stadia; France, thanks to new stadia for Euro 2016 are getting better but need to do more, Spain and Italy are off the pace.
These are the basic conclusions of a research report by KPMG's Football Benchmark team looking at the Big 5 European leagues and their stadia from a 'demand' perspective.
The report focussed on last season's attendance figures, percentage capacities of stadia filled, and ticket prices. It also looked at the likely trends for the upcoming 2016/17 season.
The full report can be read at https://www.footballbenchmark.com/stadia_landscape_demand_focus_2016_2017. Below are highlights from their findings.
Bundesliga 
Second most popular sports league in the world, bettered only by the NFL
Only football league with an average attendance above 40,000. In 2015/16 Bundesliga games attracted a per game average of 43,193 people.
German clubs broaden their appeal by lowering their prices.
The Bundesliga is only second to Premier League with a figure of 92%.
In the 2016/17 season average attendances might fall due to the fact that relegated VfB Stuttgart and Hannover 96 have a combined stadium capacity of 109,441, around 41,000 more than promoted SC Freiburg (24,000) and RB Leipzig (44,345).
Premier League
Average attendance figure of 36,452 is the second highest in Europe.
Manchester United FC's (75,286) was the only Premier League club attracting average crowds in excess of 60,000.
English stadia (38,000), are approximately 20% smaller than the average Bundesliga stadium (46,924).
The Premier League had the highest utilization figure in Europe of 96.1% in the 2015/16 season. With the exception of Villa Park, all stadia registered utilisation rates above 90%.
Due to their relatively low capacities, Premier League spectator figures will not be significantly affected by Brexit.
La Liga
Average attendance was 28,168.
The three most prominent Spanish clubs' average spectator attendances – FC Barcelona (78,881), Real Madrid CF (69,736), and Club Atlético de Madrid's (44,647) – account for about 35% of the league's total.
Competitiveness of the league is a key factor influencing attendances
It is likely that La Liga will remain stable in 2016/17.
Serie A
The second lowest average attendance figure (22,644) out of the 'big five' leagues, and has experienced a continuous decline in the past few years.
Italian stadia are the second largest by capacity in Europe, only behind Germany, with an average utilization rate barely exceeding 50
While the new composition of teams for the 2016/17 season may have a positive impact in terms of stadium utilization, notable improvement of Italian stadia performance is not expected.
Ligue 1
The lowest average attendances of the 'big five' leagues in 2015-16 at 20,894 spectators per game.
Paris Saint-Germain FC's Parc des Princes has a capacity of only 47,929, it enjoyed an average attendance of 46,160 (96.3% utilisation) in the past season.
2016/17, Ligue 1's average attendance could increase as promoted clubs' grounds have around 4,000 seats more than those of the relegated clubs.
The newly renovated and rebuilt EURO 2016 stadia are expected to attract a large number of new supporters.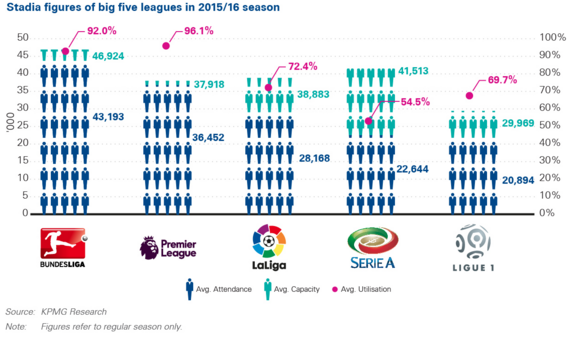 Contact the writer of this story at moc.l1702132900labto1702132900ofdlr1702132900owedi1702132900sni@n1702132900osloh1702132900cin.l1702132900uap1702132900