June 21 – Curaçao produced the shock result of the Gold Cup to date, stunning Honduras with a 1-0 goal win that turned their group upside down.
Speculation before the match was whether they would score their first ever Gold Cup goal. Now it is whether they can win their group.
Curaçao now play Jamaica in the final round of group games at the Banc of California Stadium in Los Angeles on Wednesday. Honduras play for pride against El Salvador. El Salvador are playing for a place in the knockout rounds.
It was another hot night in Texas. After the 97 degrees of Frisco the evening before, Houston was still a steamy 87 degrees when the 30-minute cooling break was taken for the players – the score was 0-0 and Honduras should have had the match won. An Anthony Lozano header had hit the bar on 10 minutes and Honduras had peppered the Curaçao goal with shots.
Curacao goalkeeper Eloy Room was heading for a man of the match performance.
Honduras played at the 2010 and 2014 World Cups and lost a play-off for 2018 against Australia, but history counts for nothing and on 40 minutes midfielder Leandro Bacuna was on the end of Gevaro Nepomuceno's through ball to score.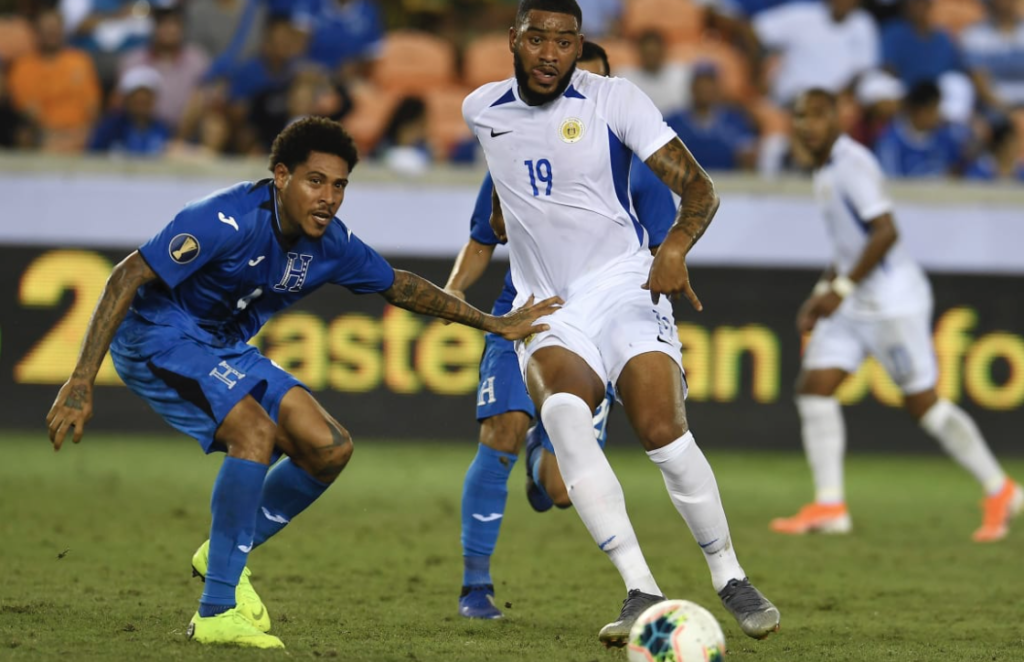 A giant killing act awaited the Dutch Caribbean island of 160,000 people.
If they were under pressure before, Curaçao were now besieged by an increasingly frustrated Honduras. In defence Curaçao were expertly marshalled by their captain, former Southampton defender Cuco Martina – remembered on England's sunny south coast for a wonder goal against Arsenal. Today's heroics were of a far different kind as he beat back waves of Honduran attacks and continually pulled his defence into alignment.
Honduras looked to have scoed in the 59th minute but Rubilio Castillo was called offside. It was a decision that the referee took a long time debating with his assistant. It looked like it was the wrong one – Castillo was onside, other players were off but whether they were interfering with play is debateable.
Curaçao didn't care. As the game progressed Honduras increasingly went long ball, doubtless to the delight of Martina.
End of game stats showed 37 Honduran shots on the Curaçao goal against seven on their own. Room made an outstanding 15 saves.
It was one-way traffic but Honduras have missed the bus this tournament.
For the first time in their Gold Cup history, Curaçao are in the driving seat. "We have always the confidence to go through, only we didn't win, we didn't score but now we have the confidence and if we win this game against Honduras then we can beat, also, Jamaica," said Room.
Contact the writer of this story at moc.l1701564099labto1701564099ofdlr1701564099owedi1701564099sni@n1701564099osloh1701564099cin.l1701564099uap1701564099