April 2 – The value of player transfer market will fall 28% if no more matches are played and no player contracts renewed until June 30, according to an analysis by the CIES Football Observatory.
The total transfer value of big-5 league players would plummet from €32.7 billion to €23.4 billion, ripping the heart out of a transfer business that has been a financial life support system for many clubs who survive on selling their best talents to bigger clubs.
The CIES says their analysis shows different declines in value for players depending on player age, length of contract, career trajectory and recent performance.
"The greatest loss in relative terms concerns older footballers with relatively short contracts and having played less this season than in the previous one. As an example, the estimated value of Paul Pogba would drop by almost half from €65 million to €35 million," says the CIES report.
The greatest potential loss in percentage terms was measured for Olympique de Marseille (38%) followed by Inter Milan (35.7%).
Looking at the stats by league, seven Serie A and seven LaLiga clubs make the list of top 20 clubs in terms of potential loss. Only two Premier League clubs – Sheffiled Untioed and Everton – make the top 20.
In total 24 teams would lose over 30% of potential value, including Europe's financially dominant giants Barcelona, Real Madrid, Paris St Germain and Manchester City.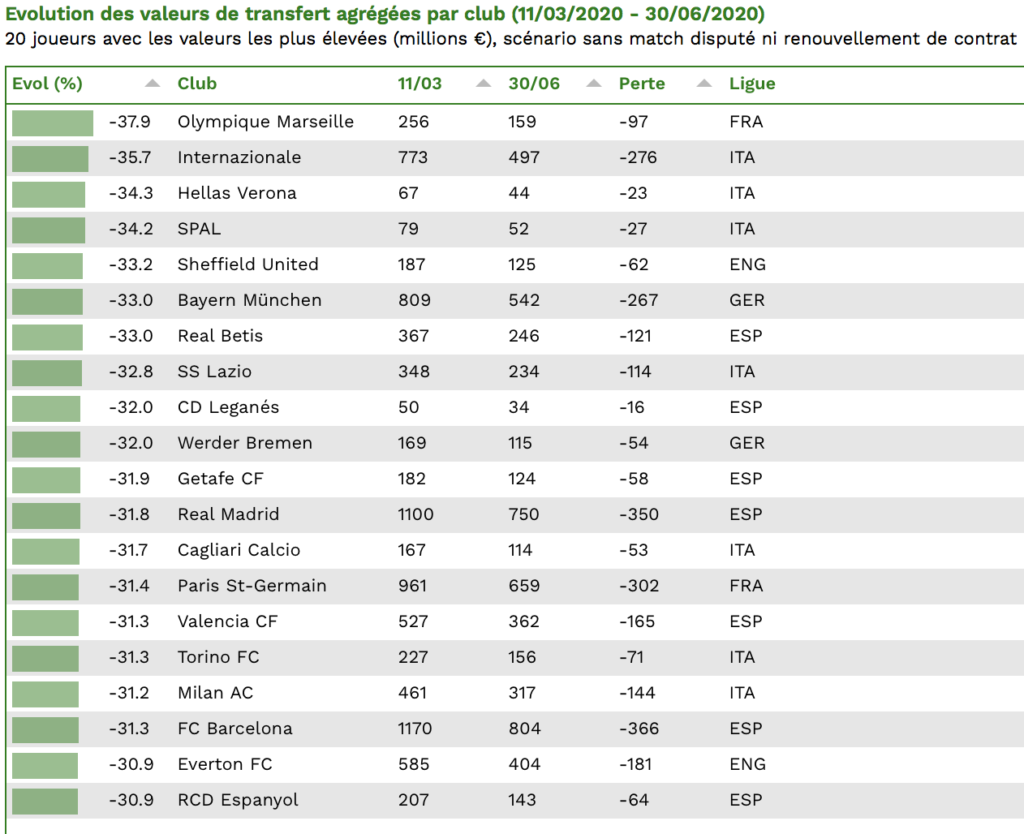 See the full data at https://football-observatory.com/IMG/sites/b5wp/2019/wp289/fr/
Contact the writer of this story at moc.l1656922714labto1656922714ofdlr1656922714owdis1656922714ni@no1656922714slohc1656922714in.lu1656922714ap1656922714