October 21 – Belgium are still top of the FIFA men's national team world rankings, a position they have held since October 2018 when they supplanted France. The French, on the back of their Nations League win this month, have moved back into the top three and sit behind Brazil.
There were 160 internationals played in October with World Cup qualifiers in full flow around the world's confederations.
Brazil have narrowed the gap on Belgium to 12 points and with Argentina (ranked sixth) are the only two South American teams in the top 10. Concacaf's Mexico are ranked eight, all other teams in the top 10 are from Europe.
England dropped from third to fifth in the ranking while Spain's (7, +1) and Germany (12, +2), began moves back up the ranking.
Significant movers in the October ranking are Morocco (29, +4), Russia (33, +4), Egypt (44, +4), Saudi Arabia (49, +7) and South Africa (66, +7).
Even bigger jumps were seen by New Zealand (111, +10) and Indonesia (165, +10) the joint biggest movers this month, ahead of Central African Republic (115, +9) and Cambodia (170, +8).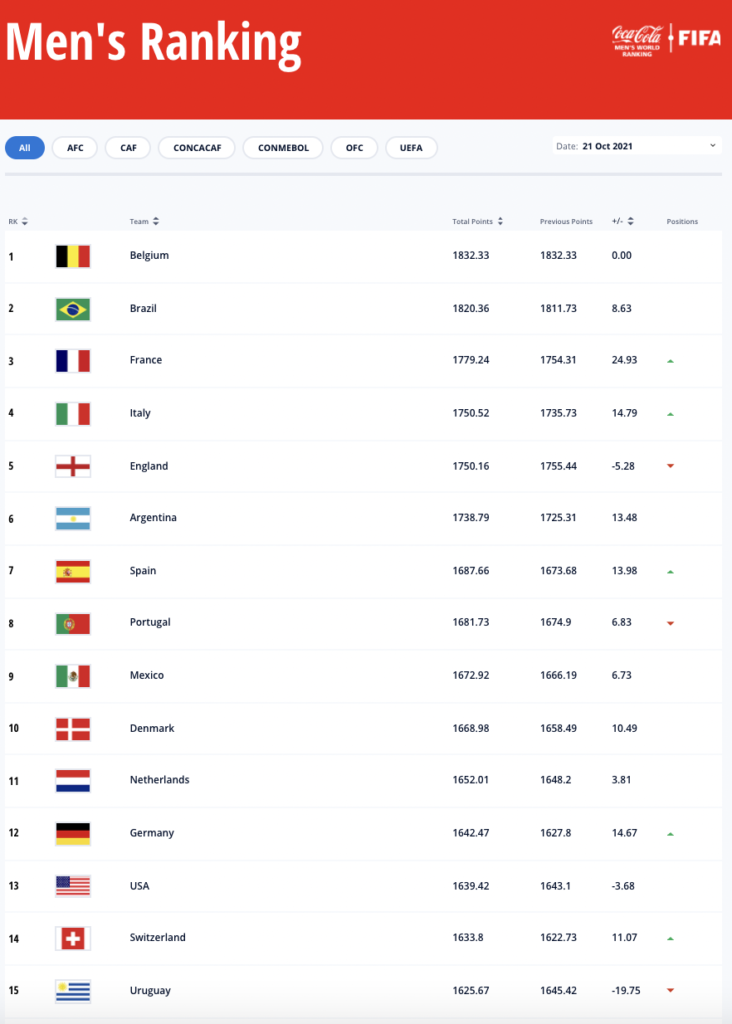 To see the full ranking click here.
Contact the writer of this story at moc.l1664145467labto1664145467ofdlr1664145467owedi1664145467snI@n1664145467osloh1664145467cin.l1664145467uap1664145467