December 23 – Belgium will be top of the men's FIFA rankings for a fourth successive Christmas and New Year, while the US women remain top of their rankings, a position they have held since 2017.
With talk of a biennial World Cup and the FIFA president's Robin Hood approach to the game's funding with his plan to rob from the richer clubs, leagues, national teams and confederations and give the money (or at least some of it) to the starving, under-nourished and – by his reckoning – performance deficient rest of the world, the rankings can be seen as either making the case for the biennial for him, or raising a red flag warning against breaking up football's meritocracy achieved by winning on the pitch in favour of a vanilla, we are-all-one utopia.
Looking at it another way, it can be likened to the world of free market economics against the world of planned economies and dictatorial despots.
Something to ponder about over the holiday period for the more cerebral football fan who cares more about football than Cristiano Ronaldo's impressive collection of abdominal muscles. Are there any left? FIFA – with their recent 'it's what the youth want' – would prefer us focussed on that than their own muscular flexing.
The rankings themselves show just three entrants in the men's and women's top 10s from FIFA's impoverished football world, all of them in the women's rankings and one of them the USA.
DPR Korea – not currently active in international football – are the only Asian nation to make a top 10 (based on past performances of their women's team). Canada are the other team to make a top 10.
Brazil and Argentina are the only two nations to break European domination of men's top 10. Five nations appear in both men's and women's rankings – Brazil, France, England, Italy and Spain.
UEFA and Conmebol are unequivocally against a biennial World Cup and would likely walk out completely if it became a reality. The two North American teams would probably stay but then they are scheduled to host 2026. No-one knows what DPR Korea wants or will even return to play in the near future.
Taking those 17 teams out of a World Cup would render the competition a farce – if it was to be called a World Cup. And if it isn't called that, and the Europeans and South American's don't participate, the whole of FIFA's house of cards and somewhat dubious assumptions crumble as fast as FIFA president Gianni Infantino's attempt to railroad a vote through on the proposal this December – they had a 'Global Summit' instead… actually just another pitch.
Ranking moves
Just looking at the rankings themselves there are some interesting moves lower down the table in the men's category.
"Canada (40th) are the year's 'Most Improved Side' having picked up no fewer than 130.32 points over the last 12 months. Their journey to the semi-finals of the 2021 Gold Cup as well as impressive results in FIFA World Cup Qatar 2022 qualifying have been major factors in their rise," point out FIFA. Canada are certainly a testament to a structured approach with talented people leading the way and creating talented players.
Similarly Saudi Arabia (51st + 81.71 points compared to December 2020) are changing the balance in Asia.
Only 352 full internationals were played in 2020 – the lowest since 1987 (323 matches). A record breaking 1116 matches were played in 2021.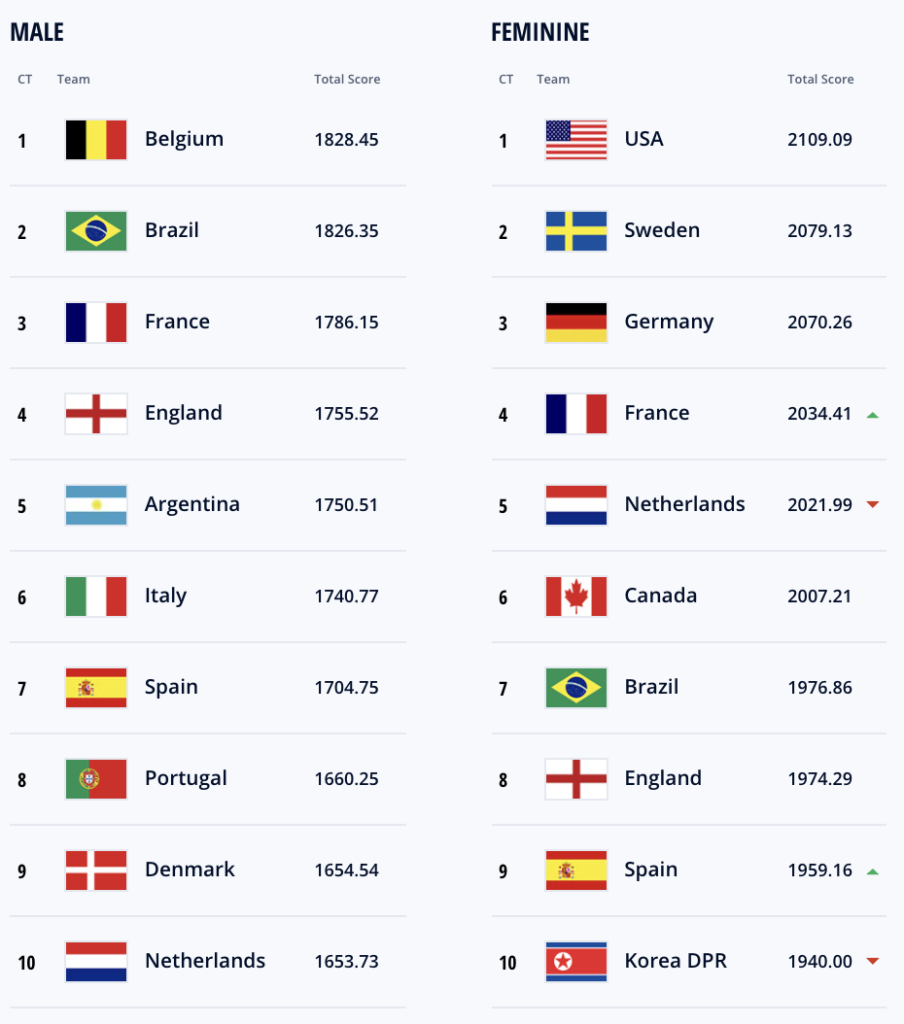 For the full women's rankings click here.
For the full men's rankings click here.
Contact the writer of this story at moc.l1660469393labto1660469393ofdlr1660469393owedi1660469393sni@n1660469393osloh1660469393cin.l1660469393uap1660469393