February 24 – Player values have remained stagnant since the 19.6% drop in values triggered by the covid pandemic, according to updated data from the KPMG Football Benchmark team.
The data does show the enduring financial power of the Premier League where the average market value of a player is €21 million, almost twice that of Bundesliga and LaLiga players who on average value €11.5 million
KPMG point out that: "Outside of the traditional "big five", Portugal's Primeira Liga retained its top position, ahead of the Dutch Eredivisie and Russia's first tier. Brazil's top league shows a 20% growth in average player value (from €1.9 million to €2.3 million)."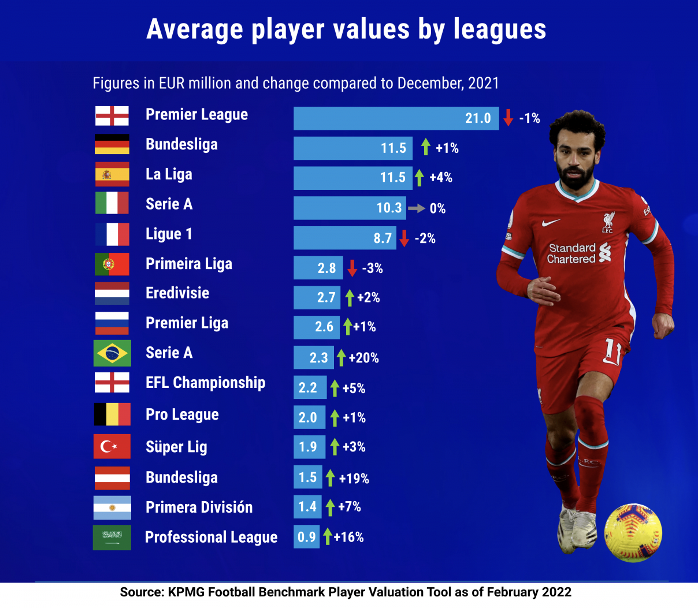 The rise in Campeonato Brasileiro Série A is primarily due to value growth of a number of young stars including Palmeiras' 20-year-old midfielder Danilo, who almost doubled his value in three months.
Manchester City and Chelsea have the highest value squads, while Manchester United dropped five positions in the ranking (from 3rd to 8th) with a squad value decreasing from €1.011 billion to €824.8 million since December – mainly due to some high-value players out on loan.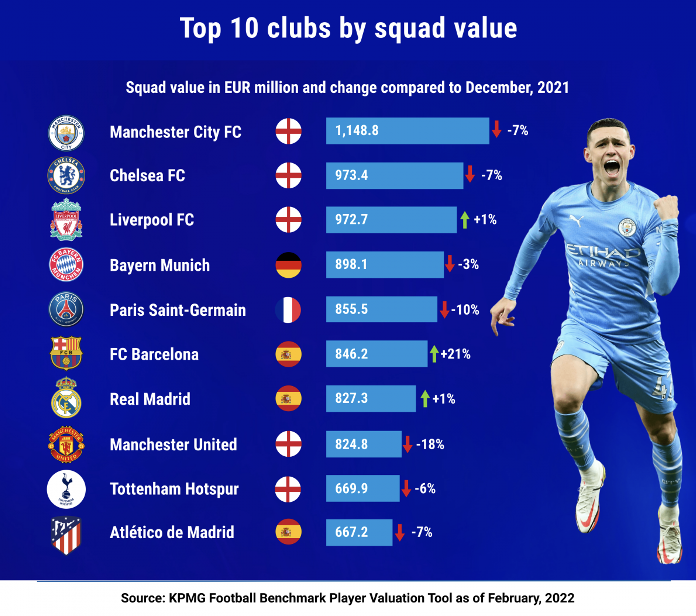 In contrast, Barcelona gained €146 million in squad value, with January signings Adama Traoré, Ferrán Torres, and Pierre-Emerick Aubameyang and younger players such as Gavi (€50.1 million), Nico González (€35.7 million) and Ez Abde (€16.2m million) showing value for the first time.
Vinícius Junior registered the largest growth in market value (+€35.7 million) but Erling Haaland tops the ranking overall, followed by Man City's Phil Foden. Liverpool's Trent Alexander-Arnold ranks third. Eight of the top 10 players ranked by value play in the Premier League.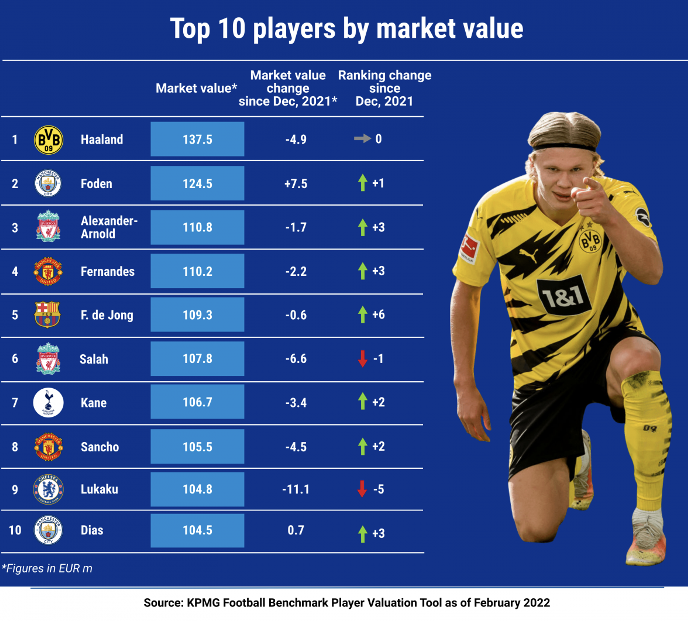 To see the full data click here.
Contact the writer of this story at moc.l1695321264labto1695321264ofdlr1695321264owedi1695321264sni@n1695321264osloh1695321264cin.l1695321264uap1695321264