March 7 – Portugal's Benfica have the most profitable academy in the world having generated €379 million from the sale of players since July 2015. Real Madrid have the second most profitable youth training system. Chelsea are ranked 8th.
The data gathered by the CIES Football Observatory Weekly Post lists the top 50 clubs worldwide who have generated the most from sales of players who graduated from their youth academy and had been at the club for at least three years between their 15th and 21st birthdays.
Real Madrid (€330 million) ran the second most profitable academy in the world and the most profitable in Spain, far outstripping Barcelona's famed La Masia that generated just €161 million from sales.
AS Monaco, third overall at €285 million, led the French Ligue 1,  ahead of the Dutch side Ajax (€283 million). Bayer Leverkusen headed the Bundesliga (€213 million) and Atalanta led Serie A (€211 million).
Chelsea at €210 million where ahead of Liverpool (€171 million) and Manchester City (€141 million).
Flamengo (13th), River Plate (27th) and Santos (28th) are in the top three positions for non-European teams.
Aggregating players by league, the English Premier League led with a near €400 million advantage over France's Ligue 1.
"With €2.03 billion, English clubs generated then most money by the transfer of academy graduates since July 2015, just ahead French teams (€1.61 billion). Spanish clubs (€1.39 billion) complete the podium per nation, ahead of the Italians (€1.11 billion), the Brazilians (€951 million), the Germans (€916 million), the Portuguese (€788 million), the Dutch (€709 million) and the Argentineans (€566 million)," says the CIES report.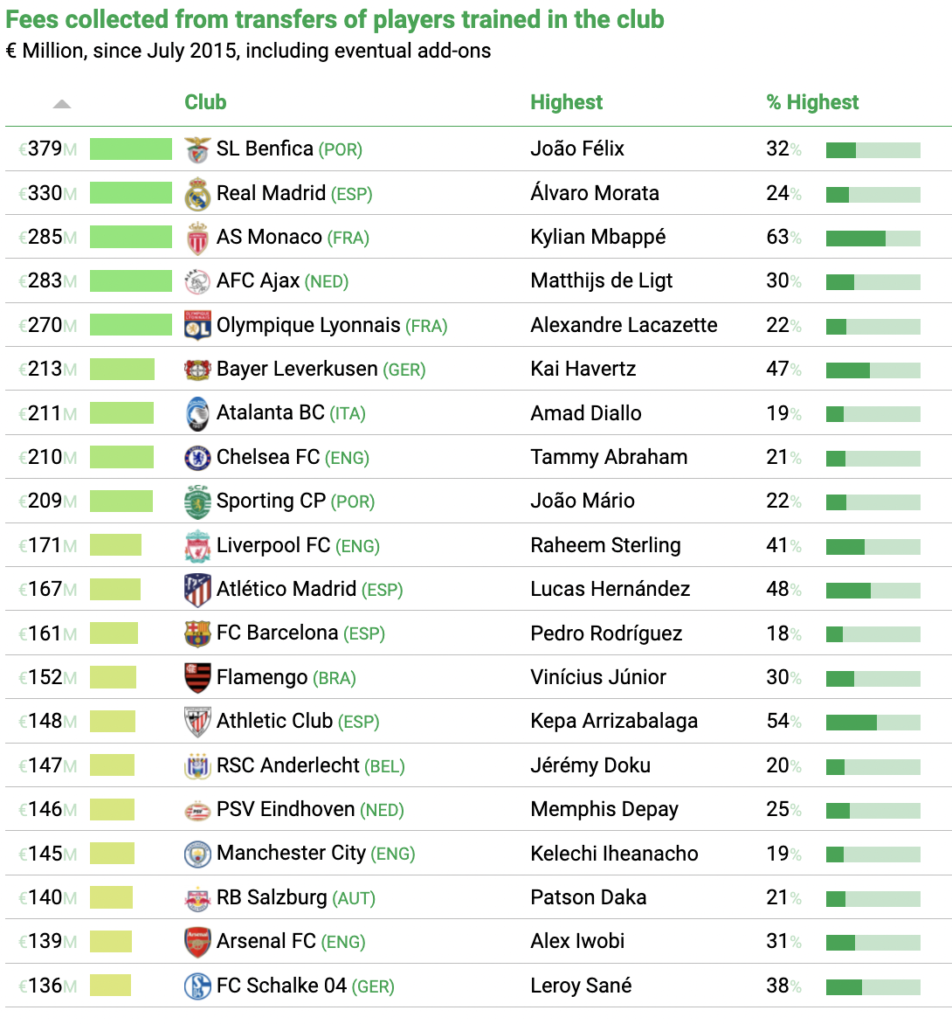 To see the full report, click here.
Contact the writer of this story at moc.l1659929911labto1659929911ofdlr1659929911owedi1659929911sni@n1659929911osloh1659929911cin.l1659929911uap1659929911