By Matt Scott
April 14 – Genius Sports, the official data supplier to the Premier League, has continued to offer its services to Russian punters in the weeks after it announced it was withdrawing business from the territory.
Using the hashtag #standwithukraine, on March 6 Genius Sports issued a statement from its head office on its Twitter account to make clear that "as a result of events in Ukraine we are ceasing all commercial operations in Russia and Belarus".
It added: "At all times our priority remains ensuring the safety and well-being of our colleagues, their families and loved ones in the region. Our thoughts are with the Ukrainian people."
#StandWithUkraine️ pic.twitter.com/mgyLwv4tLA

— Genius Sports (@GeniusSports) March 6, 2022
The tweet drew approbation from one user, @murilos93, who replied with three applause emojis.
However, it appears from the source code of the Marathonbet.ru website that there is evidence of Genius Sports continuing its Russian operations, even as the hostilities from Vladimir Putin's regime intensified.
When contacted by Insideworldfootball on the matter, Genius Sport said in a statement: "We do not supply Russian entities and do not cover Russian events. As we understand, we are clearly distinct from the rest of the market."
This seems a semantic point that independent sources such as IPinfo.io suggest is at best stretching the truth. Marathonbet.ru is a Russian-language website with a Russian domain name serving Russian consumers.
IPinfo.io, which describes itself as "the trusted source for IP address data", notes the Marathonbet.ru website is registered by Marathon Bookmaker Company Ltd. It states that its country of origin is Russia.
Whether Ukrainian eyes would see Genius Sport's position as making a '#standwithukraine' is questionable at best. When pressed on this point and asked how many betting operators in Russia and Belarus it had terminated commercial relationships with as a result of its position, Genius Sports did not immediately respond.
On March 22, more than two weeks after the Genius Sports announcement, Marathonbet was offering odds from the North Carolina Wilmington Seahawks at Middle Tennessee Blue Raiders college-basketball game.
The site's source code clearly demonstrated that BetGenius, a division of the Nasdaq-listed Genius Sports, was the provider of the data:
"…"matchScore":"59:61","provider":"BetGenius","significant":true),"
The same code format could be found on the Marathonbet website as it offered odds in the American Hockey League ice-hockey game between Grand Rapids Griffins and Ontario Reign:
"…"matchScore":"2:5","provider":"BetGenius","significant":true),"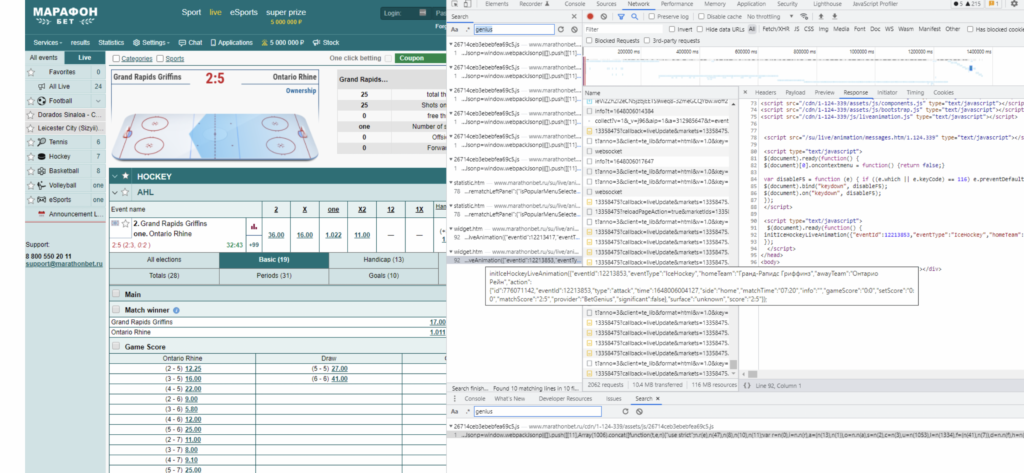 Then on Tuesday April 5th, in the Henderson Silver Knights v Rockford Icehogs ice-hockey game, the same thing again:
"…"matchScore":"0:1","provider":"BetGenius","significant":false),"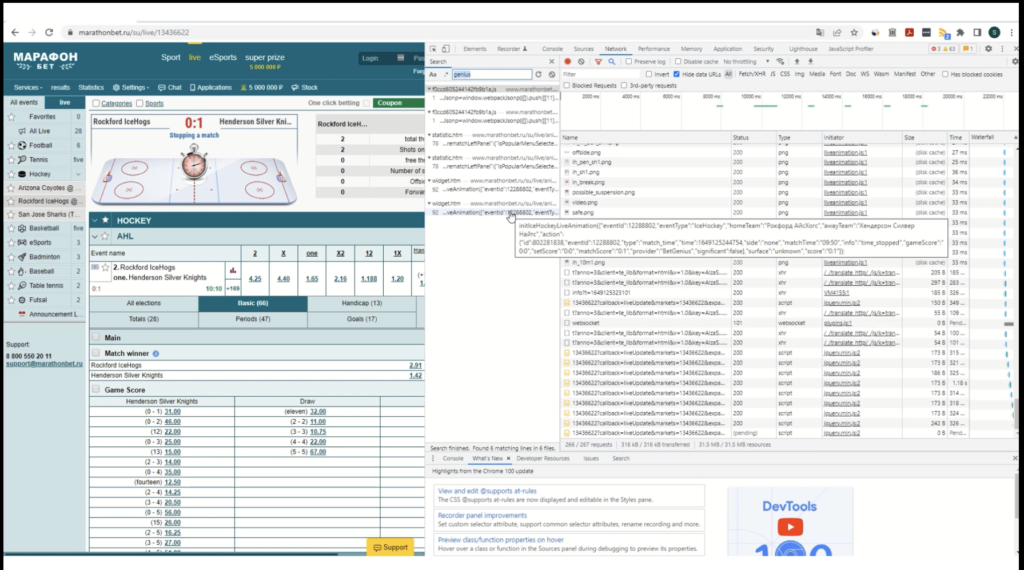 On the day of the Henderson-Rockford match, Ukraine's president President Zelenskiy was addressing the United Nations Security Council and providing video evidence of the Bucha massacre perpetrated by Russian troops.
However, perhaps after announcing its commercial withdrawal from Russia and Belarus, Genius Sports chose instead to follow the advice of another Twitter user who replied to its March 6th tweet. The message from @ClarkFantasyBB was blunter than that of @murilos93.
Clark said: "You're hemorrhaging money. Stock is in the toilet. No one cares about A data provider standing with Ukraine. Focus on your business, not virtue signaling."
Contact the writer of this story at moc.l1660491774labto1660491774ofdlr1660491774owedi1660491774sni@t1660491774tocs.1660491774ttam1660491774