By Andrew Warshaw
May 11 – From staving off the threat of a breakaway super league to organising the Euros in 11 countries during an unprecedented pandemic to ploughing all but three percent of its budget back into football, UEFA president Aleksander Ceferin today issued a point-by-point appraisal of his organisation's achievements over the past year.
Addressing the 46th UEFA Congress in Vienna, Ceferin in the main stayed clear of controversy and stuck to the positives but inevitably cited the Russian invasion of Ukraine.
UEFA has applied strong sanctions against Russia, not least expelling Russian teams from its competitions, and the Slovenian, recalling the Balkan crisis over a generation ago, told delegates how the current situation affected him personally.
"Football is undoubtedly the loser, one of the losers, since we are depriving players, coaches and supporters, who have nothing to do with the current situation, of their passion and their dreams," said Ceferin.
"And it breaks my heart. My own region experienced this 30 years ago, when it was ostracised by the international community and sports organisations, and I know how cruel it can be. But when UEFA issues unprecedented sanctions, football is trying to make its own tiny contribution to society and Europe's leaders as they strive for peace on our continent."
"It may be seen as a dangerous precedent but the cost of these events is greater than anything else, greater than the careers of a few hundred footballers and a principle of sporting neutrality which is no longer tenable in the context of war."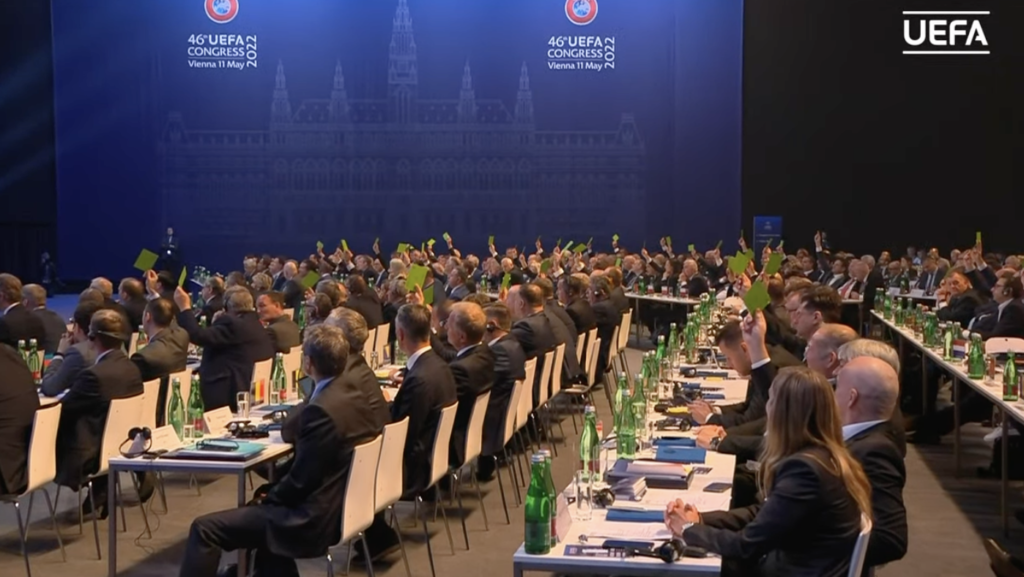 Recalling the aborted Super League project, Ceferin attacked what he described as "a brazen attempt by a handful of oligarchs and football aristocrats to launch a project that would have trampled on all the values of European football and European society."
Laudably, he also made a point of denouncing the disgraceful scenes at Wembley last summer when scores of ticketless drunken yobs stormed the stadium at the final between England and Italy.
"Such images of violence are unacceptable," said Ceferin. "When a family goes to see match it is a time for fun and enjoyment. People should feel safe in and around a stadium. They should never feel in danger. With the authorities' help this cannot happen again. Never."
Contact the writer of this story at moc.l1664671415labto1664671415ofdlr1664671415owedi1664671415sni@w1664671415ahsra1664671415w.wer1664671415dna1664671415