June 22 – Brazil, who knocked Belgium off the top of the World rankings after a more than three-year reign in March, have remained at the top in the latest ranking of FIFA men's national teams.
After a hectic session of international matches that saw 280 matches played in the period between the rankings, Belgium have retained second place but France have dropped a place to fourth, being replaced by Finalissima winner Argentina.
FIFA point out that with so many matches played the ranking of 211 countries has seen 177 experience movement.
"Making progress among the Top 10 are Spain (6th, plus 1), the Netherlands (8th, plus 2) and Denmark (10th, plus 1), while Italy (7th, minus 1) and Portugal (9th, minus 1) head in the opposite direction. For their part, Mexico (12th, minus 3) drop out of the Top 10 completely," highlight FIFA.
The highest climbing nation, with a move of 11 places, was Kazakhstan (114th), while Cuba also made a significant upward move after a couple of years of drifting downwards, jumping 10 places to 167th. In Asia, Malaysia also showed a significant jump (147th, plus7).
Eight out of the top 10 nations are from Europe and 13 of the top 20. Conmebol has four nations in the top 20, Concacaf has two and Senegal is the top ranked African country at 19th.
The highest ranked AFC nations are Iran and Japan at 23 and 24.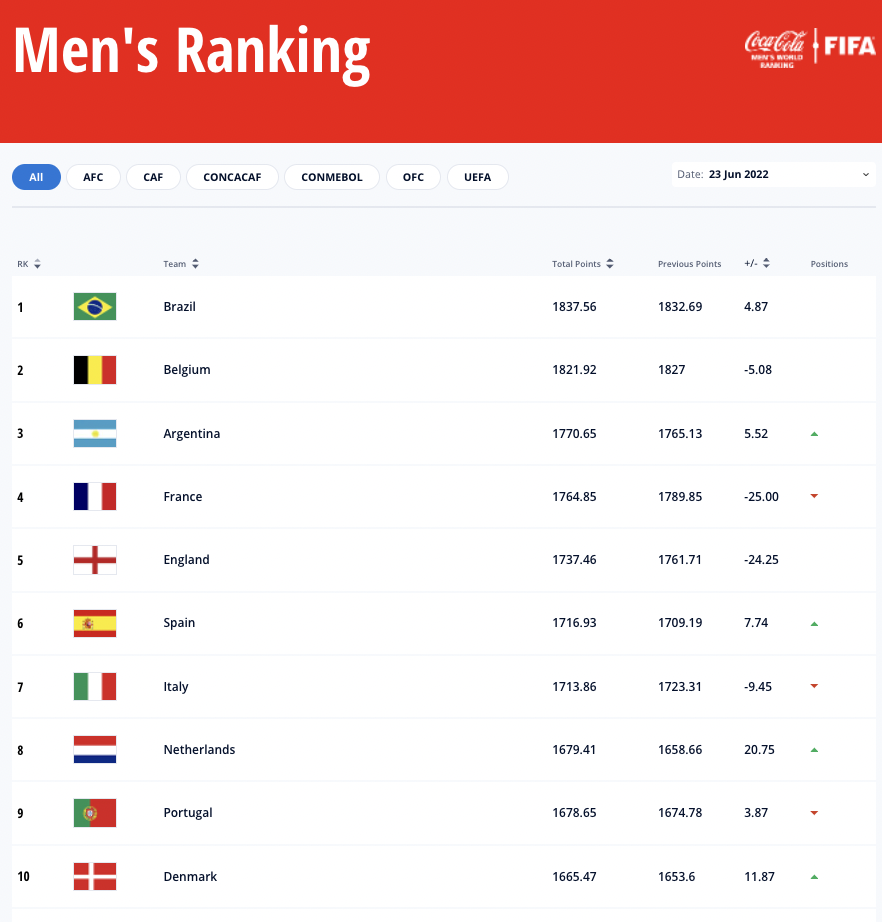 To see the full ranking click here.
Contact the writer of this story at moc.l1685865336labto1685865336ofdlr1685865336owedi1685865336sni@n1685865336osloh1685865336cin.l1685865336uap1685865336