July 26 – Qatar 2022 World Cup organisers have released detail of the Team Base Camps that will host the 32 teams in November/December this year.
The compact nature of the Qatar 2022 event will see 24 teams staying within a 10km radius of each other in Doha.
England, Belgium, Germany, Portugal and Saudi Arabia are among the teams outside the concentrated ring of teams in Doha. Brazil and Argentina are within it.
"Qatar 2022 will be a World Cup like no other, with teams benefiting from its compact nature and warm local hospitality. Players will have more time to train and rest during the competition, while being able to experience the excitement that will take over the country at much closer quarters, as fellow players and passionate fans from all 32 nations will be gathering in a single area," said Colin Smith, FIFA's Chief Operating Officer – World Cup.
Countries will all have use of similar facilities at Team Base Camps (TBCs) whether they are in Qatar for 15 days of the group stages (teams check in a minimum five days before the competition starts) or for 33 days if they reach the final. Facilities are uniformly the same with FIFA saying official training sessions the day before matches will be held at the respective training sites.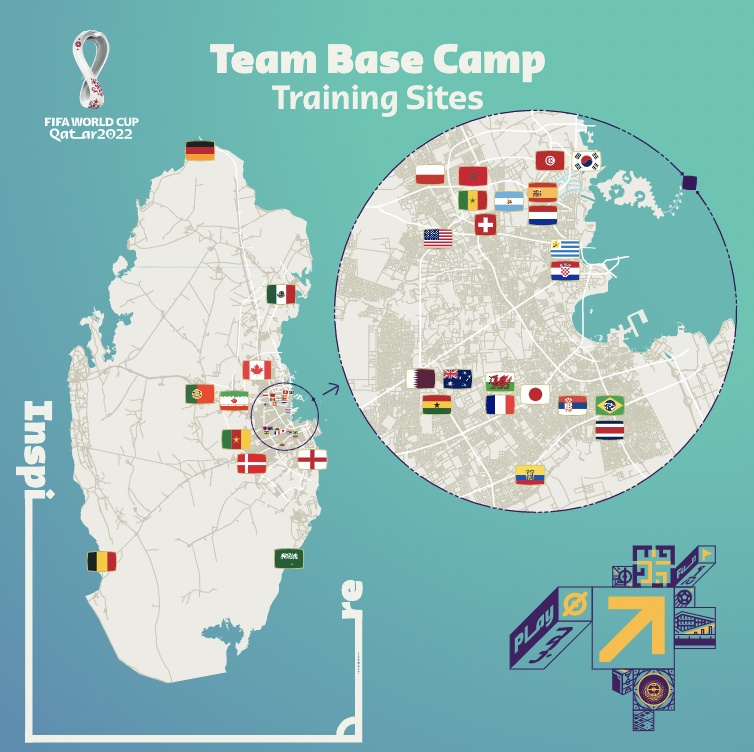 A TBC comprises the training facilities with a suitable hotel "or other form of accommodation". FIFA said there will be three types of training site in use during the tournament: local clubs, cluster training facilities and stadium training sites. "Many have been built from scratch or renovated, representing an important part of the tournament's legacy for grassroots football in Qatar," said FIFA.
Team accommodation ranges from four- and five-star hotels to villas, resorts and non-hotel accommodation, including sports academy residences and school/university housing.
Nasser Al Khater, FIFA World Cup Qatar 2022 CEO, said: "We're pleased to let fans see the world-class facilities that Qatar has developed for their national teams. As with all of our World Cup projects, legacy planning has been a key factor and many of the training sites renovated and built will benefit local clubs and communities long after the tournament has finished. The new hotels will also support Qatar's growing tourism industry post-2022."
Contact the writer of this story at moc.l1702169554labto1702169554ofdlr1702169554owedi1702169554sni@n1702169554osloh1702169554cin.l1702169554uap1702169554