December 16 – Player agents and intermediaries earned a combined $622.8 million in 2022, according to FIFA's latest figures from its Transfer Match System (TMS) database.
The figure marks a bounceback for agents fees after a decrease in 2020 followed by a small increase in 2021, with FIFA pointing out that the total spending on club intermediary service fees has now almost returned to the pre-pandemic levels of 2019.
"This represents an increase of 24.3% compared to the previous year and is only 4.9% less than the record level of spending on intermediary service fees in 2019. This increase was particularly driven by the service fees paid to intermediaries representing the engaging club, which have in fact now reached a new all-time high, surpassing the previous record set in 2019," said FIFA.
"By way of comparison, clubs' spending on transfer fees has only just started to bounce back from the pandemic but the figure for 2022 is still 11.6% below the record of 2019."
The total number of male player transfers involving intermediaries in 2022 was 4,139 – more than 20% of the total transfers.
FIFA said that 520 of the 4,762 clubs that registered an international transfer also engaged an intermediary, and of the 17,240 players who moved across borders this year, 2,886 (16.9%) were represented or assisted by an intermediary.
The number of international transfers of female professional players during the same period involving intermediaries was considerably lower than in the men's game with 106 transfers by representing clubs (more than 24% of the total) and in 340 transfers by representing players (more than 21% of the total). Agents earn considerably less out of the women's game, with less that $1 million earned in total. Even so that is still double the 2021 figure.
In the men's game in more than 90% of cases, agents received less than $1 million in service fees per transaction, with $100,000-100,000 being the most common amount received.
There were 151 cases in which the agents service fees exceeded $1 million. FIFA pointed out that they "account for around two thirds (64.6%) of the total amount paid by clubs to intermediaries, with isolated cases of service fees even surpassing $10 million.
Looking globally at where the fees are being paid it is no surprise that a large proportion of transfers with intermediaries involve UEFA clubs.
"In 2022, clubs affiliated to UEFA member associations accounted for 96.2% of the $622.8 million spent on intermediary service fees. In fact, clubs from England, Italy, Portugal, Spain, Germany and France alone were responsible for 80.9% of the total sum worldwide," said FIFA.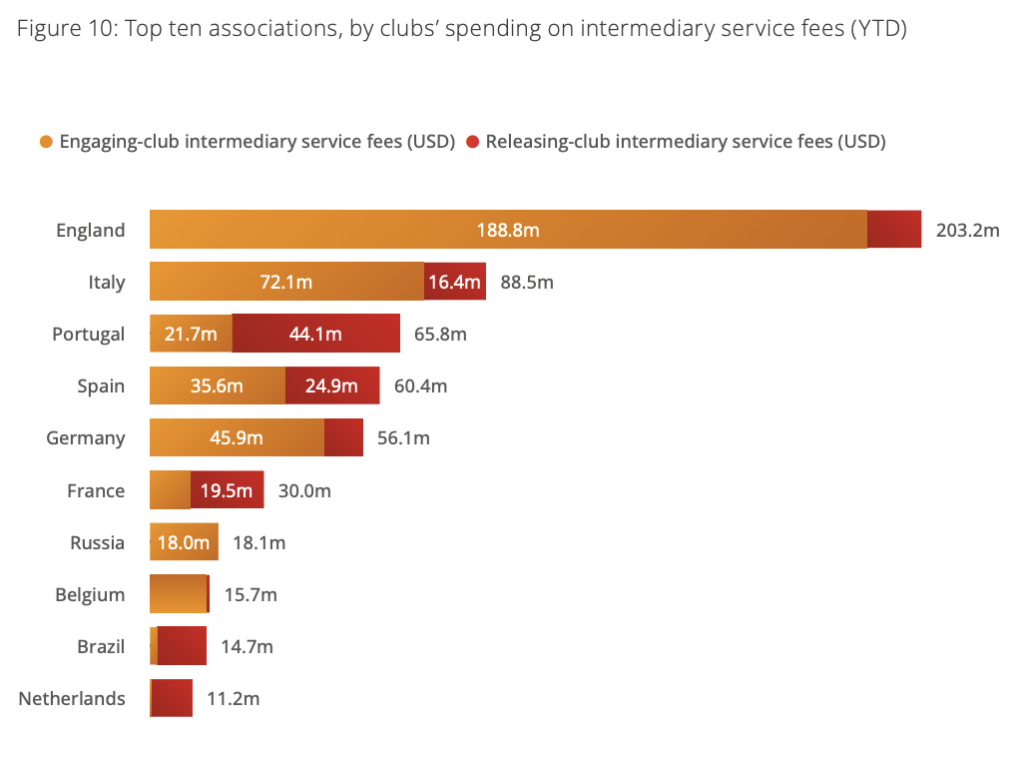 To see the full analysis click here.
Contact the writer of this story at moc.l1701954671labto1701954671ofdlr1701954671owedi1701954671sni@n1701954671osloh1701954671cin.l1701954671uap1701954671