January 19 – From being UEFA financial fair play bad boys, Manchester City have engineered a remarkable turnaround, if you take the figures at face value.
The Abu Dhabi-owned club for the second year running have topped the Deloitte Football Money League of the highest revenue generating clubs in world football with €731 million,  €17 million ahead of Real Madrid (€714 million), and €29 million in front of Liverpool (€702 million).
The figures for the 2021/22 season saw Liverpool move four places up the table, while Manchester United (€689 million) – who like Liverpool could have new owners by the end of the season – moved up a place to fourth.
Paris Saint-Germain (€654 million), the only French club in the top 20, also moved up a place to fifth.
Premier League clubs dominate with 11 clubs in the top 20 and 16 in the top 30. There are three clubs from LaLiga in the top 20, three from Serie A and two from the Bundesliga.
Within the top 20 though there are huge differences in revenues. Man City generated more than three times as much revenue as 20th place Newcastle United.
The Deloitte figures show that with fans returning to stadia, the richest clubs are only getting richer, and for the most part are defying any global economic downturn.
"The 20 highest revenue generating clubs in world football earned €9.2 billion in the 2021/22 season," finds the Deloitte's Sports Business Group. "The year-on-year increase of 13% comes as matchday spending rebounded, rising from €111 million to €1.4 billion, following the return of fans to stadia as COVID-19 restrictions were lifted."
It is the Premier League's dominance again that stands out. Five of the 'big six' clubs reported revenue increases of 15%, says Deloitte, a total increase of €226 million
Emphasising that commercial power over rival leagues and clubs, Tim Bridge, lead partner in Deloitte's Sports Business Group, said: "The question now is whether other leagues can close the gap (on the Premier League), likely by driving the value of future international media rights, or if the Premier League will be virtually untouchable, in revenue terms.
"The Premier League was the only one of the Big Five European leagues to experience an increase in its media rights value during its most recent rights sale process. It continues to appeal to millions of global followers and its member clubs have a greater revenue advantage over international rivals."
Historically the Premier League clubs have often been in the revenue generating shadow of FC Barcelona and Real Madrid. The two Spanish giants are still powerhouses but their global dominance has dissipated and they not recovered revenue to their pre-pandemic levels – Barca are down €203 million and Real Madrid €43 million respectively from 2018/19.
Barca was had one of the steepes falls in the rankings, dropping to seventh place from fourth. This was primarily due to a 13% decline in broadcast revenues, in part due to comparably poor UEFA club competitions performance. Real Madrid saw matchday revenue fall 40% compared to 2018/19, due mainly to ongoing COVID-restrictions in the 2021/22 season.
Sam Boor, director in Deloitte's Sports Business Group, said: "It's now likely a case of not if, but when, all 20 Premier League clubs will appear in the Money League top 30."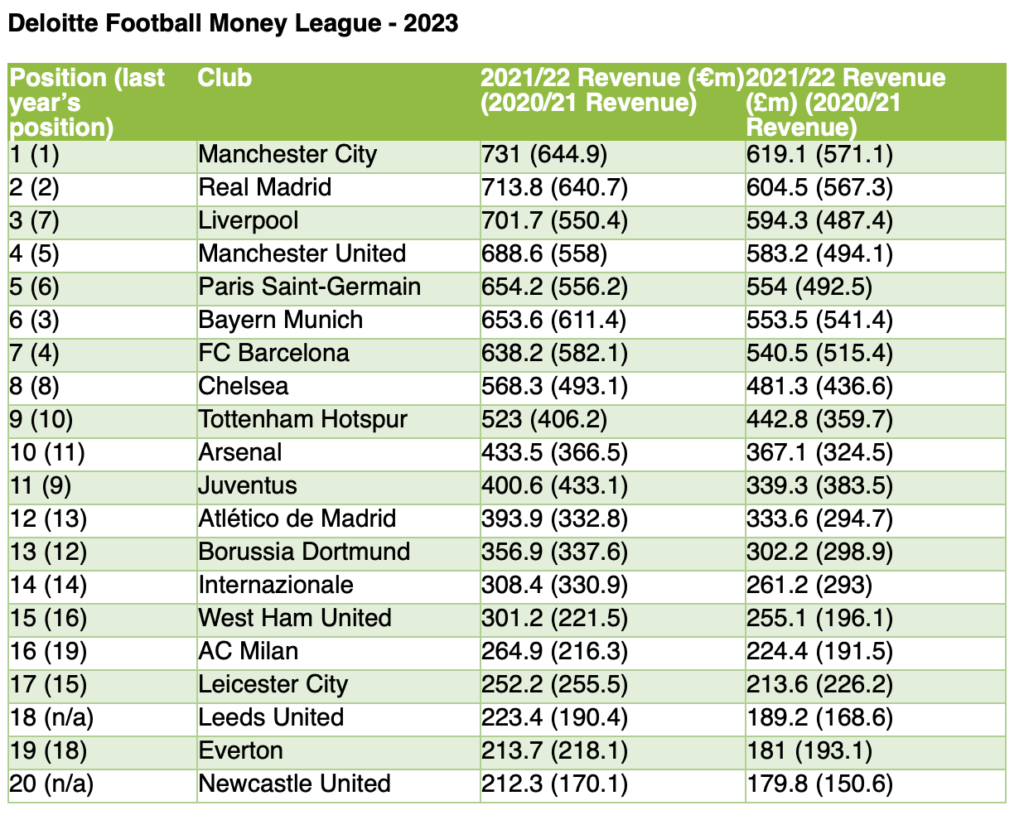 Women can play too
For the first time in the 26 year history of Deloitte's Football Money League, women's teams at Money League clubs are analysed, reporting on average revenues of €2.4 million in the 2021/22 season.
FC Barcelona generated the highest revenue with €7.7 million, followed by Manchester United (€6 million), Manchester City (€5.1 million), Paris Saint-Germain (€3.6 million), Arsenal (€2.2 million) and Tottenham (€2.1 million).
"The women's professional game is still near the start of its journey and revenues reported by top clubs at this early-stage hint at the significant value women's sides will generate in future seasons," said Bridge.
Contact the writer of this story at moc.l1675462332labto1675462332ofdlr1675462332owedi1675462332sni@n1675462332osloh1675462332cin.l1675462332uap1675462332