February 21 – The cost of buying players increased at an annual rate of 13.8% between the 2013/14 and 2019/20 seasons. The inflation bubble was burst with a -0.2% drop in the three seasons following the pandemic but player prices resumed their spectacular growth in 2022/23, suggesting a rapid return to record levels, said the CIES Football Observatory.
A new report from the CIES examines the inflation of player prices over the past decade. Over the period examined player prices have increased at an annual rate of 9%. A footballer bought for €1 million in 2013/14 would now cost €2.16 million (+116%).
The player prices were calculated on the basis of a statistical model built from a total of 5,244 paid transactions between 2013/14 and 2022/23. The transfer values comprised variables including players' age, contract duration, performance, and results of employer teams.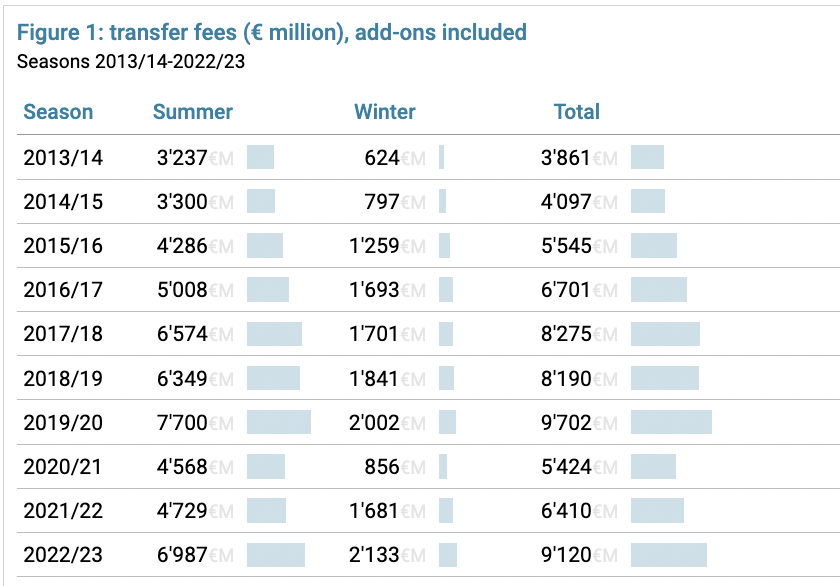 The CIES found the average fee for transfers, including conditional payments, has gone from €3.17 million in 2013/14 to a peak of €5.01 million in 2019/20, to then fall and increase again during current season's transfer windows.
Looking at player demand by position, there were increases in the amounts paid for footballers across all positions but forwards were the most sought after, "accounting for almost half of the sums committed by clubs over the last five seasons studied (as opposed to 56.5% during the five previous ones).
English Premier League clubs have led the price inflation with prices paid rising more sharply than those in other leagues: on average +12.2% per year compared to +8.4%. "Inflation was also particularly marked for centre backs (+12.5% per annum), full backs (+11.1%), as well as for players aged 21 or under (+12.7%)," note the report authors.

"In terms of investment volume, the total of €9.12 billion measured in 2022/23 is the second highest since the record season of 2019/2020. The rebound in 2021/22 from the sharp decline in the pandemic-affected 2020/21 season has thus continued into the current season, with even a new record for a winter transfer window in January 2023, largely driven by Premier League teams' spending."
To see the full report click here.
Contact the writer of this story at moc.l1679755030labto1679755030ofdlr1679755030owedi1679755030sni@n1679755030osloh1679755030cin.l1679755030uap1679755030