How they Qualified
Haiti stormed through their qualifying games scoring 44 times in four games and not conceding a single goal. Cuba and Honduras managed to keep the goals against down to six while St Vincent and the Grenadines and British Virgin Island shipped 11 and 21 goals respectively.
Star Player
Issy Les Moulineaux forward Roselord Borgella hit the back of the net 11 times while her teammate in France Batcheba Louis scored eight.
However Montpelier striker Nerilia Mondesir, 23, is Haiti's class act up front, having scored 21 goals, (only two goals in three games in CWC Qualifying) in 12 games. She was part of the Haiti side that reached the Final of the 2014 Concacaf Women's Under-15 Championship in the Cayman Islands, scoring six goals to take home the Golden Boot from that competition. She had another Golden Boot performance, as well as Best XI honors, at the 2016 Concacaf Women's Under-17 Championship, scoring 12 goals, including six in a match versus Aruba and five against Grenada. At the 2018 Concacaf Women's Under-20 Championship in Trinidad and Tobago, she scored four goals in four matches, helping Haiti qualify for that year's FIFA Under-20 Women's World Cup in France – the first time that a Haitian Women's National Team at any age level had qualified for a World Cup.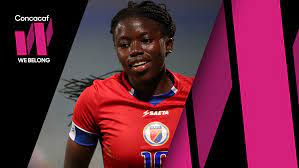 Coach
Nicolas Delépine
What to expect
Haiti hit world headlines with the institutionalised sexual abuse of its women's players at its training centre. The scale of the abuse was horrific. The power with which Haiti set about their qualifying was impressive and they go into the tournament with the potential to create an upset and qualify for the 2023 World Cup. They open against favourites the USA before facing what will be their tournament deciding games against Mexico and Jamaica.
Schedule
July 4 – Haiti vs USA, Estadio Universitario
July 7 – Mexico vs Haiti, Estadio BBVA
July 11 – Jamaica vs Haiti, Estadio BBVA
Squad
1 – GK – Madelina Fleuriot, Exafoot FC (HAI)
2 – DF – Chelsea Surpris, AS Yzeure (FRA)
3 – DF – Jnennyfer Limage, Grenoble Foot 38 (FRA
4 – MF – Tabita Joseph, Stade Brestois (FRA)
5 – DF – Maudeline Moryl, Exafoot FC (HAI)
6 – MF – Melchie Dumornay, Stade de Reims (FRA)
7 – FW – Batcheba Louis, FF Issy Les Moulineaux (FRA)
8 – FW-  Meghane St-Cyr, Aigles Ahunsic (CAN)
9 – FW – Sherly Jeudy, Grenoble Foot 38 (FRA)
10 – FW – Nerilia Mondesir, Montpellier HSC (FRA)
11 – FW – Roseline Eloissant,  FC Nantes (FRA)
12 – GK – Nahomie Ambrosie, Anacaona SC (HAI)
13 – MF – Betina Petit Frere, Stade Brestois (FRA)
14 – DF – Claire Constant, University of Virginia (USA)
15 – MF – Florsie Joseph, Don Bosco FC (HAI)
16 – FW – Raquel Milan,  University of Maryland (USA)
17 – FW – Mikerline Saintfelix, Montauban FC (FRA)
18 – DF – Estericove Joseph, Exafoot FC (HAI)
19 – FW – Dayana Pierre, AS Tigresses (HAI)
20 – DF – Kethna Louis, Stade De Reims (FRA)
21 – DF – Ruthny Mathurin, University of Louisiana Lafayette (USA)
22 – FW – Roselord Borgella, FF Issy Les Moulineaux (FRA)
23 – GK – Lara Larco, Georgetown (USA)