How they qualified
The Reggae Girlz rose to prominence in 2019 when they qualified, unexpectedly, for the 2019 Women's World Cup in France. Their pre-tournament campaign was put together late with a federation that refused to fund training camps, eventually prompting Reggae royalty Cedilla Marley to step in alongside a crowd funded campaign.
Three years later and the Jamaican women have qualified for their second major tournament with an unbeaten record, overcoming the Dominican Republic, Bermuda, the Cayman Islands and Grenada scoring 24 goals and conceding just two.
Star player
Khadija Shaw
With nine goals out of Jamaica's 24 goals in the four-match qualifying group, Manchester City striker Khadija Shaw is one of the tournament's most prolific strikers. At age 25, she has written the country's history books, and continues to do so.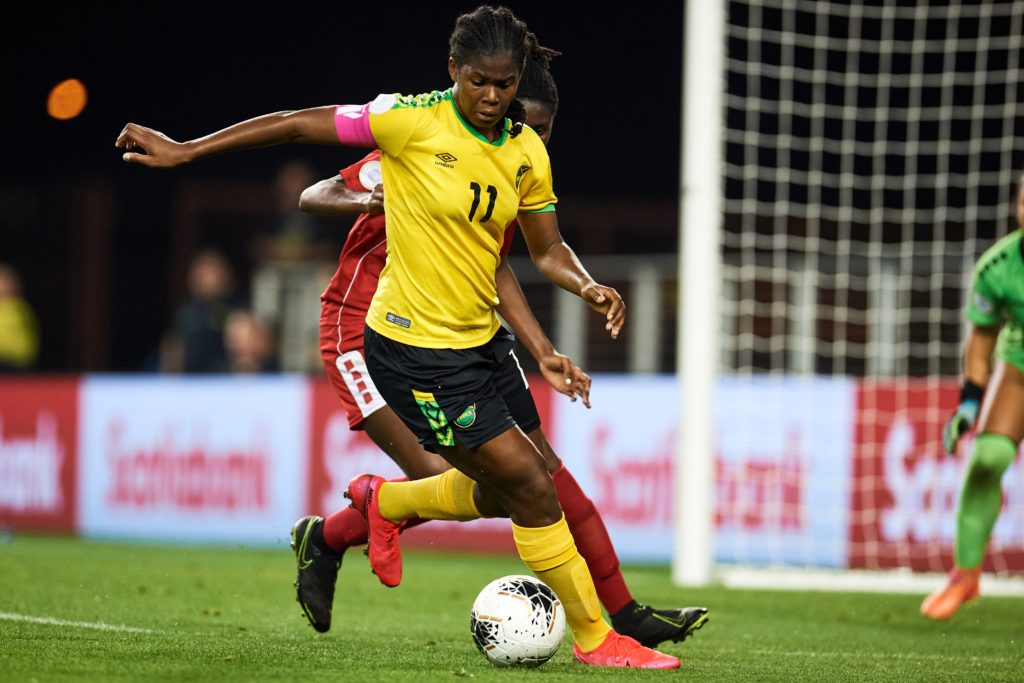 Shaw worked her way throught the the U-15, U-17 and U-20 squads and has now played 36 matches with the Jamaican Senior Women's National Team, scoring 51 goals. Twenty of those goals were scored in 13 CWC matches, including this year's Qualification Stage.
When the CWC was hosted at USA 2018, she scored 11 goals in nine games, helping Jamaica finish in third place and qualify for France 2019, making Jamaica the first Caribbean country to do so.
Satara Murray
The defender for Racing Louisville will be a key supplier for Shaw from her right back position. Jamaica will look to Murray high into the wide spaces during build-up play and ask her to win her to take on defenders.
Coach
Lorne Donaldson was only handed the job of leading the coaching at the W Championship finals in July after the majority of the team signed a letter of protest against former head coach Vin Blane, asking the JFF that he be removed.
Donaldson played his football in Jamaica and at college in the US before becoming a coach, and has been an assistant coach at the Colorado Rapids. His new job will be a big test of his personnel management skills and football management ability.
What to expect
Jamaica are a significantly more experienced and streetwise footballing team from the one that played at France 2019. They also have a real stars in Khadija Shaw upfront, alongside huge raw and developing potential. Players who in 2019 were playing domestically or at US colleges have moved on to professional clubs – 13 of them are now at clubs in the US or Europe.
But the Jamaicans, while looking to be a strong unit within the team, have struggled with their management and coaching. A procession of coaches undoubtedly has not helped continuity or development, and there is little or no trust between the federation administration and the teams, and there hasn't always been much trust in the revolving door of male coaches they have been given. This will be Lorne Donaldson's biggest challenge having only picked up the reigns in June.
Jamaica are in, on paper, what looks like the tougher of the two qualifying groups in Monterrey with the US, Mexico and Haiti.
They will expect to make the semi-finals and qualify for the 2023 World Cup in doing so. But with only two teams going through to the next round a key indicator will be hownthey perform in their opening game against Mexico.
Schedule
July 4 – Mexico vs Jamaica, Estadio Universatario
July 7 – Jamaica vs USA, Estadio BBVA
July 11 – Jamaica vs Haiti, Estadio BBVA
Squad
1 – FW – Tierrney Wiltshire, Unattached (JAM)
3 – MF – Kalyssa Vanzanten, University of Notre Dame (USA)
5 – DF – Chantelle Swaby, Rangers FC (SCO)
6 – DF – Alltson Swaby, Angel City FC (USA)
7 – GK – Rebecca Spencer, Tottenham Hotspur FC (ENG)
8 – MF – Drew Spence, Unattached (JAM)
9 – MF – HAavana Solaun, North Carolina Courage, (USA)
10 – MF – Khadija Shaw, Manchester City FC (ENG)
11 – GK – Sydney Schneider, Kansas City Current (USA)
12 – WF – Vyan Sampson, Charlton Athletic (ENG)
13 – MF – Atlanta Primus, London City Lionesses (ENG)
15 – DF – Jayda Pelaia, Arizona State University (USA)
16 – DF – Satara Murray, Racing Louisville FC (USA)
20 – FW – Kayla MCoy, Rangers FC (SCO)
24 – GK – Yazmeen Jamieson, Unattached (JAM)
27 – FW – Mireya Grey, Unattached (JAM)
32 – MF – Trudi Carter, FC Gintra (LTU)
35 – FW – Jody Brown, Florida State University (USA)
37 – MF – Deneisha Blackwood, Unattached (JAM)
38 – MF – Paige Bailey-Gayle, Unattached (JAM)
39 – MF – Jade Bailey, Liverpool FC (ENG)
41 – MF – Chinyelu Asher, AIK Fotboll (SWE)
42 – FW – Adamolekun Olufosade, University of Southern California, (USA)