How they Qualified
Trinidad topped their qualification group, two points ahead of Guyana who they drew with 2-2 in their final group game. Trinidad scored 19 goals in four games against Guyana, Nicaragua, Dominica and Turks and Caicos, condeding just three.
Star Player
Playing her club football at Hibernian in Scotland,  at 27 Liana Hinds is one of Trinidad and Tobago's most senior players as well as most versatile. Capable of playing in defense, midfield or as a forward, Hinds has appeared in 20 Senior National Team matches for the Soca Warriors, scoring three goals.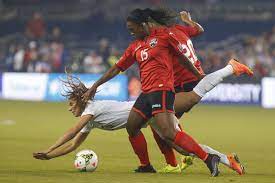 Hinds featured in five matches in the 2014 edition, seven games in 2018 and then all four matches in 2022 CWC Qualifying. She represented her country at the 2010 FIFA Under-17 Women's World Cup, where she scored two goals in three games for the Caribbean side as well as Concacaf Youth National Team tournaments, playing at the 2012 Concacaf Women's Under-17 Championship and then at the 2014 Concacaf Women's Under-20 Championship.
With Trinidad and Tobago now seeking to become the second Caribbean team to qualify for a Women's World Cup, a talented and versatile player like Hinds could prove pivotal in a historical quest.
Coach
In Kenwyne Jones, Trinidad and Tobago have a legendary player leading. Jones had a career in the Premier League that included spells at Southampton, Sunderland and Stoke – it seems he liked the red and white striped home kits. The `Trinidad women's team is his first national team management job. He Jones (pictured left) was appointed as the interim coach in 2021 and was quickly handed the full time job in 202o. Jones has World Cup experience having been part of the 2006 men's World Cup team.
Alongside him he has old friend Carlos Edwards (pictured right) who similarly made a big name for himself in English football, at Sunderland and Ipswich.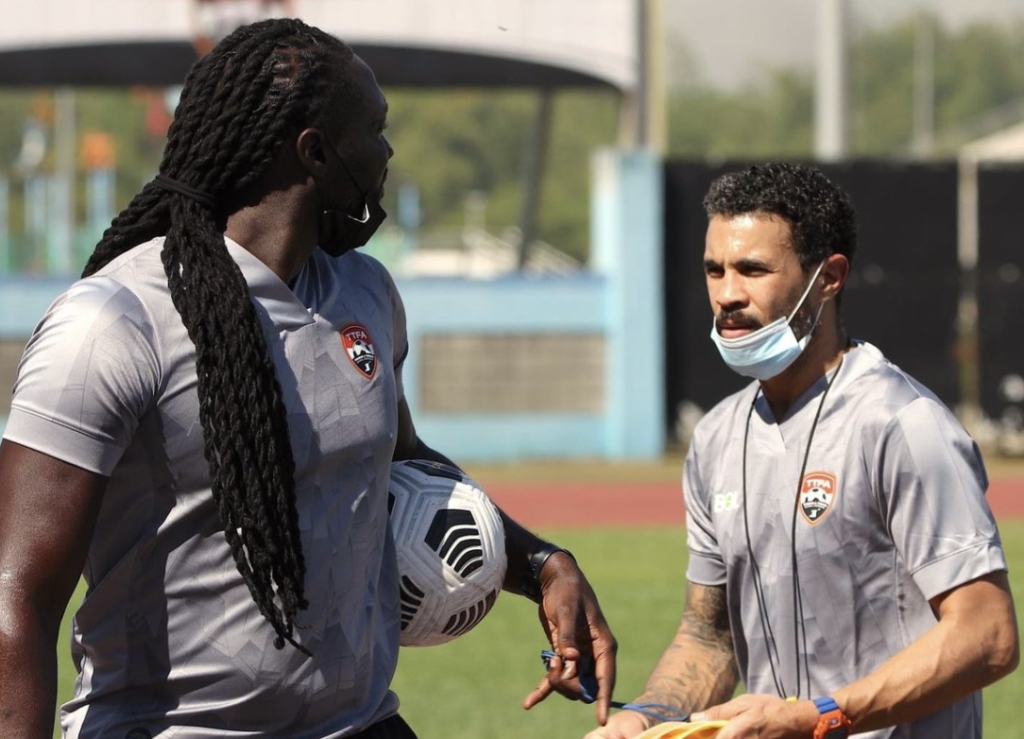 If they can translate their talent to this team then Trinidad and Tobago will be exciting to watch.
They have started well by qualifying, though this tournament will be a tough major tournament baptism for both the coaching staff  and this developing group of players.
What to expect
This is very much a development opportunity for this team Trinidad open against the toughest team in the group, Olympic champions Canada. With only two players at clubs in Europe and the bulk of the squad playing at US colleges, the challenge for this young team will be to keep the goal difference manageable.  The second game against Costa Rica could be an opportunity while Trinidad will be hoping they can win against Panama. Key for Trinidad will be showing progression and learning as much as they can as fast as possible.
Schedule
July 5 – Canada vs Trinidad
July 8 – Trinidad vs Costa Rica
July 12 – Trinidad vs Panama
Squad
1 – GK – Kimika Forbes, Unattached (TRI)
2 – DF –  Chelsi Jadoo, Valadare Gaia F.C. (POR)
3 – DF – Cecily Stoute, University of Georgia  (USA)
4 – DF – Rhea Belgrave, Police FC (TRI)
5 – DF – Shaunalee Govia, Unattaced (TRI)
6 – MF – Kedie Johnson, University of Louisiana Monroe (USA)
7 – DF – Liana Hinds, Hibernian FC (SCO)
8 – DF – Victoria Swift, Unattached (TRI)
9 – FW- Brianna Austin, Florida Atlantic University (USA)
10 – MF – Asha James , West Texas A&M University(USA)
11 – FW – Raenah Campbell, Unattached (TRI)
12 – MF – Chelcy Ralph, Ball State University (USA)
13 – DF – Amaya Ellis, Johns Hopkins University (USA)
14 – MF – Karyn Forbes, Police FC (TRI)
15 – FW – Tori Paul, George Mason University (USA)
16 – FW – Cayla McFarlane, Harvard University(USA)
17 – FW – Jolie St Louis, Seattle University (USA)
18 – MF – Maria-Frances Serrant, West Texas A&M University (USA)
19 – FW – Maya Matouk, Police FC (TRI)
20 – DF – Lauryn Hutchinson, Unattached (TRI)
21 – GK – Tenesha Palmer, Police FC (TRI)
22 – GK – Klil Keshwar, St. Francis College (USA)
23 – MF – Sarah de Gannes , Western Illinois University (USA)