July 8 – Haiti scored three against Mexico to set up a winner takes all final group clash with Jamaica for automatic World Cup 2023 qualification.
It was an exciting match but a miserable evening for a Mexican team that promised so much but in the end has not delivered a goal in two games.
The sun may have been down at kick off but the heat was high and the temperature was about to get turned up with two teams not afraid to get physical and both of them needing a win to stay in World Cup contention.
Mexico coach Monica Vergara made four changes to the starting eleven that lost by a goal to Jamaica while Haiti coach Nicolas Delphine kept faith in his outfield that started in the 3-0 loss to the US, only changing his goalkeeper, bringing in Nahomie Ambroise.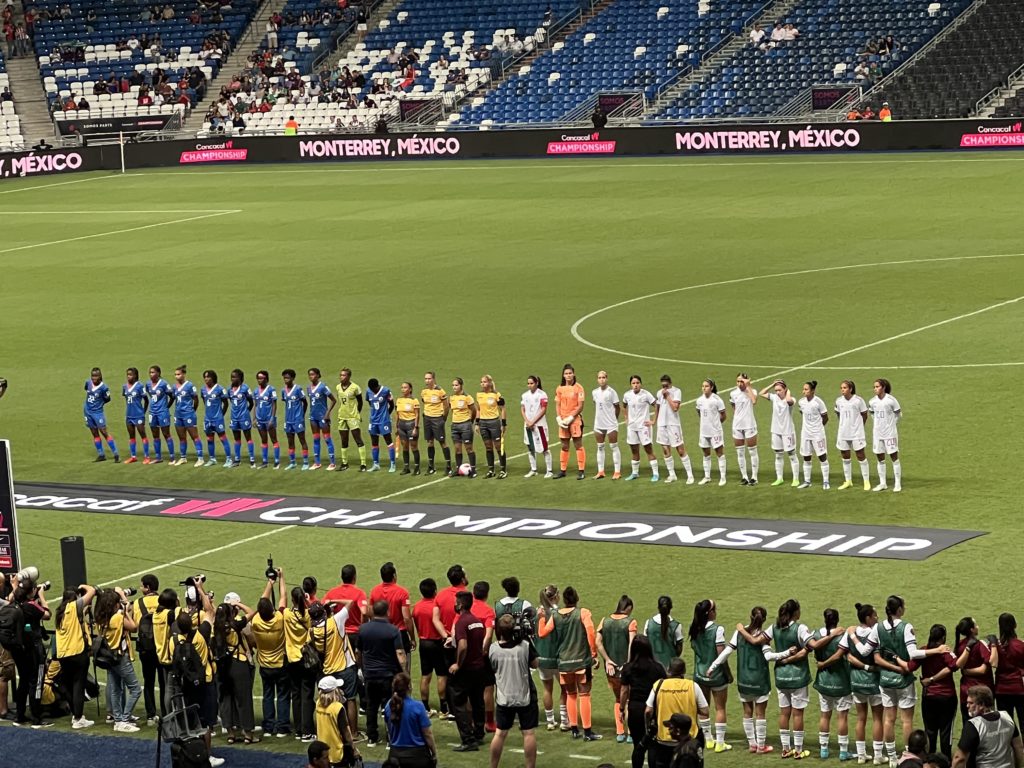 Haiti started the stronger with attacking midfielder Melchie Dumorney dominating the centre of the pitch. Mexico's answer was in the form Maria Sanchez on the left caused all kinds of problems for Haiti's right side.
It was Dumorney who looked most likely to break the early deadlock. Brought down by Rebeca Bernal just outside the box she fired her own free kick into the wall. She then had a header collected by Mexican goalkeeper Emily Alvarado.
On 12 minutes came the Haiti breakthrough. Mexico's Stephany Mayor brought Batcheba Louis brought down in the box. The referee pointed to the spot and Roselord Borgella fired home to put Haiti ahead.
Haiti were ascendant and on 28 minutes Haiti and Borgella looked to have scored a second. Louis's header was saved by Alvarado only to fall to Borgella who fired it back through Alvarado's legs. The touch judge flagged for a foul, the referee asked VAR, the goal was chalked off. It looked a controversial decision.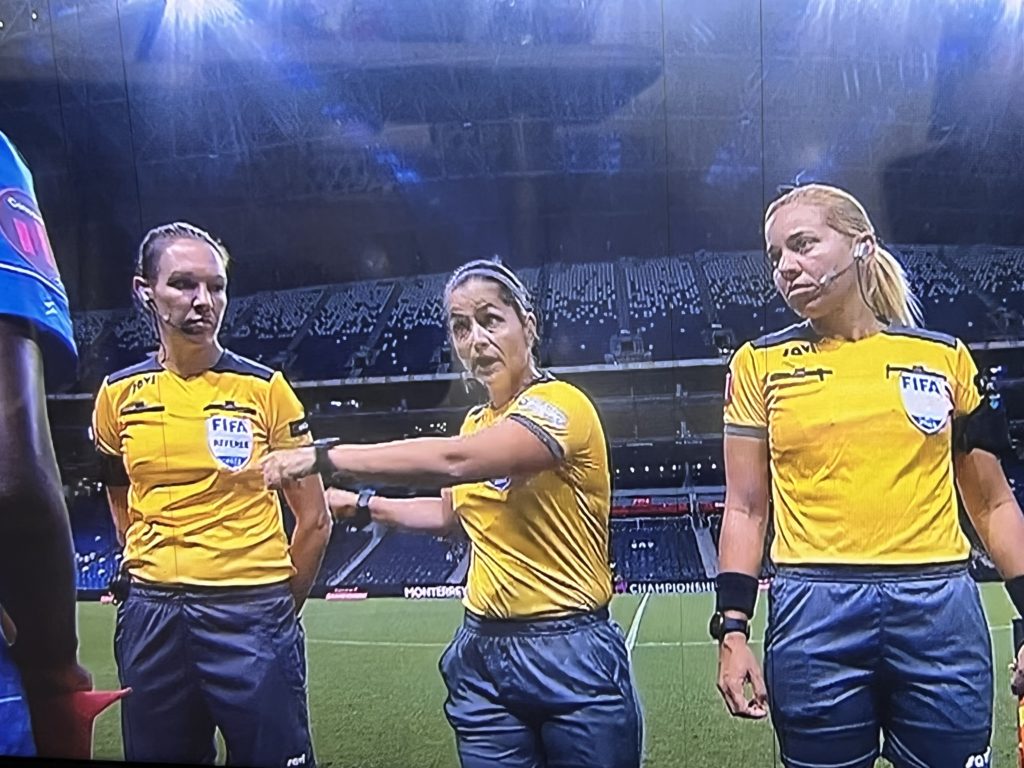 Mexico started to work their way back into the game. On 37 minutes and after a spell of pressure, Sanchez was brought down on the edge of the box. Bernal shot into the wall and Sanchez hit the rebound wide – it was wasteful and  the closest Mexico had been to mounting a real threat on the Haiti goal.
Mexico closed out the half with of possession but despite their build up play and use of the wings, their goal threats lacked conviction.
Vergara changed her line up at half time, bringing on Alicia Cervantes as centreforward with
Katty Martinez dropping slightly deeper. Martinez started to find more space and had a shot from outside the box easily gathered by Ambroise before scooping another over the bar. Mexico were getting closer but struggled to find that final touch in front of goal as scramble after scramble was blocked or cleared by the Haitians.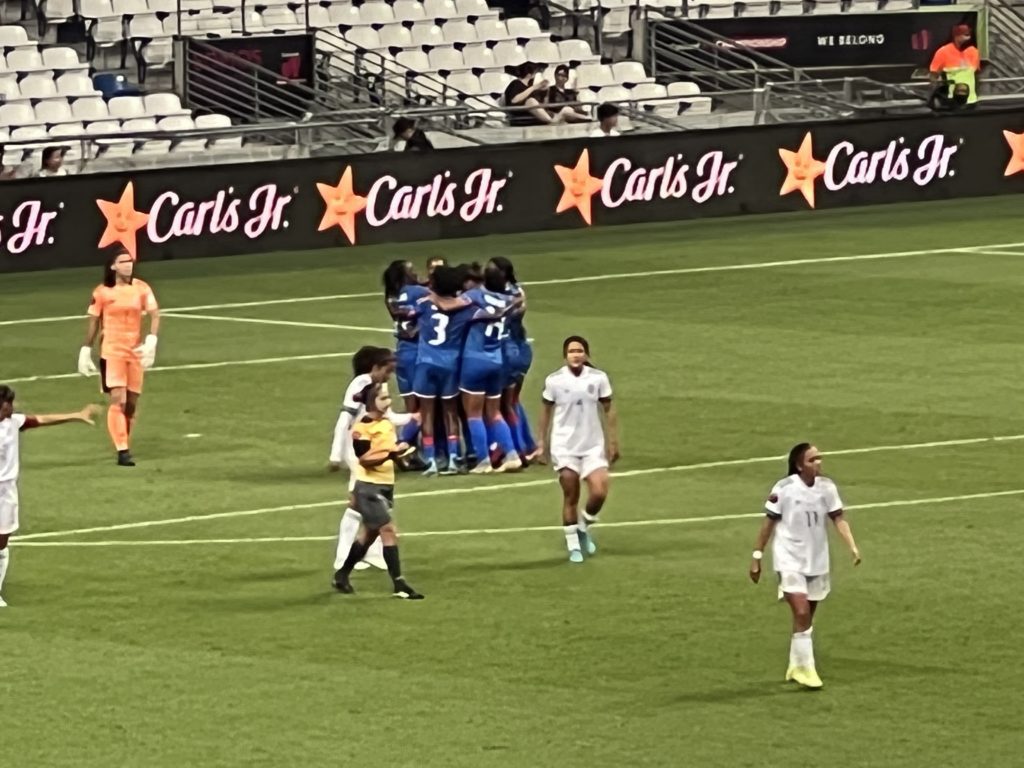 Then on 65 minutes disaster struck for the Mexicans. Dumornay put Nerilia Mondesir through on goal who was brought down by Alvarado. Mondesir calmly scored from the spot to Haiti two up, this time against the run of play.
Things went from bad to worse for Mexico. On 75 minutes Greta Espinosa was sent off for bringing Dumornay down just outside the box. Sherly Jeudy stepped up to curl the free kick past Alvarado to make it 3-0.
Mexico now have to salvage some pride against a US side that has looked unassailable in its opening two matches.
Contact the writer of this story at moc.l1664208131labto1664208131ofdlr1664208131owedi1664208131sni@n1664208131osloh1664208131cin.l1664208131uap1664208131