July 8 – Olympic champions Canada secured their semi-final place in the Concacaf W Championship, guaranteeing them a spot at World Cup 2023, with a 1-0 win over Panama.
It was a 1-0 thrashing to be truthful, and that will be troubling to head coach Bev Priestman and her Canadian who dominated the game from start to finish with 69% of possession. Panama had just four shots in the game and none of them really a threat. Canada had 13, and plenty more opportunities on top as they set up football's equivalent of a medieval siege in front of Panama's goal.
With 90 degree temperatures giving way to a mist and wind whipping though the Estadio Universitario in Monterrey, Canada's siege pushed and probed Panama's defensive wall but never to destructive effect.
On 9 mins Janine Beckie chased down an attempted defensive clearance on the right forcing Panama keeper to Yenith Bailey to live up to her star billing and save the rebound. Bailey was in action a minute later, pushing another attempt round her post.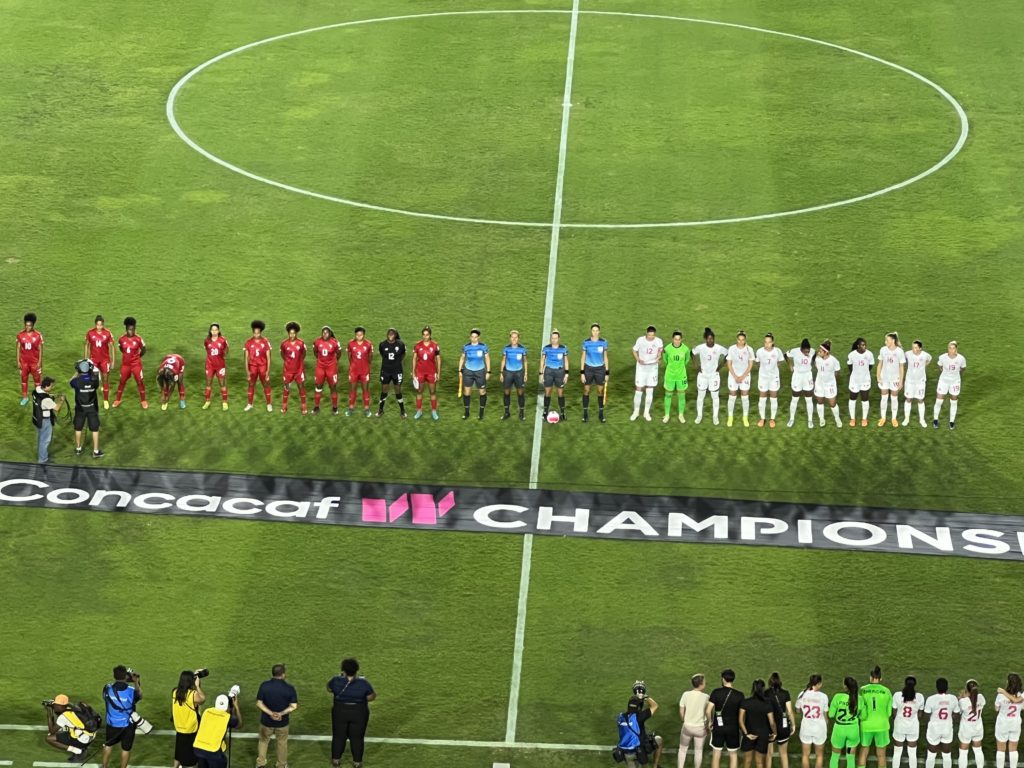 Canada were equally comfortable attacking on both side of the pitch and on 14 minutes Christine Sinclair threaded Adriana Leon through on the left only for her to hit her shot wide.
It was one-way traffic until 21 minutes when Panama had their first shot on goal with Laurie Batista hitting the ball from 30m on to the top of the net. Canada may have had the possession and play but the Panamanians weren't toothless, though it was a bite confined mainly to defensive areas.
Panama were not afraid to give the foul away on the wings and on 31 minutes Katherine Castillo was booked for bringing Leon down. Minutes later Leon was bundled out again as she threatened on the left.
Canada were pressing but the final ball was not finding targets in the box. On 34 minutes another Panama foul 40m from goal was wasted by the Canadians.
Panama grew in confidence and on 36 minutes had a free kick of their own 30m out to the left of Canada's goal. Marta Cox's shot was easily gathered by Canadian keeper Sabrina D'Angelo.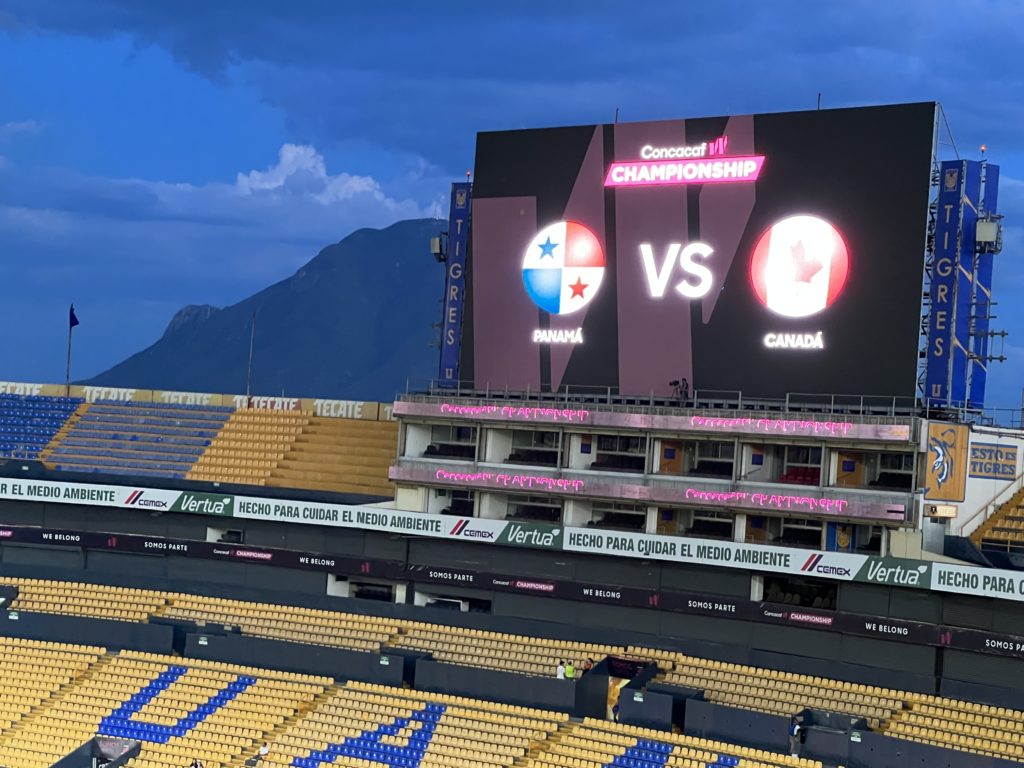 Canada kept pushing forward and getting closer, bit not close enough. A foul on the edge of the box saw Sinclair's free kick hit the wall, the ensuing rebounds saw Nichelle Prince poke the ball just wide. Five minutes of added time saw the Canadians pepper the Panama goal with no result. The half ended 0-0.
Same old same old
Canada started the second half they way they finished the first. So did Panama with Bailey flying to save a Leon shot from the edge of the box a minute into the half. She then cleared from the following corner.
On 53 minutes Leon, who was a potent force in an otherwise semi-potent attack, forced another Canada corner – Canada had 10, Panama didn't have one.
Panama were besieged, their warriors were pulling up with cramp suffering, and they had pretty much given up on attacking. But their defensive wall of five, sometimes six, was holding, and behind was the impressive Bailey.
Eventually the wall broke. With Canada playing inside the Panama box, Sinclair picked out Julia Gross who worked enough space to fire in from 6m. The relief could be felt from Toronto to Vancouver.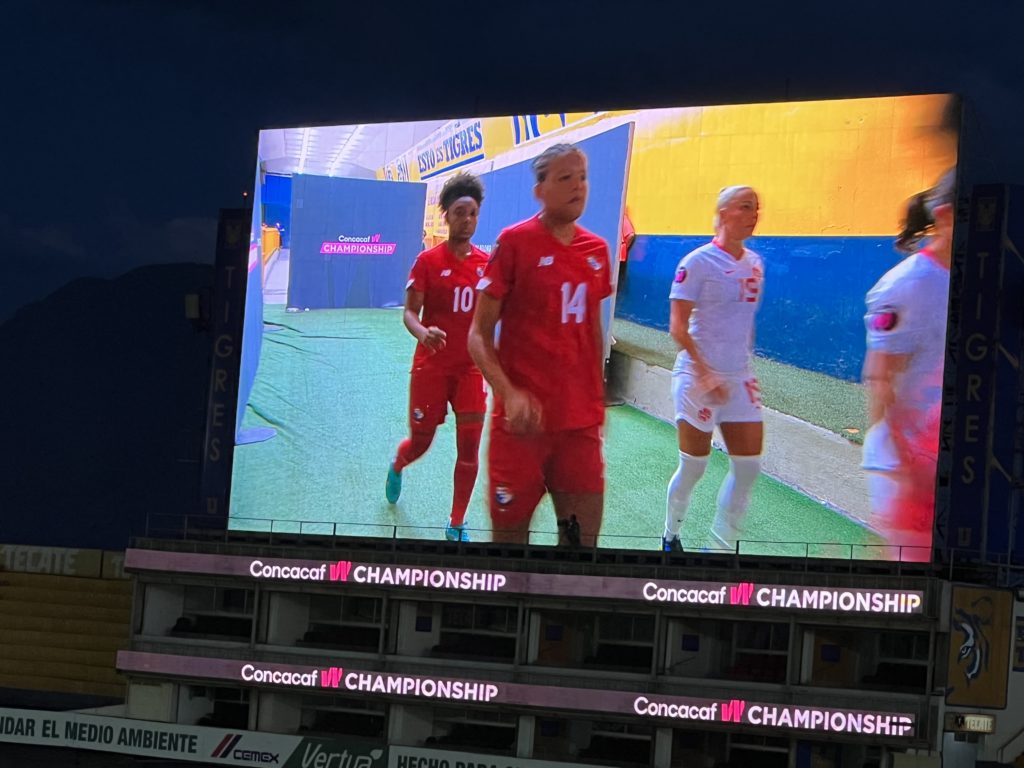 With 20 minutes to go Panama changed it up bringing on two forwards, Shayan Camarena and Lineth Cedeno.
Camarena had Panama's first shot of the second half on 75 minutes but it was easily gathered by D'Angelo. On 79 minutes Rosario Vargas had a long shot that landed just over the bar.
It was a brief incursion from their defensive lines. Canada regrouped and played out the rest of the match in front of the Panama goal.
The one-nil win puts Canada on equal points and goal difference with Costa Rica at the top of the group. They play each other in the final group game on Monday. The winner of the group will have the advantage of missing the US in the semi-final. Canada would have hoped to put a more goals past Panama to create a small buffer between themselves and Costa Rica. Now that game is starting to look interesting.
Contact the writer of this story at moc.l1664207774labto1664207774ofdlr1664207774owedi1664207774sni@n1664207774osloh1664207774cin.l1664207774uap1664207774