July 19 – Jamaica took third place in the Concacaf W Championship with a Kalyssa Vanzanten goal in extra time for a 1-0 win over Costa Rica in a baking BBVA Stadium in Monterrey, Mexico.
Jamaica have been the big success story of this championship, starting off with a surprise 1-0 win over hosts Mexico, and finishing with World Cup qualification for the second successive time – no other Caribbean nation has qualified for a men's or women's World Cup twice – and a place on the podium.
It was tough on a Costa Rican team who had played some exciting attacking football throughout the tournament but in the end didn't have quite enough to counteract the strength and physicality of a Jamaican team that – given the opportunity to keep developing – could be a surprise package in Australia/New Zealand 2023.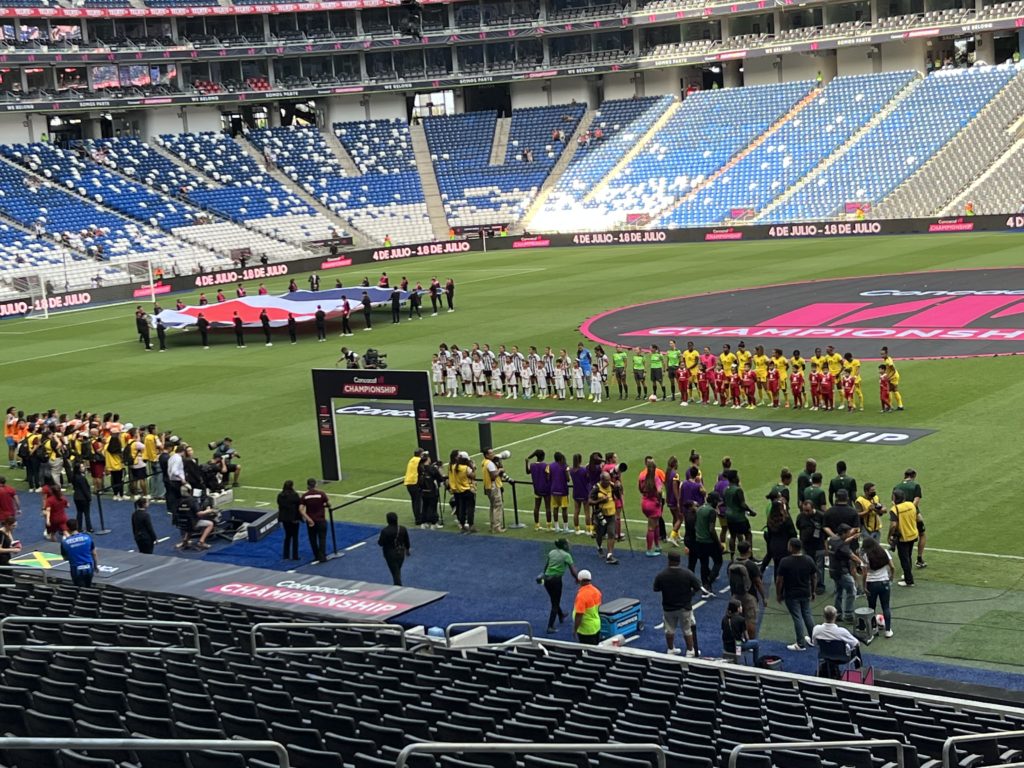 Both teams had been well beaten 3-0 in their semi-final clashes with the USA and Canada, but both had been short of key players.
Costa Rica, who have the lead 4-3 in head-to-heads between these nations, made only one change to their starting eleven in the three-match group stage. For the third placed play-off they returned to that line up with two changes, notably bringing in Maria Paula Salas up front.
Jamaica had been without their captain and the tournament's standout striker Khadeja Shaw for their semi-final against Canada. She was back for the play-off and in for the first time was Liverpool midfielder Jade Bailey, who had finally been cleared by FIFA to play in the tournament. Bailey's presence as a deep central midfielder allowed Drew Spence, Trudi Carter and Jody Brown to push further up the field to support Shaw. North Carolina Courage's Havana Solaun and Ranger's Kayla McCoy dropped to the bench.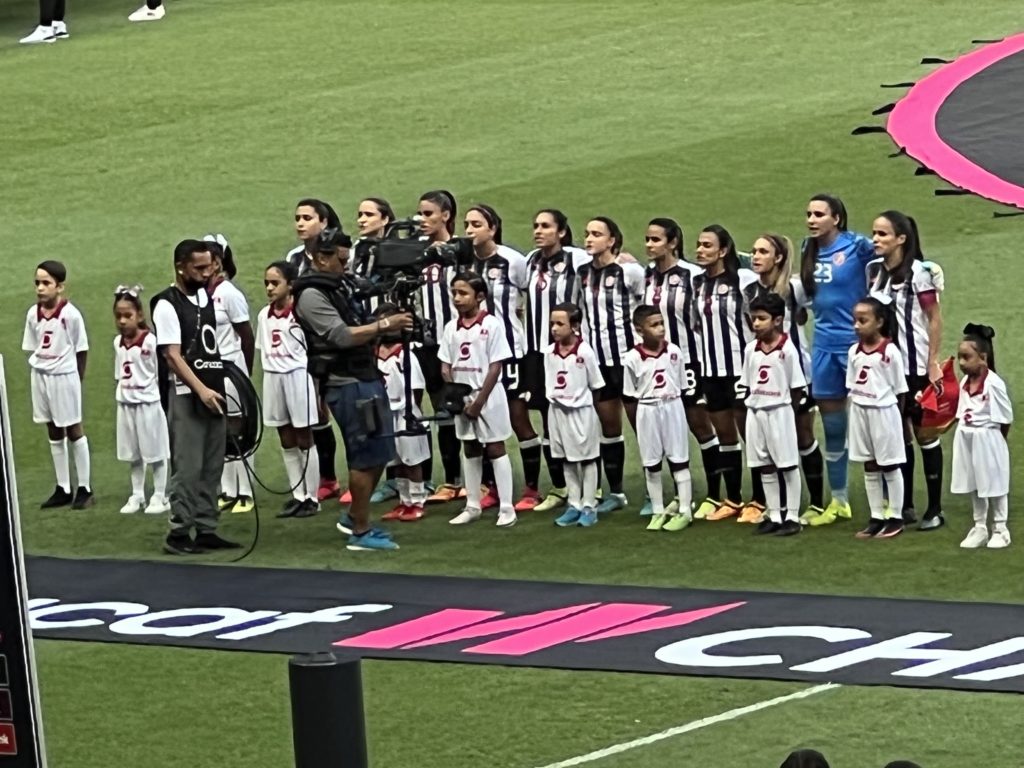 Costa Rica started brightly with two banks of four behind Maria Paula Salas and a roaming Raquel Rodriguez.
In the third minute Jamaica goalkeeper Rebecca Spencer was forced to push a shot over the bar. In the sixth minute a long ball from Miriana Benavides saw Melissa Herrera run through a static central Jamaican defence to beat the offside trap only to shovel her shot painfully wide of Spencer's goal.
Costa Rica continuously looked to get the ball forward into space for their forwards to run on to, knowing they lacked the physicality of the Jamaicans.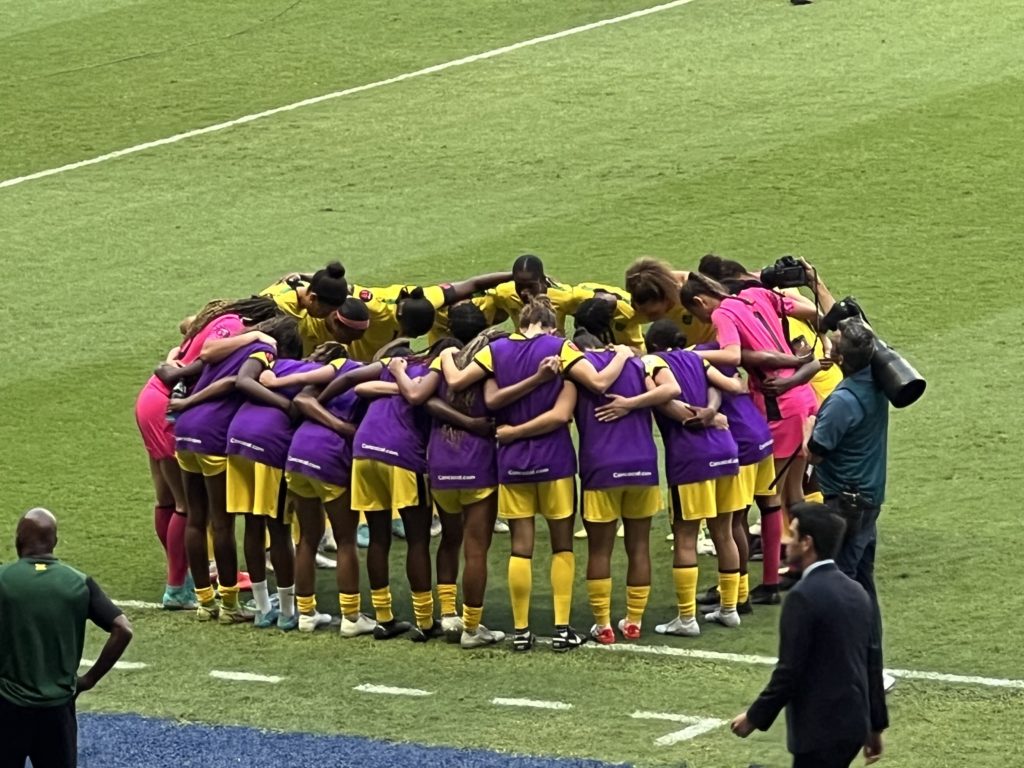 Jamaica started to build possession of their own, unafraid to commit attackers in the Costa Rican box. It was a commitment that left them open at the back.
As the half progressed Rodriguez started to exert her influence, with Costa Rica looking more threatening the wider they played, particularly with Herrera on the right stretching a Jamaican defence who were more comfortable defending narrowly and attacking through the middle.
In the 40th minute Rodriguez turned on the edge of the box in space and fired over. It was the third good chance wasted by the Costa Ricans.
Jamaica responded through the tireless running of Jody Brown who broke into the box but had her cross rebound back to her and bounce out.
In added time Atlanta Primus and Shaw both scuffed shots. Costa Rica went straight up the other end and won a corner but wasted it.
In temperatures that were again topping 95 degrees, a good-paced half ended with Costa Rica having had the best chances.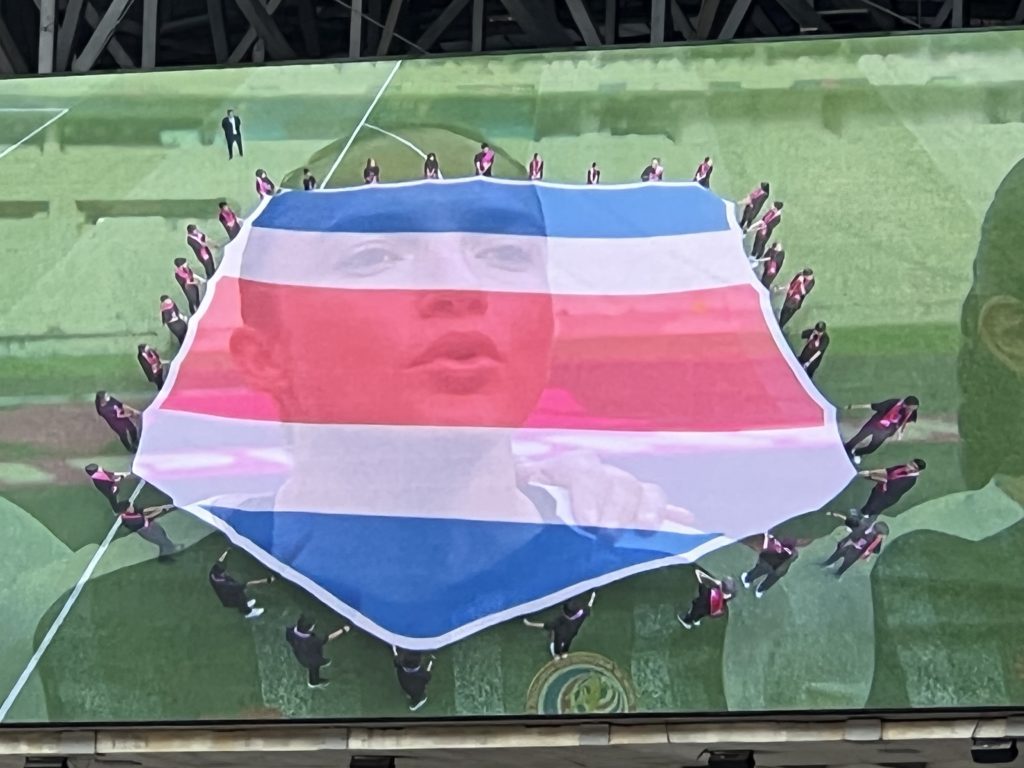 Jamaica started the second half sharply and should have been ahead immediately. Shaw pulled right to win the chase for a ball, she then beat her defender and picked out Primus in the box with a beautiful delivery that was headed into Costa Rican keeper Daniel Solera's arms. It was Jamaica's best chance of the match so far.
Costa Rica responded immediately winning a corner that was eventually lofted over the bar by Fabiola Villalobos.
On 54 minutes Costa Rica's Priscilla Chinchilla went down shoulder-to-shoulder with Chantelle Swaby in the box – VAR said no.
Costa Rica's Christine Granados fired over from the edge of the box with Carter firing over similarly at the other end before seconds later Brown hammered the ball into the bar from a Shaw lay off. Shaw could have scored herself but her first touch unusually deserted her on 6m.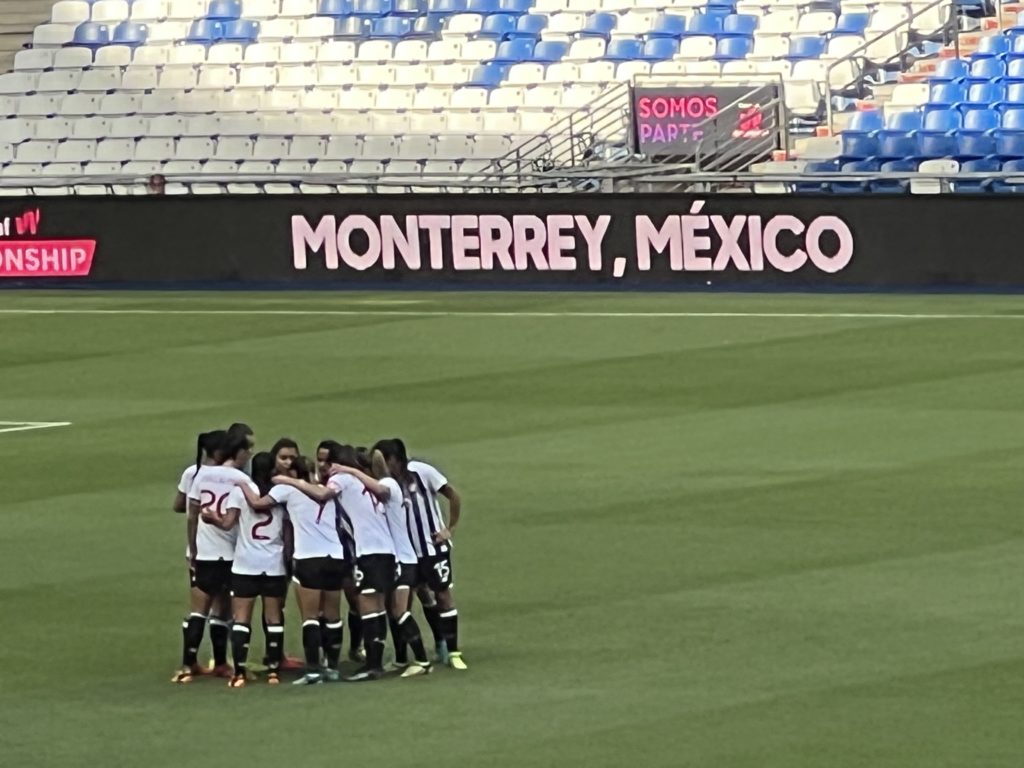 On 86 minutes Carter again fired wide on the right. The heat was starting to take casualties as the game slowed and both teams unloaded their benches.
With 90 minutes on the clock Rodriguez looked to have won it for Jamaica. A long ball into the box saw her free to get a shot away that powered into the bar.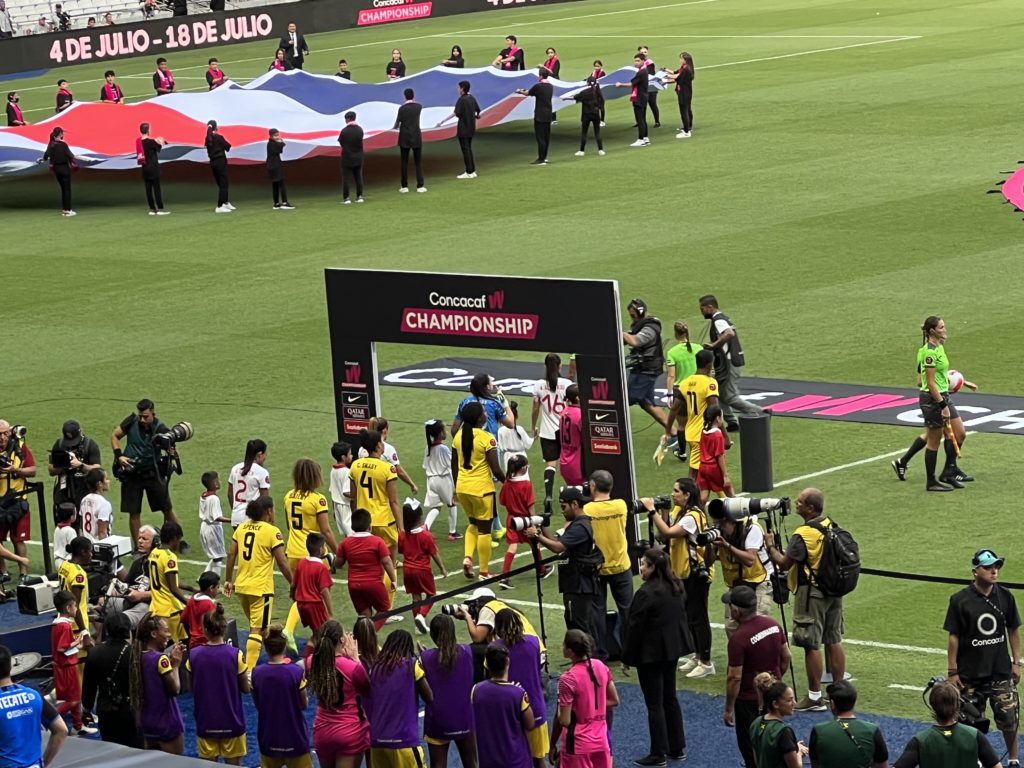 With the score at 0-0 the match headed into extra time.
Jamaica took the lead 11 minutes into the first period of extra time. Spence who had been pushing and probing at the heart of so many Jamaican attacks, fed Kalyssa Vanzanten, on a sub, breaking through on the right to calmy angle the ball across Solera.
Shaw could have made it 2-0 deep into the second half of extra time only to face last ditch defending by Costa Rica who were throwing everything they had into chasing an equaliser. It wasn't enough. It was exhausting.
Contact the writer of this story at moc.l1701568864labto1701568864ofdlr1701568864owedi1701568864sni@n1701568864osloh1701568864cin.l1701568864uap1701568864