April 10 – Concacaf has announced the 15 stadiums that will host matches in the 2023 Gold Cup in 14 US and Canadian metropolitan areas between June 16 and July 16.
The 2023 edition of the Gold Cup sees it visit four new stadiums in the US, including the already announced SoFi Stadium in Los Angeles for the final.
Newly opened CITYPARK Stadium in St Louis, Snapdragon Stadium in San Diego and the TQL Stadium in Cincinnati are all first-time hosts.
The AT&T Stadium in Arlington, Texas, the State Farm Stadium in Glendale, Arizona, and the NRG Stadium and Shell Energy Stadiums in Houston all hosted matches in 2021 and return again for 2023.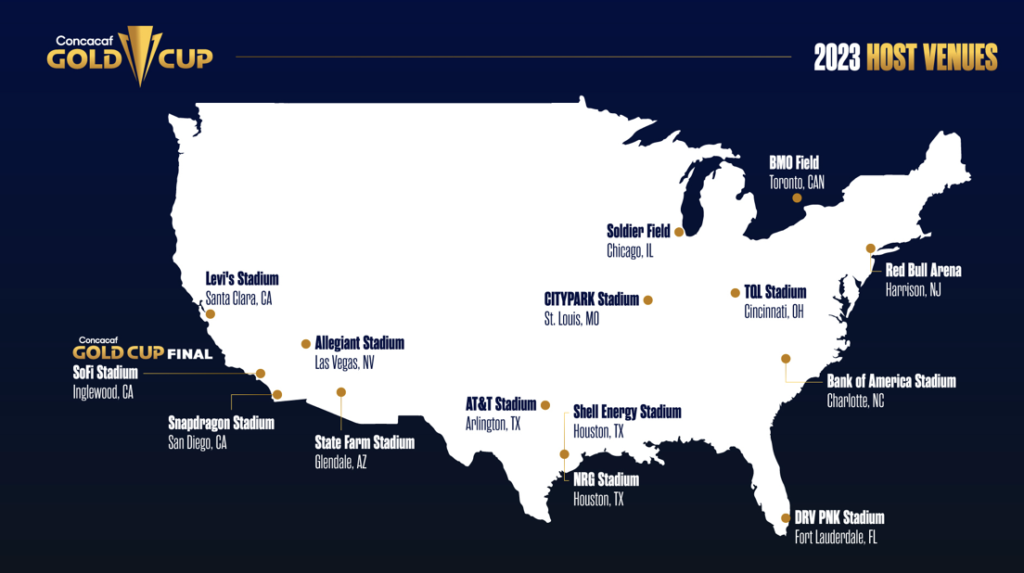 The 2023 Gold Cup will ne the seventh edition of the event hosted at the NRG Stadium and Chicago's Soldier Field, a record for the tournament.
Las Vegas's Allegiant Stadium, which hosted the 2021 final and will host the Nations League finals June15-18,  will also host 2023 Gold Cup matches.
Fort Lauderdale's DRV PNK Stadium will host the preliminary knock-out rounds that have now been fully integrated into the Gold Cup schedule. Those rounds will see 12 teams compete for the final three spots in the Group stage.
Toronto's BMO Field will return to Gold Cup action for the first time since 2015.
Concacaf president, Victor Montagliani, said: "The host cities and venues we have selected all have strong track records of hosting elite football, and world class events. I want to thank each and every one of them for their commitment to Concacaf, to our Gold Cup, and to our sport. This is a tremendous time for football in the region with Nations Leagues, men's and women's Gold Cups, and other exciting national team and club competitions taking place over the next three years as we head towards the FIFA World Cup 2026."
The 15 stadiums that will host Gold Cup matches are:
AT&T Stadium, Arlington, TX (2009, 2011, 2013, 2017, 2021)
Bank of America Stadium, Charlotte, NC (2011,2015, 2019)
Soldier Field, Chicago, IL (2007, 2009, 2011, 2013, 2015, 2019)
TQL Stadium, Cincinnati, OH (first-time host)
DRV PNK Stadium, Fort Lauderdale, FL (2021)
State Farm Stadium, Glendale, AZ (2009, 2015, 2017, 2019, 2021)
Red Bull Arena, Harrison, NJ (2013, 2017, 2019)
NRG Stadium, Houston, TX (2005, 2007, 2009, 2011, 2019, 2021)
Shell Energy Stadium, Houston, TX (2013, 2015, 2017, 2019, 2021)
SoFi Stadium, Inglewood, CA (first-time host)
Allegiant Stadium, Las Vegas, NV (2021)
Snapdragon Stadium, San Diego, CA (first-time host)
Levi's Stadium, Santa Clara, CA (2017)
CITYPARK Stadium, St. Louis, MO (first-time host)
BMO Field, Toronto, Canada (2015)
The Gold Cup draw will be held this Friday (April 14) at the SoFi Stadium where the final will end the 2023 edition on July 16.
"The Concacaf Gold Cup is our flagship competition and showcases the very best of men's national team football in the region. With each passing edition, this competition has reached new heights on and off the pitch and I am certain the 2023 tournament will deliver outstanding football, and capture the imagination of fans across our confederation and beyond," said Montagliani.
The pots for Friday's draw are:
Pot 1 (Four highest-ranked teams): Mexico, United States, Costa Rica, and Canada.
Pot 2 (Four next best-ranked teams): Panama, Haiti, Jamaica, and Guatemala.
Pot 3 (Four lowest-ranked teams): Honduras, El Salvador, Cuba, and Nicaragua
Pot 4: Qatar, Winner Prelims 7, Winner Prelims 8, and Winner Prelims 9
Contact the writer of this story at moc.l1701418565labto1701418565ofdlr1701418565owedi1701418565sni@n1701418565osloh1701418565cin.l1701418565uap1701418565