April 15 – Using the backdrop of the 2023 Gold Cup Draw at the spectacular SoFi Stadium in Los Angeles, Concacaf officially launched its 'Bigger Game' social impact strategy.
The Bigger Game's mission is to provide football and social development opportunities which benefit communities across Concacaf's 41 member associations.
At the launch, on the pitch of the SoFi Stadium, which saw local youth training and playing matches, the mayor of Inglewood James T Butts thanked Concacaf for coming to the city saying: "Sports is a microcosm of social development… Focussing on a bigger game is focussing on the development of our game to contribute to a better society."
The strategy will see Concacaf initiate and support grassroots football initiatives and social programs which aim to tackle some of the most pressing issues faced by communities in the region. The programs will be focused on football coaching, education, health, and community development.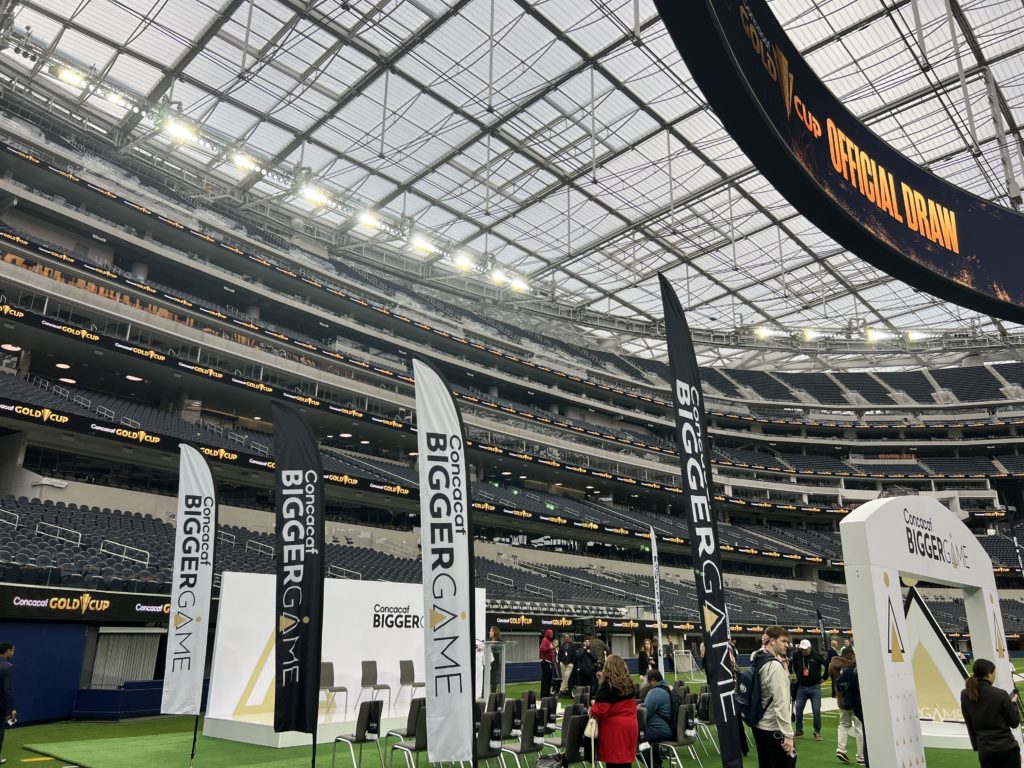 "Bigger Game is comprised of three strategic pillars: On the Pitch- Access to Play, Levelling the Playing Field- Diversity and Inclusion and Sustainable Solutions- Growth and Health. By delivering programing, access, and training in these three areas, we will positively impact all 41 Member Associations as we deliver Gold Cup, Nations Leagues and a range of other important competitions as we look forward to the opportunity to grow the game heading towards the FIFA World Cup 2026 and beyond," said Concacaf.
Concacaf president Victor Montagliani, said: "Sitting in this world class stadium  with its wow factor, a stadium that hosted the Super Bowl and which everyone is talking about, there is no little irony in that we are talking about the 'Bigger Game'. The Gold Cup and football really is a bigger game and this initiative is about kids on the pitch and providing opportunities to young people.
"Football isn't about religion or gender – it is what binds us together… this programme reminds us how the game is bigger than all of us."
Concacaf said that Bigger Game will deliver its goals through:
Integrating Football for Social Change and Concacaf W Programming into existing Concacaf tournaments
Build Concacaf Community Partnerships by facilitating engagement of local partners to support a catalog of community-based activities
Creating Volunteer Education Packages to equip and empower volunteers to uplift young people in their communities
Deliver Concacaf Safeguarding Courses, Policies and Procedures across football programming to make football safer for children and young people, improve awareness and responses
 Implement a Response Plan to natural disasters in our region
 Amplify the Voices of our program beneficiaries and share best practices
Contact the writer of this story at moc.l1701480549labto1701480549ofdlr1701480549owedi1701480549sni@n1701480549osloh1701480549cin.l1701480549uap1701480549