By Paul Nicholson in Los Angeles
April 15 – Defending champions USA have been handed what looks like a comfortable group draw for the 2023 Concacaf Gold Cup, with the toughest challenge in the first stage likely to come from Jamaica and their contingent of English Premier League players.
Also in Group A are Nicaragua and one of the preliminary round qualifiers.
The draw was conducted live on television from the SoFi Stadium in Los Angeles where the Gold Cup final will be played on July 16.
In contrast their perennial regional rivals Mexico – losing Gold Cup finalists in 2021 – will head a 'group of death' that includes Haiti, Honduras and Qatar in Group B.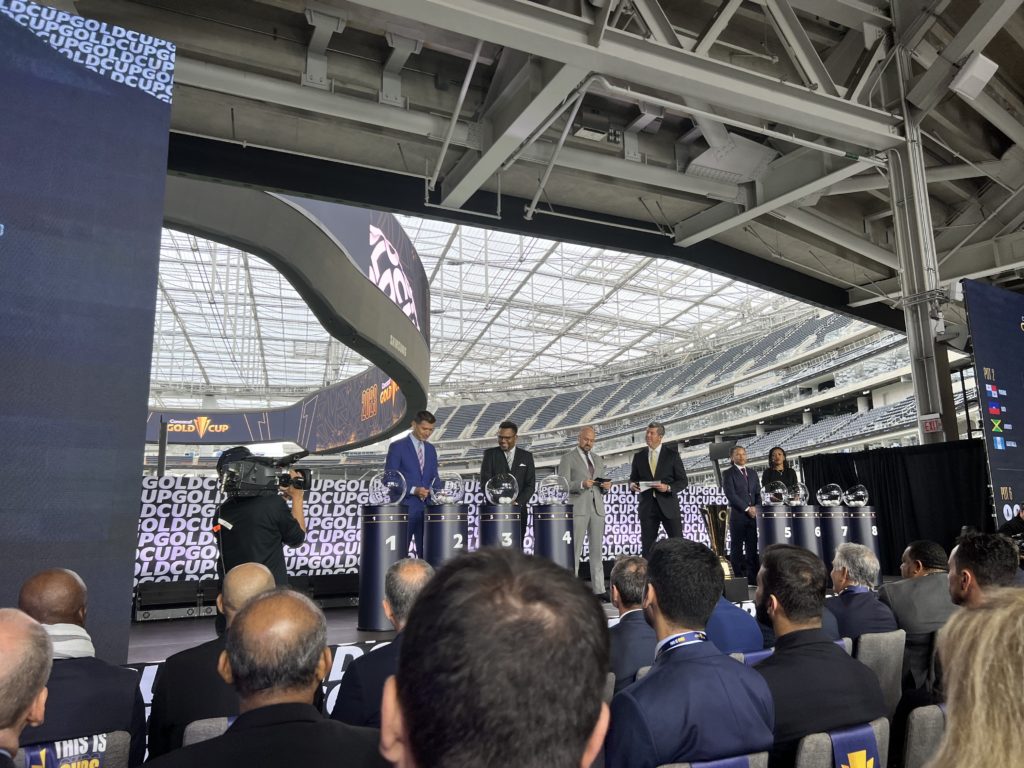 US coach Anthony Hudson went to lengths to say "that there are no easy games, we know that". The US will first defend their Concacaf Nations League title in the week before the Gold Cup kicks off. They play Mexico in the semi-final, an opponent they will meet in Mexico City this week in what is being dubbed the Continental Classico.
"The region itself is getting stronger. We just want to keep improving," said Hudson. "The benchmark for us is winning this again."
The US won the 2021 Gold Cup with a team largely drawn from the MLS. This time round Hudson said he expected the squad to be a mixture of MLS and overseas-based players with a core of six or seven playing in both the Nations League and Gold Cup.
Jamaica offer the US a real challenge if they can find form with their Premier League stars under new Icelandic coach Heimer Hallgrímsson.
Leading the overseas contingent Michail Antonio (West Ham), Leon Bailey (Aston Villa), Ethan Pinnock (Brentford), and Bobby Reid (Fulham) will need to gel with Jamaica's home-based players if they are to emulate the successes of the past when they made it to the final in 2015 and 2017.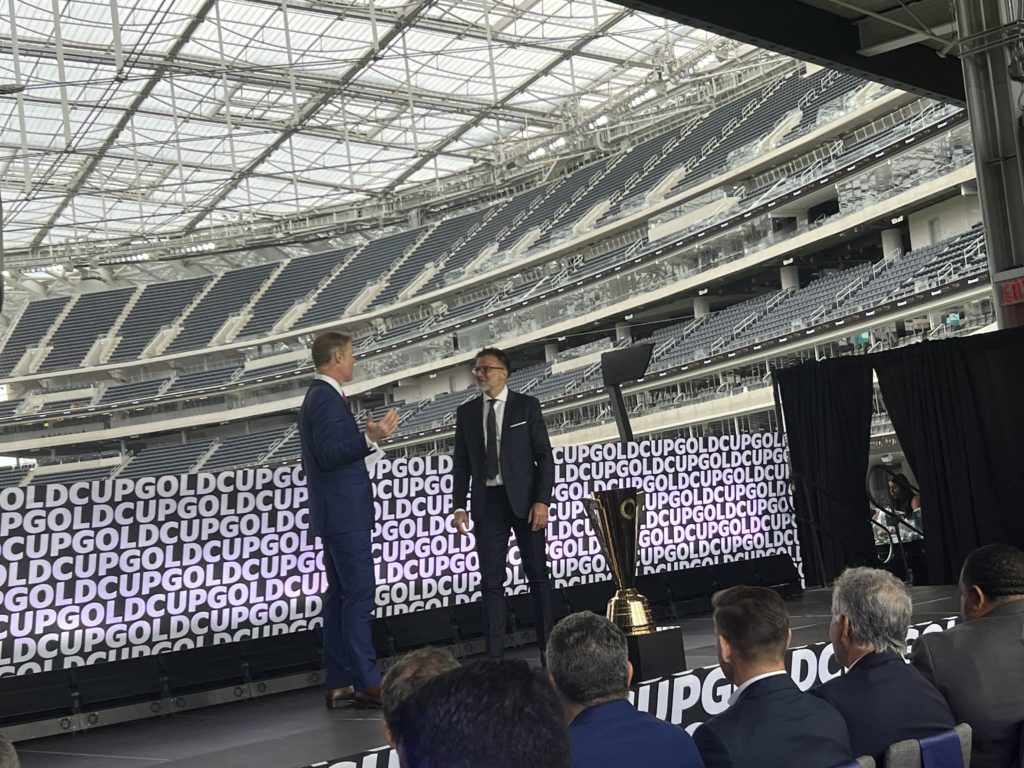 "The region itself is getting stronger. We just want to keep improving," said current USMNT head coach Anthony Hudson (pictured right, above with Alexi Lalas). "The benchmark for us is winning this again."
It is a point not lost on Mexico who go into the Gold Cup with new coach Diego Cocca and once again with the added burden of expectation from Mexican fans and their US diaspora.
The draw on Friday did Cocca no favours in that regard. Haiti will provide a passionate and physical challenge, Honduras have shown signs that they are putting a lean four years since the 2018 Russia World Cup behind them, while Qatar will want to prove they are much better team than they showed at their home World Cup, and under new coach Carlos Queiroz have a seasoned tournament performer to guide them.
In the other groups there is a battle for Central American bragging rights in Group C with Costa Rica and Panama going head-to-head again – Panama beat Costa Rica to keep them out of the 2023 Nations League finals, but Costa Rica edged Panama to qualify for World Cup 2022. Fast improving El Salvador will want to have their say in this group, having shown in the Nations League they can compete, running the US close in the bid to make the final four.
Group D is headed by Canada who have pushed themselves into the top echelon of Concacaf nations are looking to cement that with a trophy. In the group stage they face Guatemela, Cuba and one of the preliminary round qualifiers.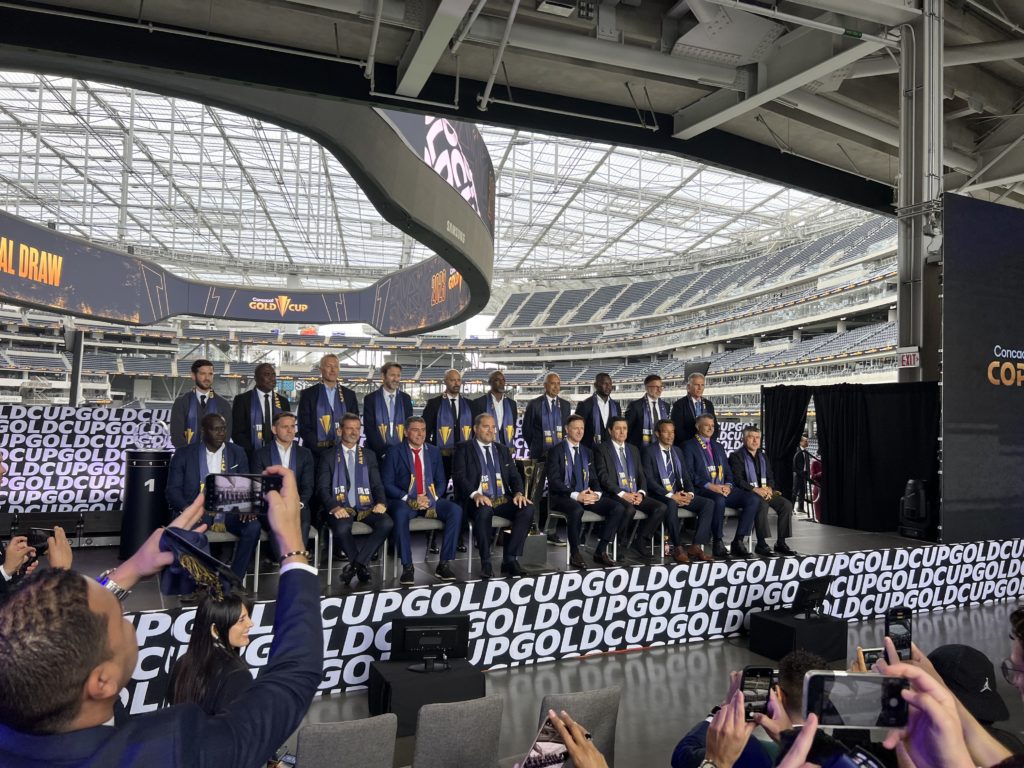 "In Concacaf we have expectations on ourselves first, then there's expectations that we should be able to compete with the best here," Herdman said. "And that's our plan."
In 2021 Canada were knocked out in the semi-finals by a 99th minute Mexican winner.
"These players every year want to get one better, so one better would be getting to the Final. We'll embrace that," said Herdman.
Getting to the final would, as Herdman says, be a progression, but for many Canadians the real progression will be made when they turn their undoubted talent into trophies. They have two shots at doing this in June and July.
The preliminary rounds are set for June 16-20 and will qualify three nations for the Group Stage that begins on June 24. The Gold Cup will be played across 14 metropolitan areas in the US and Canada.
2023 Gold Cup Group Stage draw
Group A: USA, Jamaica, Nicaragua and Winner Prelims 9
Group B: Mexico, Haiti, Honduras and Qatar
Group C: Costa Rica, Panama, El Salvador and Winner Prelims 8
Group D: Canada, Guatemala, Cuba and Winner Prelims 7
2023 Gold Cup Prelims
Matchup 1: Trinidad and Tobago vs Guadeloupe
Matchup 2: Martinique vs Saint Lucia
Matchup 3: Curaçao vs Saint Kitts and Nevis
Matchup 4: French Guiana vs Sint Maarten
Matchup 5: Suriname vs Puerto Rico
Matchup 6: Guyana vs Grenada
Contact the writer of this story at moc.l1702218480labto1702218480ofdlr1702218480owedi1702218480sni@n1702218480osloh1702218480cin.l1702218480uap1702218480