What to expect
El Salvador are playing in their 13th Concacaf Gold Cup, and ninth consecutive. In 2021 they made it through to the kickout rounds for the sixth time, but they have never progressed beyond the quarter finals. In a group with Costa Rica, Panama, and Martinique, they could find progress difficult. They have had a poor run of form into the finals, failing to win a game in the past year.
Star players
El Salvador a mix of veterans. Goalkeeper Mario Gonzalez is one of the rising stars, while Cristian Gil, Kevin Reyes and Mayer Gil are all starting to make their mark. Veteran Alex Roldan and Narciso Orellana will lead the team.
Coach
Hugo Perez
Born in El Salvador, Pérez played in the NASL and represented the US national team. He featured for the Americans in the 1994 World Cup on home soil. He has held the role of assistant coach and U-23 coach with El Salvador but took charge of the senior team in April. Perez got off to a brilliant start, qualifying Los Cuzcatlecos for the final round of World Cup qualifying.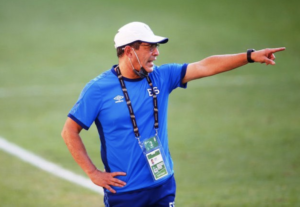 Schedule
Group C: Costa Rica, Panama, El Salvador, and Martinique
Monday, June 26, 2023: 6:30 PM (6:30 PM) El Salvador vs Martinique – DRV PNK Stadium, Fort Lauderdale, FL
Friday, June 30, 2023: 8:30 PM (8:30 PM) El Salvador vs Costa Rica – Red Bull Arena, Harrison, NJ
Tuesday, July 4, 2023: 8:30 PM (7:30 PM) Panama vs El Salvador – Shell Energy Stadium, Houston, TX
Squad
1
GK
MARIO GONZALEZ
20.05.1997
ALIANZA FC (SLV)
2
DF
ERICK CABALCETA
09.01.1993
ALAJUELENSE (CRC)
3
DF
ROBERTO DOMINGUEZ
09.05.1997
CD FAS (SLV)
4
DF
ERIQ ZAVALETA
02.08.1992
LA GALAXY (USA)
5
DF
RONALD RODRIGUEZ
22.09.1998
CD AGUILA (SLV)
6
MF
NARCISO ORELLANA
28.01.1995
ALIANZA FC (SLV)
7
FW
JOSHUA PEREZ
21.01.1998
AQUILA 1902 MONTEVARCHI
 

8

 

MF

 

BRAYAN LANDAVERDE

 

27.05.1995

(ITA)

CD FAS (SLV)

9
MF
BRAYAN GIL
28.06.2001
DEPORTES TOLIMA (COL)
10
MF
MAYER GIL
07.09.2003
ALIANZA PETROLERA (COL)
11
FW
CRISTIAN GIL
05.11.1996
CD FAS (SLV)
12
DF
WILLIAM CANALES
18.02.1995
ALIANZA FC (SLV)
13
MF
LEONARDO MENJIVAR
24.10.2001
AD CHALATENANGO (SLV)
14
MF
CHRISTIAN MARTINEZ
19.04.1994
AD SAN CARLOS (CRC)
15
MF
ALEXANDER ROLDAN
28.07.1996
SEATTLE SOUNDERS FC
 16
 MF
 HAROLD OSORIO
 20.08.2003
(USA) CHICAGO FIRE FC(USA)
17
MF
JAIRO HENRIQUEZ
31.08.1993
COLORADO SPRINGS SWITCHBACKS FC (USA)
 18
 GK
 TOMAS ROMERO
 19.12.2000
 TORONTO FC (CAN)
19
MF
KEVIN REYES
28.08.1997
CD FAS (SLV)
20
DF
NELSON BLANCO
17.08.1999
NORTH CAROLINA F. C. (USA)
21
DF
BRYAN TAMACAS
21.02.1995
OAKLAND ROOTS SC(USA)
22
GK
OSCAR PLEITEZ
06.02.1993
AD ISIDRO METAPAN (SLV)
23
MF
MELVIN CARTAGENA
30.07.1999
CD AGUILA (SLV)