What to expect
In 2021 Guatemala, in the process of rebuilding with a young team, failed to make it through the knockout stages, only to be called back when the bulk of the Curacao squad tested positive for Covid. From that experience they have continued to improve and will participate in its 12th Gold Cup. They have not made the knockout stage since the 2011 edition but they will expect to do so this time. They are in a group with Canada, Cuba and Guadeloupe. With a fast paced pass and move game they could take Canada, without some of their stars, all the way.
Star players
Rubio Rubin is their lead striker with three goals in the Concacaf Nations League. Oscar Castellanos, Carlos Mejía, Nicolas Samayoa, and Marlon Sequen were all standouts in a team that likes to get the ball down and play football.
Manager
Luis Fernando Tena is coaching Guatemala for the first time at the Gold Cup. He led Mexico to the Gold medal at the London 2012 Olympics and at the same time was an assistant on the senior team. He began his coaching career in 1994 with Cruz Azul, a club which he has guided on three occasions. He has coached 12 of Mexico's club sides. He joined Guatemala in 2021.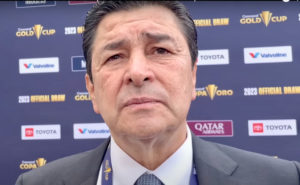 Schedule:
Group D: Canada, Guatemala, Cuba, and Guadeloupe
Tuesday, June 27, 2023:  8:45 PM (8:45 PM) Guatemala vs Cuba – DRV PNK Stadium, Fort Lauderdale, FL
Saturday, July 1, 2023: 9:30 PM (8:30 PM) Guatemala vs Canada – Shell Energy Stadium, Houston, TX
Tuesday, July 4, 2023: 6:30 PM (6:30 PM) Guadeloupe vs Guatemala – Red Bull Arena, Harrison, NJ
Squad:
| | | | | |
| --- | --- | --- | --- | --- |
| 1 | GK | NICHOLAS HAGEN | 02.08.1996 | HAMKAM (NOR) |
| 2 | DF | JOSE ARDON | 20.01.2000 | ANTIGUA GFC (GUA) |
| 3 | DF | NICOLAS SAMAYOA | 02.08.1995 | COMUNICACIONES FC (GUA) |
| 4 | DF | JOSE PINTO | 16.06.1993 | COMUNICACIONES FC (GUA) |
| 5 | MF | PEDRO ALTAN | 04.06.1997 | CSD MUNICIPAL (GUA) |
| 6 | MF | CARLOS MEJIA | 13.11.1991 | ANTIGUA GFC (GUA) |
| 7 | DF | AARON HERRERA | 06.06.1997 | CF MONTREAL (CAN) |
| 8 | MF | RODRIGO SARAVIA | 22.02.1993 | COMUNICACIONES FC (GUA) |
| 9 | FW | RUBIO MENDEZ | 01.03.1996 | REAL SALT LAKE (USA) |
| 10 | DF | ANTONIO LOPEZ | 10.04.1997 | CSD MUNICIPAL (GUA) |
| 11 | MF | CESAR ARCHILA | 30.07.1993 | ANTIGUA GFC (GUA) |
| 12 | GK | RICARDO JEREZ | 04.02.1986 | CSD MUNICIPAL (GUA) |
| 13 | MF | ALEJANDRO GALINDO | 05.03.1992 | CSD COBAN IMPERIAL (GUA) |
| 14 | FW | DARWIN LOM | 14.07.1997 | CLUB XELAJU M.C. (GUA) |
| 15 | MF | MARLON SEQUEN | 23.06.1993 | CSD MUNICIPAL (GUA) |
| 16 | DF | JOSE MORALES | 03.12.1996 | CSD MUNICIPAL (GUA) |
| 17 | DF | OSCAR CASTELLANOS | 18.01.2000 | ANTIGUA GFC (GUA) |
| 18 | FW | NATHANIEL MENDEZ- | 15.04.1992 | UNATTACHED (GUA) |
| 19 | DF | ESTEBAN GARCIA | 06.06.1998 | DEPORTIVO MIXCO (GUA) |
| 20 | DF | GERARDO GORDILLO | 17.08.1994 | EC JUVENTUDE (BRA) |
| 21 | GK | FREDY PEREZ | 09.12.1994 | COMUNICACIONES FC (GUA) |
| 22 | DF | STHEVEN ROBLES | 12.11.1995 | COMUNICACIONES FC (GUA) |
| 23 | MF | JORGE APARICIO | 21.11.1992 | COMUNICACIONES FC (GUA) |