What to expect
Haiti are making their ninth Gold Cup appearance and have had some notable performances, in particular in 2019 when they knocked out Canada before going on to lose to eventual winners Mexico in extra time. With players predominantly based in the French leagues, Haiti bring athleticism and steel to their game. Fearless and committed in equal amounts they never give up until the final whistle – their intensity, which they pride themselves on, can be intimidating. With the domestic league suspended due to the instability within the country, playing opportunity has been limited. But expect them to improve as the tournament progresses. They are in the toughest group with Mexico, Honduras and Qatar, but Haiti know how to do tough.
Star players
Forwards Duckens Nazon and Franztdy Pierrot lead the Haitian challenge. Derrick Etienne Jr is the midfield driving force, while Carlens Arcus is a defender who can cause damage on the wings. In Johny Placide they have an experienced and capable goalkeeper.
Coach
Spanish coach Gabriel Calderon Pellegrino has been drafted in as the newly appointed interim. He took over from former player Jean-Jacques Pierre who led Haiti at the 2021 Gold Cup but who resigned earlier this year.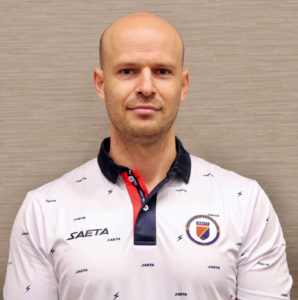 Schedule:
Group B: Mexico, Haiti, Honduras, and Qatar
Sunday, June 25, 2023: 6:00 PM (5:00 PM) Haiti vs Qatar – NRG Stadium, Houston, TX
Thursday, June 29, 2023 – 10:00 PM (7:00 PM) Haiti vs Mexico – State Farm Stadium, Glendale, AZ
Sunday, July 2, 2023 – 9:00 PM (9:00 PM) Honduras vs Haiti – Bank of America Stadium, Charlotte, NC
Squad
| | | | | |
| --- | --- | --- | --- | --- |
| 1 | GK | ALEXANDRE PIERRE | 25.02.2001 | RC STRASBOURG (FRA) |
| 2 | DF | CARLENS ARCUS | 28.06.1996 | SBV VITESSE (NED) |
| 3 | DF | DJIMY ALEXIS | 08.10.1997 | HAPOEL PETAH TIKVA FC (ISR) |
| 4 | DF | RICARDO ADE | 21.05.1990 | L.D.U. QUITO (ECU) |
| 5 | FW | STEVEN SÉANCE | 20.02.1992 | CS SEDAN (FRA) |
| 6 | DF | GARVEN-MICHEE METUSALA | 31.12.1999 | FORGE FC (CAN) |
| 7 | FW | CARNEJY ANTOINE | 27.06.1991 | HAPOEL HAIFA FC (ISR) |
| 8 | MF | DANLEY JEAN | 20.05.2000 | FC METZ (FRA) |
| 9 | FW | DUCKENS NAZON | 07.04.1994 | CSKA SOFIA (BUL) |
| 10 | MF | WILDE-DONALD GUERRIER | 31.03.1989 | ZIRA PFK (AZE) |
| 11 | MF | DERRICK ETIENNE JR | 25.11.1996 | ATLANTA UNITED FC (USA) |
| 12 | GK | JOSUE DUVERGER | 27.04.2000 | UD SANTAREM (POR) |
| 13 | MF | JEPPE FRIBORG | 21.11.1995 | PODBESKIDZIE BIELSKO (POL) |
| 14 | MF | LEVERTON PIERRE | 09.03.1998 | USL DUNKERQUE(FRA) |
| 15 | FW | FABRICE PICAULT | 23.02.1990 | NASHVILLE SC (USA) |
| 16 | FW | MONDY PRUNIER | 22.12.1999 | VERSAILLES 78 F.C. (FRA) |
| 17 | FW | JAYRO JEAN | 22.06.1998 | REAL SANTA CRUZ (BOL) |
| 18 | MF | CARL SAINTE | 09.08.2002 | NORTH TEXAS SC (USA) |
| 19 | MF | STEEVEN SABA | 24.02.1993 | VIOLETTE AC (HAI) |
| 20 | FW | FRANTZDY PIERROT | 29.03.1995 | MACCABI HAIFA FC (ISR) |
| 21 | MF | BRYAN ALCEUS | 01.02.1996 | OLYMPIAKOS NICOSIA (CYP) |
| 22 | DF | ALEX CHRISTIAN | 12.05.1993 | BNEI YEHUDA TEL AVIV FC (ISR) |
| 23 | GK | GARISSONE INNOCENT | 16.04.2000 | KAS EUPEN (BEL) |
More updates soon …