By Paul Nicholson in Las Vegas
June 15 – The showpiece semi-final between USA and Mexico in recent years would have been the final.
It is a mark of the closing of the performance gap between the top two and an endlessly chasing pack – Canada have now clearly bridged that gap – but also a reflection of the US and Mexico both stuttering slightly on and particularly off the pitch.
The draw was based on a ranking from the qualifying rounds that saw the US ranked top and Mexico bottom of the four finalists.
At the Qatar 2022 World Cup the US made the last 16, but their brand of football wasn't as exciting as the players they had at their disposal. They were then wracked by an internal family feud between out of contract coach Gregg Berhalter and the first family of US football, the Reynas. A feud that was more exciting than the football that was being played.
With the recruitment of a new coach, or the reappointment of Berhalter, on hold, Anthony Hudson was promoted from within as an interim. He suddenly quit for a club job two weeks ago, which led to the installing of another interim in the form of B J Callahan.
The Mexican situation is similarly chaotic but fuelled by the unfulfilled expectations of a volatile public who demanded the replacement of Gerardo Martino after a disastrous Qatar 2022 World Cup campaign, and a change at the top of the federation.
Incoming Argentinean Diego Cocca is already under pressure after a run of four games without a win coming into tonight's semi-final.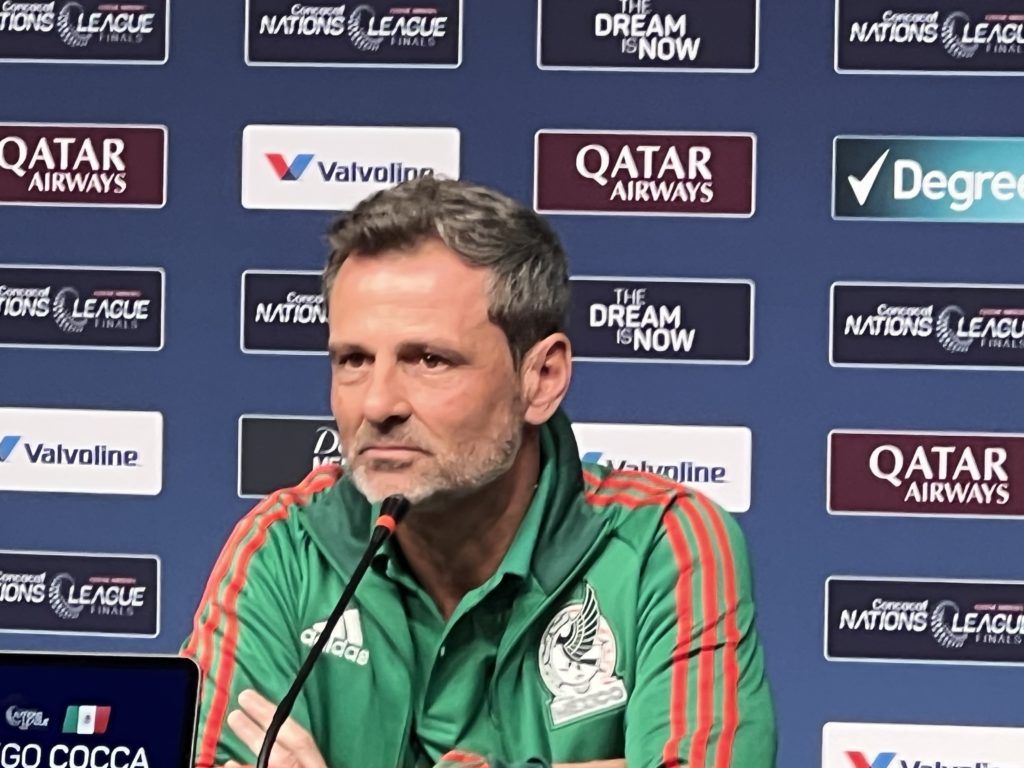 For the loser there is likely to be more at stake than missing out on the final as blame will need to be apportioned.
B J Callahan (pictured), who took over the interim role and like Hudson was promoted from within, and exudes a calm exterior and faith in the system.
"The culture has been built and everyone is taking ownership," said Callahan. "I am in a different role, yes, but the culture is the same."
"We are 100% focussed on the semi final. All decisions made are to get us one step closer to another Nations League trophy. It feels like we have had a core group together for a long period, the large majority of the players have been together for over four years. There is a status quo and we are operating as normal."
Callahan may be calm but he is not underestimating the importance of the game against Mexico who he says they have great respect for in a "rivalry that has ebbed and flowed".
"These are the types of games we all want to play and be part of. We are looking to 2026 and using these high intensity, high status games. These are moments we can prove to ourselves we can handle them… We are looking to strengthen our identity and become more resilient as we continue to gain experience."
That intensity is being felt more acutely by Cocca who faced a fiercely critical Mexican media in his pre-match press conference.
Cocca countered by saying that his team were ready for the US who despite having a last minute change of coach. "They will have the same identity. They have versatile players and they can change their system."
Mexico's weakness has been their defending at set pieces and in attack their failure to take their goal chances. Cocca said that Mexico has many options, particularly up front, and that they "could play with two strikers with one striker playing in the area". It has been a fault of Mexican teams that they have not had a striker who can dominate in the box.
Mexico have two forwards who are proving they can make the difference in that area. Feyenoord's Eredivisie winning Santiago Gimenez has been the standout Mexican player in Europe this season while Club America's Henry Martin has been the leading goalscorer in Liga MX. For Cocca to play both would be a bold statement.
It also might be the throwing of a Hail Mary, as inevitably talk comes back to whether he feels he will keep his job.
"Is my job at stake? If we lose someone has to be blamed. The coach has to be blamed. I beliee in work and those who hired me and trust me to change this team. I hope to be here a long time."
For many in Mexico's press corps it has been too long already.
Contact the writer of this story at moc.l1696176858labto1696176858ofdlr1696176858owedi1696176858sni@n1696176858osloh1696176858cin.l1696176858uap1696176858