June 21 – Martinique muscled their way through to the group stages of the Gold Cup with a 2-0 win over Puerto Rico the surprise team of the knock-out rounds.
The scoreline didn't reflect the match. With the bulk of the possession, especially in the last half hour, Puerto Rico could have caused another major upset. It was a breakaway goal in the final seconds of added time that flattered the Martinque team with the 2-0 scoreline.
They now go on to face Panama, Costa Rica and El Salvador in Group C.
Martinique qualified for the final preliminary round with a 3-1 over St Lucia 3-1. They have become a regular fixture in the and are making their fourth straight Gold Cup group appearance. Martinique's first appearance came back in the second edition of the tournament in 1993 and since then they have played in 2002, 2003 and 2013 – and now the last four editions.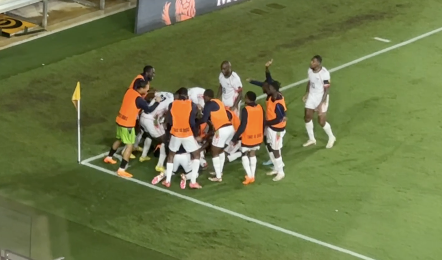 Puerto Rico, who eliminated one of the hot favourites for qualification Suriname on penalties after a 0-0 draw, had never played at this stage of the competition. Only a couple of years ago they were one of the bottom ranked teams in Concacaf.
In his post game assessment coach Charlie Trout talked about being "really proud" of his players and their recognition that they needed "to be a little, we want to be a little different".
Puerto Rico did this by keeping their lines close and building in a way that looked for the gaps. It nearly worked and was certainly entertaining from a football perspective against a more seasoned and bigger Martinique who were not afraid to use their physicality.
Martinique should have been ahead on two minutes and again on four minutes. In the fifth minute they could have scored three. But as Puerto Rico weathered the storm – and it wasn't long before the rain came lashing down – they worked their way into the game with Orlando City's Wilfredo Rivera a constant force in midfield.
In the 44th minute Puerto Rico had their best chance. The always threatening Gerald Diaz on the right slid the ball across Yannis Clementia's goal and just wide of the post.
Seven minutes into the second half Ronny Labonne crossed into the Puerto Rico box to find an unmarked Brighton Labeau who has a simple header over Joel Serrano in goal.
Puerto Rico upped the pace and their intensity in the last half hour. With the bulk of possession they pushed and probed around the packed Martinique penalty area but could not quite find the gaps to create clear cut scoring chances.
Puerto Rico threw everything they had at Martinique but their momentum was slowed after Juan O'Neill's second yellow in the 85th minute saw him dismissed.
What followed was a mad cap finish. As Puerto Rico threw men forward Martinique attacked at pace but twice missed open goals. With the clock running down and with just 2.30 left to play the storm closed in and the players were brought off.
They returned for more helter skelter after 30 minutes and with Serrano in the Martinque box for a corner at last managed a breakaway score with Kevin Fortune winning a race down the pitch to slide the ball into Puerto Rico's net.
"Our future is bright," said Trout. "We are eager to learn and that includes me as a coach at this level. I'm in the same boat as the players. I am super confident that with young, talented, intelligent players we will get there."
On this performance it is easily believable. It will be fun to watch.
Contact the writer of this story at moc.l1701470891labto1701470891ofdlr1701470891owedi1701470891sni@n1701470891osloh1701470891cin.l1701470891uap1701470891