By Nick Webster in Santa Clara
July 1 – Under a blazing Santa Clara summers day where the on-field temperatures hovered around 92 degrees, the Reggae Boys played a tune on their Caribbean neighbours, St. Kitts & Nevis.
The 5-0 win was not enough for them to go to the top of the group on goal difference but do comfortably qualify for the quarter finals.
Jamaica dominated a first half that saw them have 69% of possession but only four shots on target as the St Kitts and Nevis rearguard battled bravely against their Premier League aggressors.
Jamaica had rung the changes from the side that beat Trinidad and Tobago 4-1, but they still opened with their Premier League trio of Michail Antonio, Demarai Gray and Leon Bailey.
Having laboured to create clear cut chances it took an own goal from St Kitts goalkeeper to break the deadlock.
On the half hour mark a ball driven across the box was touched on and hit the arm of the diving forward Juliani Archibald and into his own net. It was another moment of cruel misfortune for the St Kitts captain whose penalty saving heroics in the preliminary rounds had qualified them for the knock out stages.
Soon after, a breakaway following a rare incursion by St Kitts into the Jamaica half, saw Gray and Bailey fast off the mark and Bailey slide the ball into the St Kitts goal only for the assistant referee to rule out the goal for offside. Bailey had probably come into play from an offside position but it was a close and debatable call – VAR should have stepped in but at this tournament VAR too often been patchy in both its decisions and lack of intervention.
Jamaica did eventually manage a second goal to give themselves breathing space, two minutes into added time at the end of the half. Barnsley's Jonathan Russell took advantage of a free kick to score. At a temperature nearing 100 degrees in the stadium it was a lot warmer than the temperature in Barnsley today which was a sultry 53 degrees.
With the two-nil advantage heading into the 2nd half, the Reggae Boys turned up the music with substitute Daniel Johnson driving the tempo.
Johnson clearly enjoyed the space afforded to him by a tiring St. Kitts and Nevis team that were wilting under the heat and in the 49th minute provided the assist for Portsmouth's Dishon Bernard to advance forward from a free-kick to make it three.
With a cushion, Jamaica relaxed and started pouring forward creating multiple chances that either flew over the bar or narrowly went wide.
Just when it looked like St. Kitts and Nevis would never get out of their half Cardiff City's, Romaine Sawyers wriggled into space forcing a smart save from Jahmali Waite who did well to get down quickly and keep his sheet clean.
This near miss spurred on Jamaica who soon made it four-nil in the 71st minute after an exceptional burst of speed by Cory Burke who turned on the turbo charge down the right hand side. His cross was fumbled by Archibald in the St. Kitts and Nevis goal, and Johnson was on hand to add to his assist by slamming home from close range.
Two minutes later, it was a five-star performance after another superb run down the right side, this time by Shamar Nicholson. Again, the ball bounced loose and this time, Cory Burke was on hand to find the bottom corner.
By now St. Kitts and Nevis had run out of ideas and a tough tackle by Mervin Lewis on Amari'I Bell saw the Jamaicans indulge in a touch of handbags. Referee Adonai Escobedo was told by VAR to take a look but upon review, it was nothing more than a crunching challenge.
Jamaica continued to look for number six but mercifully the referee added only six minutes of additional time. Five goals wasn't enough to dislodge the USA from top spot though and a second place finish may lead to a tricky tie in the knockout phase of the 2023 Gold Cup.
Ultimately the superior fitness, technical ability and tactical nous of Jamaica was far too much for St. Kitts and Nevis who return home winless but better for the experience.
For the Reggae Boys glory potentially still awaits and as Bob Marly sings, 'they'll be Jammin'.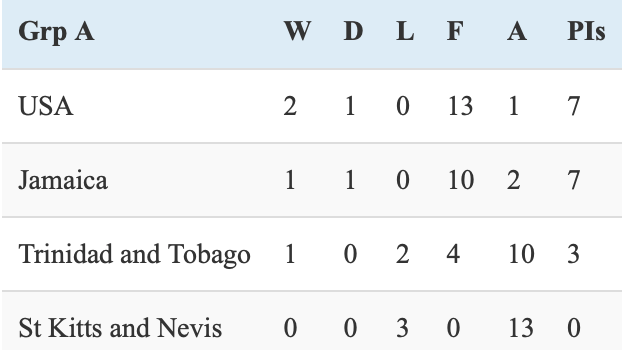 Contact the writer of this story, Nick Webster, at moc.l1696220167labto1696220167ofdlr1696220167owedi1696220167sni@o1696220167fni1696220167