By Paul Nicholson in Houston
July 4 – Panama secured Group C top spot with a 2-2 draw on an intense and sticky evening in Houston in front of an impressive El Salvadorian support that roared their country on from start to finish.
El Salvador have disappointed this Gold Cup but on a night of passion and commitment in front of over 20,000, mainly El Salvadorian fans, they left everything they had on the pitch.
They just didn't have enough to beat a Panama who were too good for them for long periods of the match. Panama, who qualified for Nations League finals, are progressing every game under coach Thomas Christiansen.
Their toughest opponent from the team announcements through a belting national anthem and 90 minutes of frantic football were, for most of the match, an El Salvadorian support who screamedt in favour of every defensive challenge, pass and incursion over the half way line – all accompanied by an incessant drum beat.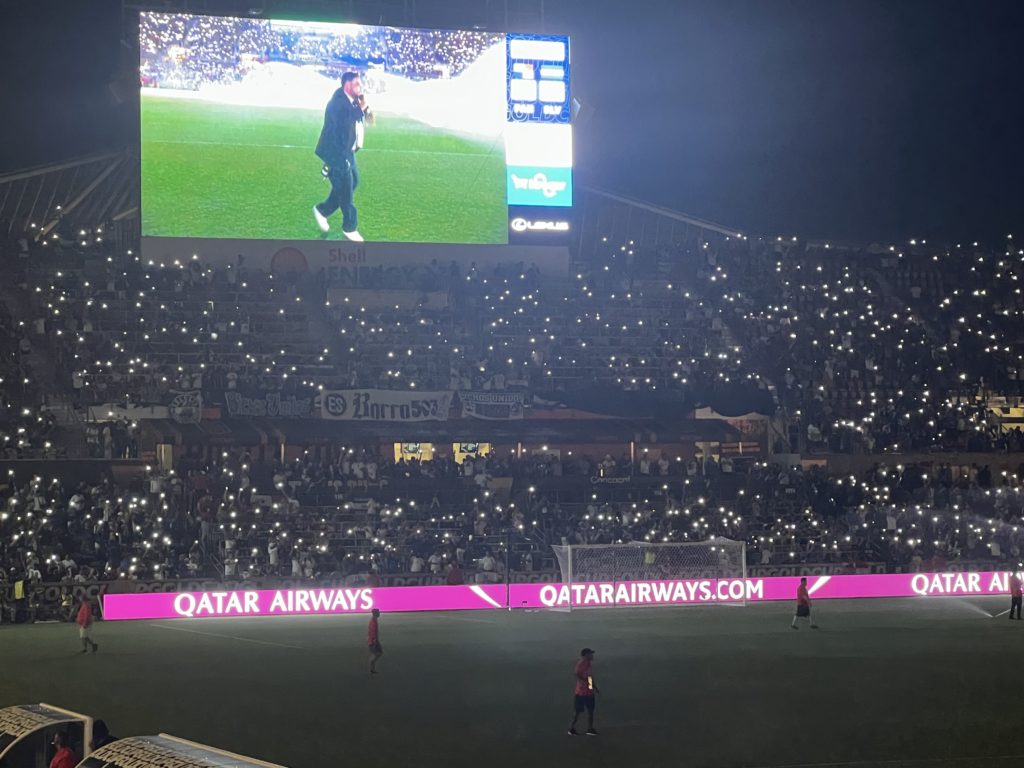 Panama started the match already qualified for the quarter finals and Christiansen took the opportunity to rotate his squad. Bottom of the group El Salvador still had a chance of going through but needed to beat the Panama and hope Costa Rica beat Martinique by fewer goals than they put past Panama.
From the start Bryan Gil was El Salvador's star perfomer and on 2 minutes was sent through on goal, despite having his shirt pulled back he did enough to slide the ball past Orlando Mosquera in Panama's goal. The crowd turned the volume up a notch.
On 8 minutes El Salvador's Leonardo Menjvar was pulled down, but Mosquera dealt with the free kick.
Panama almost equalised moments later but Ismael Diaz headed wide.
As the game progressed so did Panama who built a passage of play in front of the committed defending and even more fierce support.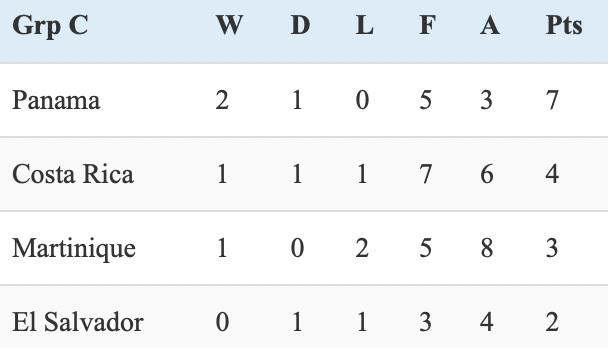 On 25 minutes a Panama corner saw Mario Gonzalez punch the ball only for it fall to Edgar Barcenas on the edge of the box whose shot was headed in by Fidel Escobar.
Panama had the advantage of possession and on 39 minutes Ismael Diaz broke down the right but his bullet cross was headed over by Fredy Gondola
It was left to Gil to provide El Salvador's outlet. A constant threat to Panama's central defence, on 41 minutes he shook off his marker and broke through the middle but Joshua Perez couldn't control the feed from Gil. A minute later Jairo Hernandez's overlap down the right saw his hammered shot fisted away by Mosquera.
Panama continued where they had left off after the restart.
Roberto Miller had a diving header go wide. Panama turned on the pressure and had a succession of chances blocked or turned away. When they lost the ball they pressed and quickly won the ball back in the El Salvador half, all to the relentless beat of the frantic El Salvadorian drums.
On 57 minutes Gil received the ball inside the Panama half and drove into space but powered his shot wide, moments later he won a ball over the top but couldn't find any support amidst the closing ranks of Panama defenders.
On 70 minutes, with Panama camped on the edge of the El Salvador box ,a ball from the right found Ismael Diaz unmarked in the centre to fire in. It was no more than Panama deserved.
Gil responded immediately, beating his marker in the Panama box but Mosquera closed the space fast to block the shot.
With El Salvador fans starting to become agitated a fan halted play for five minutes as he ran on to the pitch. With the game stopped the El Salvadorian players began arguing amongst themselves. Tempers were overflowing and so was beer being thrown from the stands.
The cathartic exchange seemed to galvanise the El Salvadorians. Once the game restarted with the clock showing 88 minutes El Salvador pulled a goal back through sub Mayer Gil – 2-2. El Salvador were now battling for every ball with an urgency they hadn't displayed before. Ultimately it was too little too late.
Contact the writer of this story at moc.l1696218408labto1696218408ofdlr1696218408owedi1696218408sni@n1696218408osloh1696218408cin.l1696218408uap1696218408
25