July 11 – Mexico and Jamaica have some similarities, and a whole host of differences as they approach what is a fascinating semi-final match-up in the Allegiant Stadium in Las Vegas tonight in the semi-final of the Gold Cup.
Mexico go in having suffered a loss in their final group game against Qatar, before comfortably overcoming Costa Rica in their quarter final. Jamaica go in to the match unbeaten despite being pushed to the end by Guatemala.
The similarities are that both teams are in the process of rebuilding under relatively new managers, both at their first major tournaments with these teams. Both teams believe they can win and both teams have very real ambition to go all the way to the winners podium at the SoFo Stadium in Los Angeles on Sunday.
It is the different playing styles of the teams and player strengths that make this so interesting. Jamaica have their all-English Premier League quartet up front that on their day will damage any team in world football. Mexico tend to play through their midfield but are devastating on both wings and with players joining the attack.
Johan Vasquez – "Aware of Jamaica's attack, they have done some damage in the last time we faced them in the Azteca Stadium. They counter strongly, are focussed and have experienced players and can score goals."
Mexico's interim head coach Jaime Lozano is under no illusion that Jamaica are their toughest challenge so far. "They are a great rival and it will be tough for Mexico," said Lozano.
"They have a unique style, they have players in the big leagues. Against the US it could have been 2-0 in the first half. They are powerful and we saw that in the Azteca (a Nations League game that finished with a 2-2 draw in March), they play the same way. We know their counter is strong and very direct. We will have to pay attention to that."
Mexico have improved since their 3-0 loss to the USA in the Nations League final in Las Vegas in early June. Back in Vegas again tonight will be a test of how much they have really improved, against a team with ambition and some proven big league talent.
"It will be a very difficult game physically and mentally. We have some injuries but we will only play with the players that are 100% fit," said Lozano.
Lozano says part of the improvement at the Gold Cup has been down to his relationship with the players. "The players know me and how I work. Tomorrow it will be important to defend well. If we have good outcomes it will help our confidence and that is important. We have some changes in structure and we have to believe in the players, not only on the field but off it. All the players are competitive and want to play at the highest level and this is infectious.
"Jamaica are a different team from six or seven years ago. They have many players in major leagues and they haven't lost yet in the Gold Cup, that is why they are in the semi-finals here and why they have many possibilities to qualify for the next World Cup. They have trained a lot, they are better prepared and they take advantage of the genetics they have."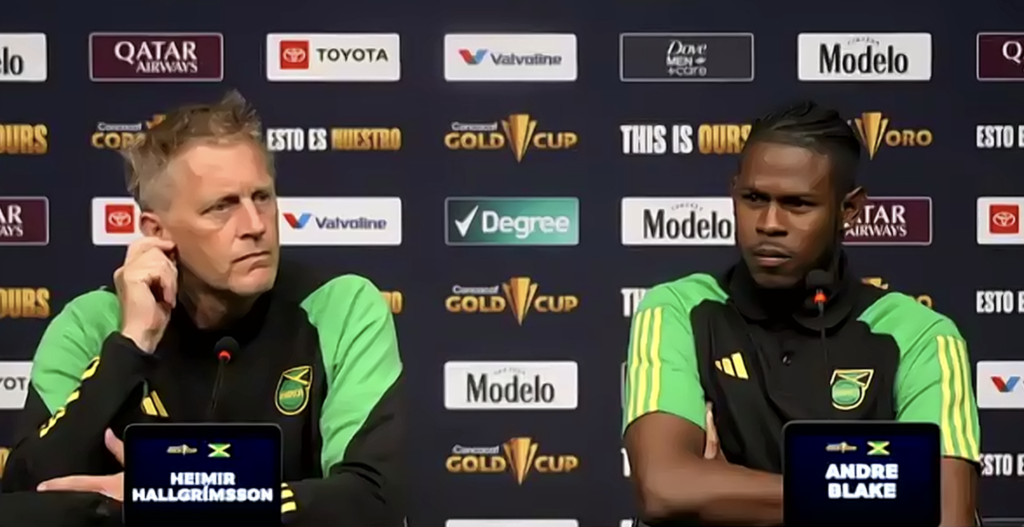 Mexico will start as favourites but Jamaica have strong Gold Cup history having lost in the final in 2015 and 2017.
Jamaica's coach Heimir Hallgrimsson wants to be in the final again and knows this is the biggest test of his team so far. "We are a team in the making and are looking ahead to 2026. We want to go and win this tournament and think we have the same chance as anyone else."
"We know their strengths, they are high pressing and have a lot of energy, a lot of pressing, we need to be careful. It will be a bit like the Guatemala game but against better players and at a higher level…the Guatemala game was too open for my taste," said Hallgrimsson.
"Mexico is a good team. It was mentioned about the loss to Qatar but in my eyes that was a win for Mexico not a loss… they had 25, 29 chances? It was just one of those days that sometimes happen.
"It looks like Mexico are finding stability. We have big respect for Mexico. I watched them at the World Cup in Qatar and they were unfortunate not to progress from their group stage. Every Mexican team is very organised, very tactical, and always a tough game.. they have a few changes from the team we played in the Azteca but it is basically the same. Jaime is a little more direct (with his tactics) but it is the same players and the same qualities."
The key to unlocking this match will almost certainly be whether Mexico can contain the Jamaica's 'fab four' up front. They haven't been without criticism as many expected they would have score more goals, particularly the rock that is Michail Antonio.
"Michail (Antonio) is an important player for us. He opens spaces for team mates and on the pitch it takes two defenders to deal with him. I don't care who scores the goals," said Hallgrimsson.
The thing is, Antonio is a proven striker and as Hallgrimsson's 'team in the making' progresses you can pretty much guarantee that Antonio will find the back of the net with devastating effect. Mexico will be hoping that it isn't tonight.
Contact the writer of this story at moc.l1695431412labto1695431412ofdlr1695431412owedi1695431412sni@n1695431412osloh1695431412cin.l1695431412uap1695431412