July 21 – Concacaf Gold Cup winners Mexico have moved up FIFA World Ranking to 12th place, one behind the USA in 11th.
Panama, Gold Cup runners up, have jumped 12 places to 45th and are now a place ahead Central America rivals Costa Rica (46th).
At the top of the ranking there are no changes at all in the top ten, which is made up of European and South American teams. Argentina remain top, while the other two podium places are occupied by France (2nd) and Brazil (3rd), closely followed by England (4th), Belgium (5th) and Croatia (6th).
There have been 62 matches played since the last edition of the ranking in June.
The Concacaf Gold Cup accounted for 25 of those matches (the start of the Gold saw six matches included in the June ranking). FIFA pointed out that "the tournaments in Asia (SAFF Cup) and Africa (COSAFA Cup) have had very little impact on the ranking, although three of the participating teams – Kuwait (137th, up 4), Bangladesh (189th, up 3) and Malawi (123rd, up 3) – have made some headway. The two tournament winners – India (99th, up 1) and Zambia (84th) – have gained points but made little to no progress in the ranking."
Lower down the ranking saw moves for the Cayman Islands (193rd, up 4), Gibraltar (198th, up 4), Aruba (199th, up 4) and Liechtenstein (200th, up 4).
Morocco are the highest ranked African team at 14th, while Japan are the highest ranked AFC team at 20th.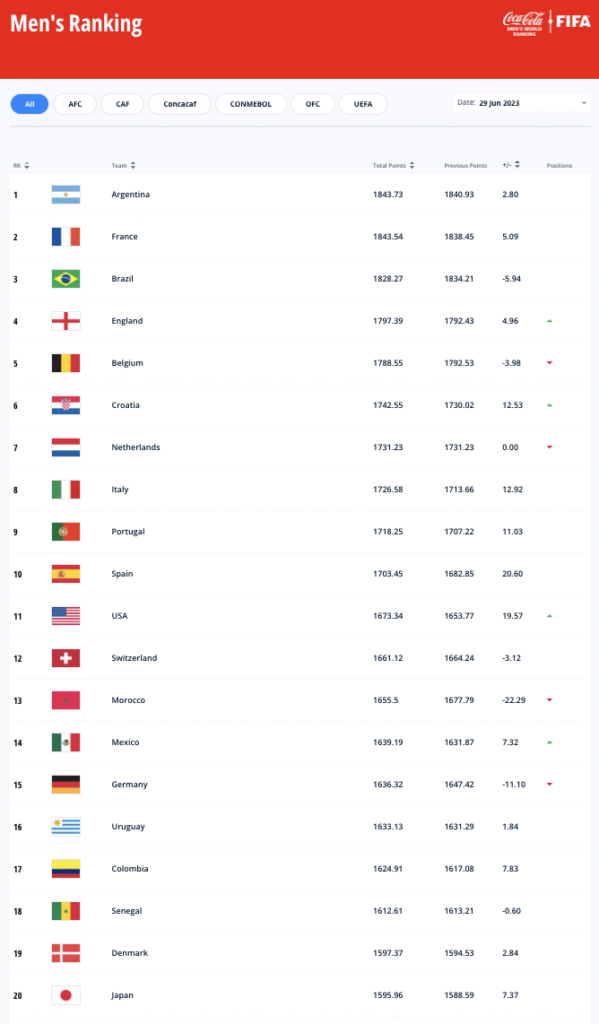 To see the full ranking click here.
Contact the writer of this story at moc.l1696220121labto1696220121ofdlr1696220121owedi1696220121sni@n1696220121osloh1696220121cin.l1696220121uap1696220121